Eighteen time All-Ireland medal winner Rena Buckley has told of being asked to award medals at a boys and girls underage GAA presentation, but being informed last minute that she would not be allowed to present them to boys.
Buckley was speaking at the launch of the 20x20 campaign, a nationwide event aimed at helping women's sport by targeting 20% increases in areas of attendance, participation and coverage by the year 2020.
The Cork dual star, who is the most decorated GAA player ever, revealed that she was asked to hand out medals at an event in West Cork last year, only to discover that she was replaced at the last minute for the boys ceremony by a local player who was 'extremely embarrassed' by the turn of events.
Buckley said: "I was asked last year to present medals to, they were Under-12 and Under-14s. So the club had won a regional competition or a county competition.
If she can't see it, she can't be it. @rtesport is supporting #20x20, a new initiative for women in sport. pic.twitter.com/IWgAXfCuIA

— RTÉ (@rte) October 15, 2018
"But both the boys and girls had won their respective competitions and I was asked to present the medals," she told RTÉ Sport.
"I went along and when I got down there on the night, the lad who invited me took me aside and said 'Look we're really sorry but the GAA team actually don't want you to present the boys with the medals.'
"The guy who had asked me to present the medals had to come to me with his tail between his legs and inform me that actually the boys were getting presented their medals by a male.
"I think they were struggling to find someone so they just got a local guy from the local club, who was extremely embarrassed, to present the boys with their medals and I was allowed to present the girls. That was 2017.
"Look it's not a big deal but there probably is a culture there.
"There'd be no issue with an inter-county successful male player presenting females with medals and it should be the same the other way around."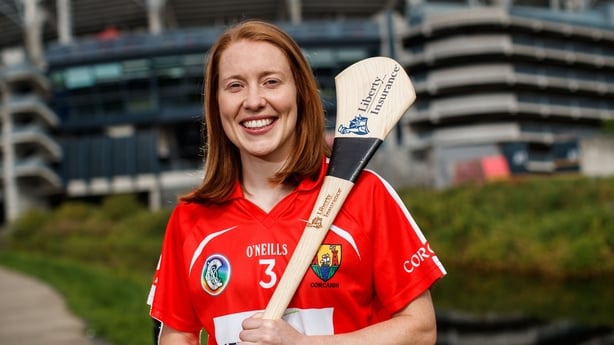 While incidents like that speak to a deeper cultural issue in sport, there has been hope that support of women's sport has been moving in the right direction over the last few years.
This year the attendance record was broken at the All-Ireland Football final, as 50,141 spectators turned out to watch Dublin defend the Brendan Martin Cup against Cork.
That represented a jump of almost 4,000 fans who saw the Dubs topple Mayo in last year's decider as the crowd number continues to increase.
However while Buckley is encouraged by that growth, she remains concerned that not enough is being done to improve attendances at games earlier in the competition or at provincial level.
"Things are definitely going in the right direction even though attendance levels may not be high, people do have a finger on the pulse, they do know what's happening," she said.
"I know in Cork people know when quarter-finals are on, when semi-finals are on, people know what's happening. I suppose the next step it just to physically get people there.
"I think sponsorship is a big thing as well. While promotion has improved, it need to probably improve a little bit more.
"We're going in the right direction and Iike I was saying there has to be a change in culture."