Mount Leinster Rangers 3-10 St Mullins 1-13
Mount Leinster Rangers have won the Carlow senior hurling championship for the eighth time in their history.
They had to draw on all their experience to oust St Mullins who themselves have won the title on 26 occasions.
The two teams were littered with players who featured with the county this year when they won the National League Division 2A title and the Joe McDonagh Cup, but on this occasion they were deadly enemies.
County Star, Chris Nolan netted an early goal for the holders but St Mullins roared back and when Marty Kavanagh was fouled in the big square. He got up and buried the resultant penalty in the net.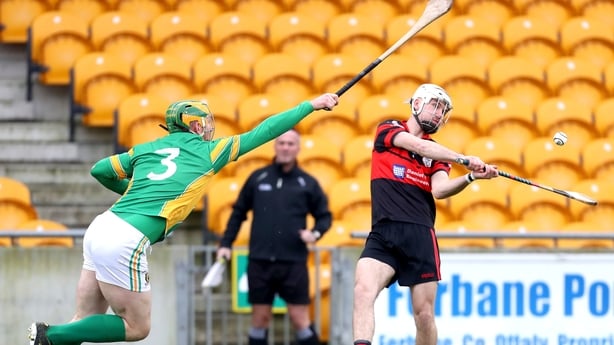 With Kavanagh and James Doyle asking serious questions of the Rangers defence St Mullins went into a 1-4 to 1-1 lead but they were pinned back when Denis Murphy took a pass from Nolan to score Rangers' second goal on 24 minutes. That helped the holders into a 2-5 to 1-7 interval lead.
Right on the throw-in for the second half, Jack Kavanagh surged forward to level for St Mullins. That set up an enthralling scenario with both sides toughing it out. Quality scores, hard-hits and no shortage of commitment with two teams in pursuit of victory was the norm for the remainder of the game.
The experienced former Carlow senior hurling captain Seamus Murphy was red-carded on 42 minutes for the Mullins side, but it looked as if his side might hold out with six minutes to go.
Then Eddie Byrne, who had been closely marked all through, got on the end of a high cross, took possession and scored an opportunist goal from close range.
Buoyed by that goal James Kelly, Nolan and Kevin McDonald added one-pointers. St Mullins did drop a couple of frees into the edge of the Rangers square but the holders' defence was solid and uncompromising.
Mount Leinster Rangers: D. Grennan; M. Malone, R. Kelly (0-1), M. Doyle; K. McDonald (0-2fs), G. Kelly, R. Coady; D. Phelan, T. Joyce; C. Nolan (1-3), D. Byrne, J. Murphy; D. Murphy (1-3, 2fs), E. Byrne (1-0), J. Nolan.
Subs: P. Coady for Malone (42 mins), J. Kelly (0-1) for Joyce (54 mins).
St Mullins: M. Ryan; D. Connors, P. Doyle, G. Bennett; D. Whelan, J. Doran, G. Coady; J. Kavanagh (0-1), M. Walsh (0-1); J. Murphy, S. Murphy, J. Doyle (0-2); P. Connors, M. Kavanagh (1-8, 1-0 pen, 5fs, 65), J. O'Neill (0-1).
Subs: J. Walsh for O'Neill (44 mins), P. Fortune for Whelan (62 mins).
Referee: P. Murphy (Ballinkillen).