The focus is already on a Saturday night at the end of January 2019. McHale Park will be the venue to properly kickstart James Horan's second spell in charge of Mayo.
Roscommon will provide the opposition in the opening round of the Allianz League.
After four seasons away, Horan is relishing the opportunity to put his mark on things again.
"I am here, I'm delighted, I am ready to rock," he told RTÉ Sport at a press night in Castlebar where the Ballintubber clubman outlined a vision that he hopes will be to the betterment of a side still desperate for that All-Ireland triumph.
"Coaching is something I love doing and I love being involved with a motivated group that are keen to learn and develop," he said.
"I know a lot of these players. I have been with them before and I know a lot of the young talent that's around the county. As a coach that is looking to get better that just has to excite you."
Horan will shortly hold county trials to unearth new talent that will challenge those already established in the Green and Red colours. It will be a case of stand up and be counted for all involved.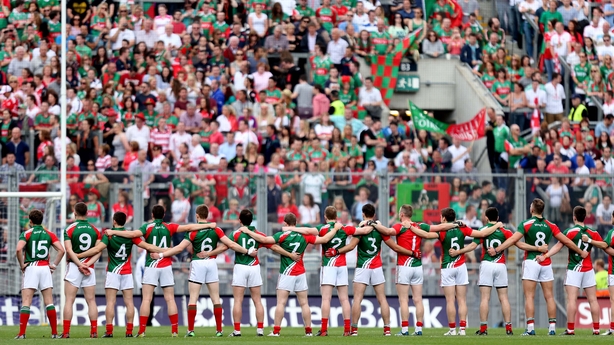 "It really doesn't matter what age you are at. It's all about how you are performing, the commitment you are showing"
"A lot of the guys from when I was first involved are still there but Mayo as a county produces a lot of good footballers and I want to maximize that potential," he added.
"The drive and enthusiasm from the established players is simply staggering. They are still in great shape. They know they'll be challenged by some new players. They will embrace that challenge. They are a fantastic group in that way.
"Trials are planned for the Bank Holiday weekend. We have had a huge response from the club and club managers – recommendations of who can be involved. Existing players will be playing in those trials.
"It really doesn't matter what age you are at. It's all about how you are performing, the commitment you are showing. An opportunity is there."
Comparing the James Horan to the man who stepped away from the post some four years ago, the somewhat tongue-in-cheek response "I'm probably a lot crankier now" belies the fact that Horan is keen to seek greater advice and assistance in this second stint.
"I will try to empower the players as much as possible. If you have players with eight to ten years of knowledge at the highest level, you'd be crazy not to tap into that.
"Joe Doyle from Westport, a successful businessman who worked with me in Westport this year, will be our off-field manager.
" It's a huge job when you're talking about a group of 40 to 45 players. That will allow a couple of us to spend more time on the field where we will hopefully add value to the coaching session – working with the players to see how far we can push this thing."