Scotstown 1-13 Ballybay 0-13
A resourceful Scotstown clinched their fourth Monaghan football title in a row and the club's 19th in all when they proved to be too strong for Ballybay in Clones.
The game was an entertaining, if never spectacular contest, apart for the closing stages when Ballybay threw caution to the winds in an effort to salvage the situation.
Conditions were far from ideal with a strong wind and rain before the off that made life difficult for players, especially forwards.
Scotstown started the stronger with a point by Francis Maguire in the opening minute with Ballybay equalising almost immediately.
However the remainder of the opening half Ballybay were playing second fiddle to a well organised Scotstown for whom the Hughes brothers, Darren and Kieran, were immense while Rory Beggan stroked over a couple of excellent points from frees.
Scotsown were four up after ten minutes and still held that lead after 23 minutes as Ballybay struggled to penetrate a well organised defence.
Dessie Ward did manage to pick off a couple of good scores but Scotstown led at half time by 0-8 to 0-4.
Ballybay produced a lively start to the second half and swiftly reduced the deficit to two points thanks to points from Shane McGuinness and Aaron Toner.
Scotstown's response was quick and emphatic as they hit back with an unanswered 1-2 inside the space of three minutes, as Colm McCarthy netted the goal to open a seven points lead.
Ballybay refused to capitulate however and came in search of scores and but for some excellent defending and a couple of save by Rory Beggan they could have turned it around.
As it was they got the margin down to three points but could not engineer the goal they needed to salvage the day. Ballybay's Drew Wylie was sent off in stoppage time.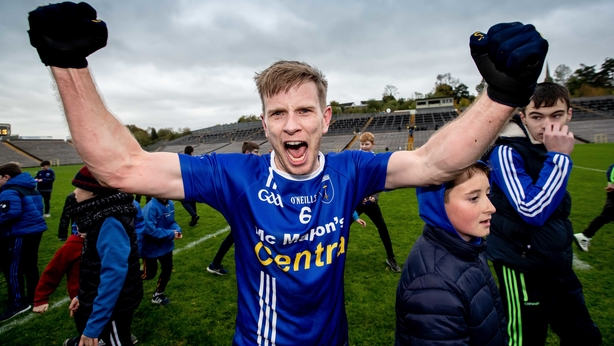 Scotstown: Rory Beggan 0-2 (2f), Paul Sherlock, Ryan O'Toole, Damien McArdle, Jack McDevitt, Donal Morgan 0-1, Emmet Caulfield, Frank Caulfield, Kieran Hughes 0-1, Francis Maguire 0-3, Conor McCarthy 1-3 (0-2f), Jamie McCarey 0-3 (2f), Shane Carey, Darren Hughes, Orin Heaphey 0-1. Subs: Ross McKenna for F Caulfield (47), Fergal McPhillips for E Caulfield (48), Micheal McCarville for F Maguuire (53), Brendan Boyland for P Sherlock (64).
Ballybay: Brian McCabe, Eoin McKearney, Ryan Wylie, Brent Wylie 0-1, Mark McArdle 0-1, Drew Wylie, Colum Lennon, Ciaran Galligan, Thomas Kerr 0-1, Dessie Ward 0-4, Shane McGuinness 0-2, Thomas O'Neill, Paul Finlay 0-3 (2f), Christopher McGuinness, Aaron Toner 0-1. Subs: Michael Hannon for C Galligan (39), Shane McQuillan for T O'Neill (40), Abraham Dixon for M McArdle(54).
Referee: Anthony Marron (Corduff).