Kerry's Anthony Maher has announced his retirement from inter-county football.
The two-time All-Ireland winner spent the last decade with the Kingdom, and also claimed eight Munster medals and two league crowns.
Maher won an All Star award in 2015.
He said: "While I am retiring from Kerry football with a heavy heart, I'm retiring with incredible memories.
"We've had highs and lows together but the bond developed throughout has been immeasurable. I look forward to watching and supporting as the current group continue to develop and grow, and return to glory once again.
"I'd also like to express my gratitude to all the management teams down throughout the years. Their commitment to the cause has always been second to none.
"I want to thank the Kerry supporters for always backing our team and I'm really looking forward to joining you in the stands in 2019."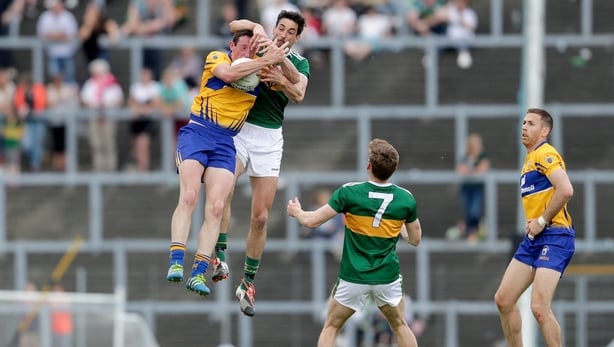 Eamonn Fitzmaurice, former manager of the Kingdom, said he was a pivotal player off-the-field as well.
"During my time in charge Anthony was a hugely important member of our group, being our midfield anchor for much of that time.
"His involvement in the recent past has been limited by debilitating injuries that he stubbornly defied to keep playing at the highest level.
"He was a leader in the dressing room often acting as a conduit to management.
"He was a complete midfielder, strong in the air, athletic, skilful, two footed and extremely hard working.
"He was exceptionally dedicated to his craft and worked tirelessly on his game.
"Anthony also managed to excel academically balancing his studies and work life expertly with football. Achieving a PhD while competing at an elite level places Anthony in an exclusive club."
County Board chairman Tim Murphy said of Maher's contribution in green and gold: "Anthony was one of Kerry's best mdfield exponents of the modern era.
"Over the past number of years in particular and despite a recurring injury Anthony provided great leadership for his team mates and helped to successfully integrate the many new players onto the panel.
"On behalf of all Kerry supporters I wish Anthony and his wife Megan all the very best in the future."