Mayo footballer Tom Parsons has revealed that his knee reconstruction involved grafting ligaments from other parts of his body, as well as those of a deceased donor.
The midfielder suffered a catastrophic injury against Galway earlier in the summer that necessitated three surgeries but is now on the road to recovery.
"I now have numerous body parts of mine in my knee, including my hamstring, my quad, and actually a cadaver's ligaments – somebody's Achilles ligament in my knee," he told RTÉ Sport, at the launch of the GPA's 2018 Annual Report.
"So depending on the quality of that ligament, I could be jumping even higher next year when I get back!"
"Usually with an ACL (anterior cruciate ligament) or PCL (posterior cruciate ligament) or a single or double ligament injury that needs a full reconstruction, they take grafts from your hamstrings and your quads, and they've done that with me.
"But the only other option is to go into my other leg or get a cadaver ligament. So it is common practice that they do that.
"I suppose it does come with a little bit more risk, that your body can accept that ligament.
"To date, we're three and a half weeks post surgery, everything is going well and smoothly.
"It's just amazing the science and technology behind rehab and surgery and physiotherapy. It's amazing how the body can adapt to some of the movement patterns that I was doing in the gym and the rehab, before my last surgery was amazing. Right down to nearly a single leg squat on my bad leg. The body is amazing."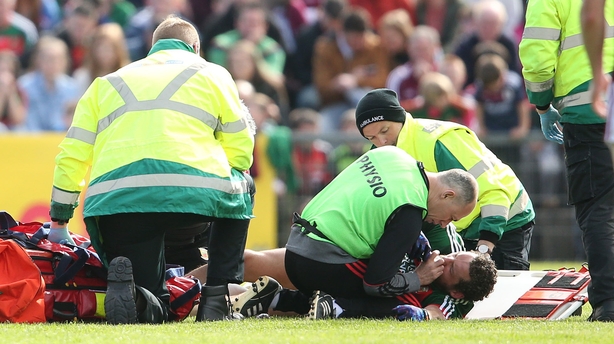 Parsons said that he was still hopeful of returning to the field next year, though accepted it could be summer at the earliest before he's able to train fully.
"A big part of sport is visualising yourself performing, visualising yourself on the big day. This week I was afforded the opportunity to put on the 2019 Mayo jersey. When I was asked to do that, I thought 'what better way, what better visualisation cue to have than a picture of me wearing the 2019 Mayo jersey?' That will give me huge motivation and drive to really focus on my, to hopefully put on that jersey next summer.
With these injuries, you take this on a week by week, month by month basis. You'd certainly be airing on the side of the nine months with the complexity of it from my last surgery date which would bring me up to next June.
"But I could be training in other capacities in May of next summer. The focus with injuries like this is you set your mini goals and they become your big focus. Your end focus is your visualisation to play with Mayo, and the exact date or time or game, or how that happens, you certainly don't set that. But I don't want to rule myself out – I'll hopefully feature for Mayo in 2019 in some capacity."
It's amazing the goodwill from people, not only in the GAA community but in other sport codes in Ireland
Parsons also revealed that he had received encouragement in his recovery from figures outside the GAA world, such as former Munster and Springbok centre Jean de Villiers and Connacht forward Eoghan Masterson.
"A best buddy of mine, Joe McBrien, a club footballer, contacted him (De Villiers) through a social media platform.
"Fair play to Jean, he sent me a fantastic, motivating, inspiring letter about the story of his recovery to come back at the age of 34, to play in the World Cup. The injuries were very similar, his reconstruction was fully artificial, which was different to mine.
"Another guy, Eoghan Masterson who plays with Connacht Rugby, has visited me two or three times, even in Santry.
"It's amazing the goodwill from people, not only in the GAA community but in other sport codes in Ireland. In this case a sport code totally disconnected from Gaelic game, and not even in Ireland, a guy who has given his time.
"Not only that, but his physiotherapist who rehabbed him is also sending regular information back to my wife Carol, tips and processes and procedures in rehab of this injury. It's very encouraging, and it's inspiring that these guys take the time out to respond to you.
"I hope that if I can bounce back from this I can repeat that gesture of goodwill to maybe another guy who's struggling and I'll be sure to do that."