Senior champions Dublin lead the way with 14 nominations for this year's Ladies Football All Star list, while runners-up Cork are honoured with 12.
There are eight nominations for Ulster champions Donegal, who lost out to Cork at the semi-final stage.
Galway, the Connacht champions who were beaten by Dublin in the last four, have three players included on the long list.
Kerry may have suffered relegation from Division 1 of the Lidl National League but the Kingdom rallied to reach the TG4 All-Ireland Senior quarter-finals.
They've been rewarded with two All Star nominations, while Armagh, Cavan, Mayo, Sligo, Tipperary and newly crowned TG4 All-Ireland Intermediate Champions Tyrone have one player each on the list of nominees.
Seven players from the 2017 All Star team are nominated for awards once again.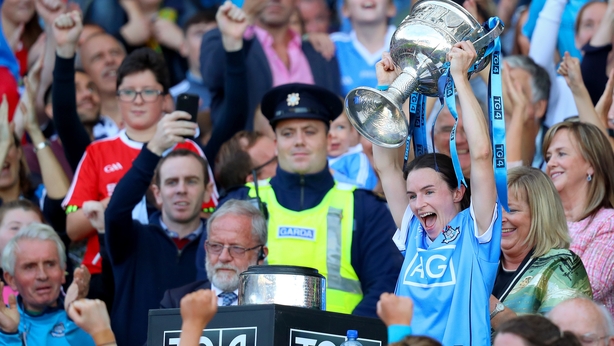 Dublin goalkeeper Ciara Trant is joined on the 2018 list of nominees by team-mates Leah Caffrey, Nicole Owens, Sky Blues captain Sinéad Aherne and Noelle Healy, who was also the 2017 Senior Players' Player of the Year.
Cork's Emma Spillane and Donegal's Ciara Hegarty were 2017 All Star recipients and they're nominated for awards again.
Dublin's other nominees for 2018 are Martha Byrne, Sinéad Goldrick, Siobhán McGrath, Niamh Collins, Olwen Carey, Lauren Magee, All-Ireland Final player of the match Carla Rowe, Lyndsey Davey and Niamh McEvoy.
Joining Spillane from Cork on the list are goalkeeper Martina O'Brien, Eimear Meaney, Róisín Phelan, Melissa Duggan, Máire O'Callaghan, Ashling Hutchings, Eimear Scally, Áine O'Sullivan, Orla Finn and sisters Ciara and Doireann O'Sullivan.
Donegal are well represented by Hegarty, Treasa Doherty, Nicole McLaughlin, Deirdre Foley, Katy Herron, captain Karen Guthrie, 2018 Senior Championship top scorer Geraldine McLaughlin, and Yvonne Bonner.
Having defeated Mayo in the Connacht final, before progressing to the All-Ireland semi-finals, Galway have Sinéad Burke, Nicola Ward and Tracey Leonard in the running for All Star awards.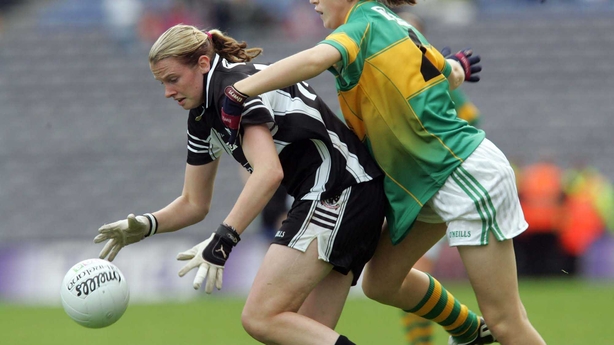 Aislinn Desmond and captain Sarah Houlihan are the Kerry duo nominated, while Armagh's Caroline O'Hanlon, Cavan's Aisling Maguire, Rachel Kearns from Mayo, Sligo goalkeeper Noelle Gormley, Tipperary's Aishling Moloney and Neamh Woods from Tyrone, who captained the Red Hands to Intermediate glory, complete the list of nominees.
Woods and Sligo's Noelle Gormley, who was also nominated for the goalkeeper's position last year, are the Intermediate representatives on the 45-player list.
One player will be chosen from three shortlisted in each of the 15 positions to make up the final selection.
The 2018 TG4 All Star team will be announced at a gala banquet at the Citywest Hotel on Saturday, 1 December, along with the Junior, Intermediate and Senior Players' Player of the Year award winners, the Provincial Young Players of the Year and the 2018 inductee into the Ladies Gaelic Football Association (LGFA) Hall of Fame.
2018 TG4 All Star nominations
Goalkeepers
Ciara Trant (Dublin), Martina O'Brien (Cork), Noelle Gormley (Sligo).
Right Corner Back
Treasa Doherty (Donegal), Martha Byrne (Dublin), Eimear Meaney (Cork).
Full Back
Róisín Phelan (Cork), Nicole McLaughlin (Donegal), Aislinn Desmond (Kerry).
Left Corner Back
Sinéad Burke (Galway), Leah Caffrey (Dublin), Melissa Duggan (Cork).
Right Half Back
Sinéad Goldrick (Dublin), Máire O'Callaghan (Cork), Rachel Kearns (Mayo).
Centre Half Back
Ciara Hegarty (Donegal), Nicola Ward (Galway), Siobhán McGrath (Dublin).
Left Half Back
Niamh Collins (Dublin), Emma Spillane (Cork), Deirdre Foley (Donegal).
Midfield
Lauren Magee (Dublin), Neamh Woods (Tyrone), Ashling Hutchings (Cork)
Olwen Carey (Dublin), Caroline O'Hanlon (Armagh), Katy Herron (Donegal).
Right Half Forward
Ciara O'Sullivan (Cork), Karen Guthrie (Donegal), Carla Rowe (Dublin).
Centre Half Forward
Tracey Leonard (Galway), Noelle Healy (Dublin), Aisling Maguire (Cavan)
Left Half Forward
Lyndsey Davey (Dublin), Eimear Scally (Cork), Aishling Moloney (Tipperary).
Right Corner Forward
Geraldine McLaughlin (Donegal), Sinéad Aherne (Dublin), Áine O'Sullivan (Cork).
Full Forward
Doireann O'Sullivan (Cork), Yvonne Bonner (Donegal), Niamh McEvoy (Dublin).
Left Corner Forward
Orla Finn (Cork), Nicole Owens (Dublin), Sarah Houlihan (Kerry).
County by county breakdown:
14 Dublin
12 Cork
8 Donegal
3 Galway
2 Kerry
1 Armagh
1 Cavan
1 Mayo
1 Sligo
1 Tipperary
1 Tyrone