Former Mayo manager James Horan believes that previous differences with the county board won't be a factor as he seeks the role again, saying that all involved had grown "older and wiser" in the intervening four years.
Horan and current Mayo Under-20 boss Michael Solan were the only candidates to allow their names to go forward for consideration for the vacant post last week.
Interviews are set to be held in the coming weeks.
Horan managed Mayo through four championship seasons from 2011 to 2014, re-invigorating the team after the miserable 2010 championship and leading them to four successive Connacht titles and two All-Ireland final appearances in 2012 and 2013.
However, the former Ballintubber player didn't part on the best of terms with some County Board officials when he stepped down at the end of the 2014 season.
Speaking to local media last Saturday evening in Castlebar, shortly after seeing the Westport team he coaches beaten by Breaffy in the Mayo SFC quarter-final, Horan was asked about the perception that he might find it difficult to work with some officers on the current county board.
"It's four years since I was involved with Mayo, and a huge amount has changed — we've all got older and wiser maybe.
"There's so many different initiatives happening at the moment through the County Board, like the coaching, and I'd be very excited about that."
He added: "And, of course, everyone changes.
"I suppose you need to link up the various different groups in Mayo GAA, they need to be aligned to be successful.
"Of course you need to sit down and work with all the key stakeholders to see what progress you can make."
Horan stressed that he was 'very excited' about the new Mayo GAA underage coaching academy and the abundance of young talented footballers in the county.
"I'm a Mayo man, I love coaching, I'm involved with coaching for a number of years now," Horan said.
"There's a very, very good team there and I just think that it's a very good time now for Mayo GAA.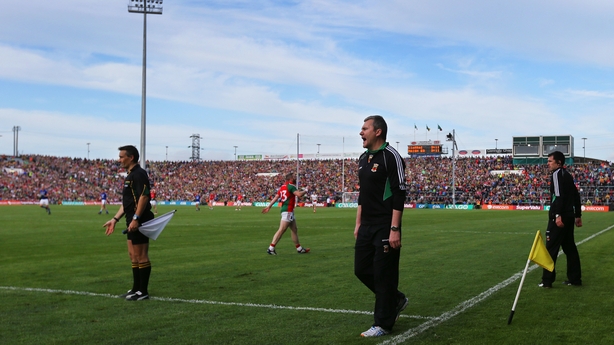 "We've a Centre of Excellence being developed, some very good underage players coming through, you saw a few of them there today that I've been involved with in Westport. .
"I'd be very excited about what's coming through as regards the youth talent that's in Mayo.
"If you squash that in with the experience that's there, I just think that there's possibly exciting times. . And I'd love to see if I could help in some way with that."
When asked if he believed that the next Mayo manager should be targeting an All-Ireland title in the next year or two, or looking to rebuild a team for the future, Horan said: "I don't know if All-Irelands or outcomes like that are what's important right now.
"It's about how guys can develop and improve as Mayo senior footballers every day they go out and play. It's about trying to work on something that improves them every day and seeing where that goes.
"Other stuff will follow on from that, but that would genuinely be the focus. What other people can do, or how we can all link up, to make sure that happens."
The possibility of Horan working with Michael Solan, who managed Mayo to an All-Ireland Under-21 championship in 2016, as part of a new senior management set-up was also raised.
"Mike is a very good young coach, he's been involved with a lot of underage teams and had some success with them" he said. So he's obviously a very capable guy.
"But Mike is involved in this process now so it would be crazy for me to say anything.
"But life's funny, football's funny, you never know what could happen down the road."