Sean Cavanagh says that the concussion he suffered in a club game last weekend is making his life difficult from a work point of view.
The former Tyrone captain suffered facial injuries in a contentious senior championship game between this club The Moy and Edendork.
He is also concussed as a result and on medical advice he has had to lighten his workload while he recovers. His wife Fionnuala is a doctor and she has been monitoring his progress closely.
"It can be difficult from a work point of view," explained the three-time All-Ireland winner and 2008 Footballer of the Year.
"I had a number of meetings planned on Monday and I wasn't able to make all of those on medical advice. It's difficult when you have your own accountancy practice and you have a number of staff who are relying on you.
"There's an onus there to keep going, but when you're married to a GP you get a bit more medical advice than most!" he smiled.
We need your consent to load this rte-player contentWe use rte-player to manage extra content that can set cookies on your device and collect data about your activity. Please review their details and accept them to load the content.Manage Preferences
"My nose is sore, I've a heavy concussion, but recovering. You're going to pick up knocks in sport and Saturday was no different, but thankfully the wounds are hearing. Onwards and upwards," he said, speaking to BBC Northern Ireland.
The game featured no less than 27 cards – 20 yellow, six red and one black – and Cavanagh had to be taken to hospital at half-time after taking a knee to the face.
The Moy lost that game, ending their season. This was Cavanagh's first year post-inter-county retirement and he says he's looking forward to playing for his club again next term.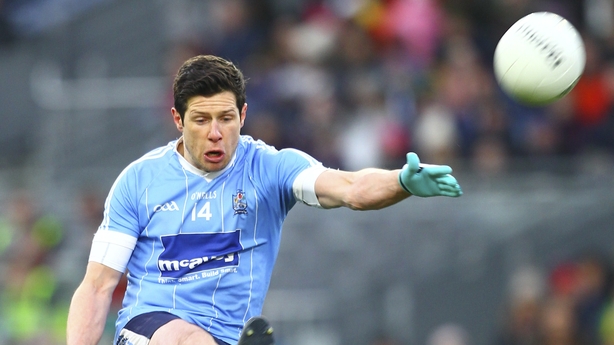 "I love the game, I love the sport, I've been playing it a long time and I certainly don't want to walk away from it at this point," said the 35-year-old.
"Disappointing from our club's perspective, because we had high ambitions, but fair play to Edendork who pulled out a good performance and we wish them all the best in the championship. Hopefully in 2019 the body will be fit and well and I'll be back playing the game I love."
And so it continues 😨😨@KCsixtyseven Edendork played Moy today in the Tyrone senior championship first round
20 yellows -6 reds-1 Black
And Sean Cavanagh transported away to hospital in an ambulance. The man that inflicted the injury did not receive a card of any description pic.twitter.com/gOWQdhLVoc

— david greene (@buddygreene) September 16, 2018