Donegal footballer Yvonne Bonner says she's excited about the prospect of travelling to Melbourne to take part in an Women's AFL (AFLW) International rookie camp along with 10 other Irish athletes for the chance to secure a contract for the 2019 season.
Bonner, who was part of the Donegal team that lost out to Cork in the All-Ireland semi-final, will be participating in a five-day program called 'CrossCoders,' which has been established by the Western Bulldogs in conjunction with other AFL bodies.
Along with Bonner, other Gaelic footballers are going to the camp as well as Irish rugby international Mairead Coyne.
The Western Bulldogs will be offering one or perhaps more rookie deals at the end of the camp and other AFL clubs will also be able to attend the camp to assess if they would like to bring any of the athletes on board for the new season.
"They're getting athletes from all over the world that are a high standard and knows the level to maybe get them into AFL," Bonner told RTÉ Sport.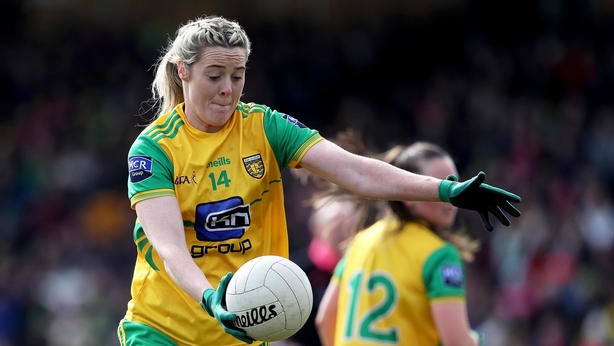 "They're from soccer backgrounds, rugby, Gaelic football, netball and NFL to see how they get on.
"There's going to be a few sessions and testing and different things just to see how we get on. It's only a trial so there's nothing secure yet. At the end of the camp we could be getting a professional contract as a rookie.
"There's some high standard but you just don't know how it's gonna transfer. You just have to focus on yourself and see how it goes when you go over there. It's exciting but scary. It's a hard-hitting sport."
Athletes were invited to the camp following an application process and according to the Western Bulldogs website, they have received 'phenomenal interest' from around the world. Eighteen athletes have been selected, including the 11 coming from Ireland.
CrossCoders initially touched base with Bonner to inform her about the camp which subsequently led to her putting her application forward.
She has seen some clips of Cora Staunton playing AFL with the Greater Western Sydney Giants [GWS] and even asked her brother to pick up an AFL ball for her on his way home from Australia recently to help prepare for the trial.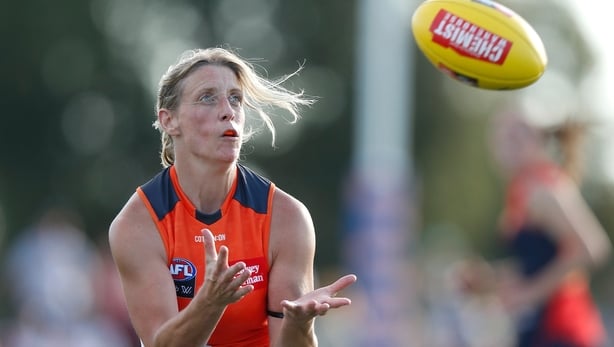 "I think they understand that we're coming from a different background and haven't got the experience. I think they're looking for your spacial awareness, finding space, your speed agility and jumping.
"I never would have seen CrossCoders before but they gave me a heads up and then I went through the application process. I went through the stages and went back and forth with them.
"It's great and that they might have seen me from playing with club or county, so I'm grateful to get the opportunity to try something new.
Bonner and the rest of the Irish contingent will be heading to Australia with Mike Currane of AFL Ireland in the pursuit of emulating Staunton, who has heading into her second year with GWS, and Sarah Rowe, who has signed a deal with Collingwood.
Bonner will unfortunately be missing out on playing the senior Donegal county final with her club Glenfin while she is away at the camp, but she is excited about the opportunity. And if she gets selected, she can still maintain her Gaelic football commitments next year.
"The rest of the girls like Sarah Rowe are still fully committed to the county," says Bonner.
"It's good that you can still do both because with the men's you can't, your bound to the contract and you're over there for a whole year.
"It's such a high standard. They're so well kitted out and so well looked after. It's just to be at that high a level, it would be fantastic if you got the opportunity but we'll see how it goes. It'll be an exciting challenge."
Irish Athletes Taking Part in AFL Camp from September 22-28
1. Ailish Considine - Clare - AFL/GAA (West Clare Waves)
2. Aishling Sheridan - Cavan - GAA
3. Aisling Curley - Kildare - GAA
4. Aisling McCarthy - Tipperary - GAA
5. Amanda Maginn - Ulster Rugby - AFL/Rugby (North East Kooks )
6. Eimear Gallagher - Donegal - AFL/GAA (North East Kooks)
7. Fiadhna Tangney - Kerry - GAA
8. Mairead Coyne - Connacht Rugby/Ireland - Rugby Union
9. Mary Ryan - Tipperary - Camogie
10. Muireann Atkinson - Monaghan - GAA
11. Yvonne Bonner - Donegal - GAA