Dublin and Cork attracted a record 50,141 crowd to Croke Park for their All-Ireland final at the weekend.
That's the sixth highest crowd at a sporting occasion at GAA Headquarters this year, beaten only by the two men's All-Ireland finals, two hurling semi-finals and one of football's last four games - the Dubs against Galway.
This women's final bettered the Monaghan-Tyrone semi-final and wasn't too far off the crowd attracted by Pope Francis when he visited the country during the summer either.
When the teams walked out and saw the top tier full - not something that has happened before at this stage of the competition - they realised something special was happening.
"I didn't notice it and then I saw the top tier full, and a sense of pride hits you with the crowd," said Dublin defender Sinéad Goldrick, speaking to RTÉ Sport.
"But that doesn't matter unless you have the win.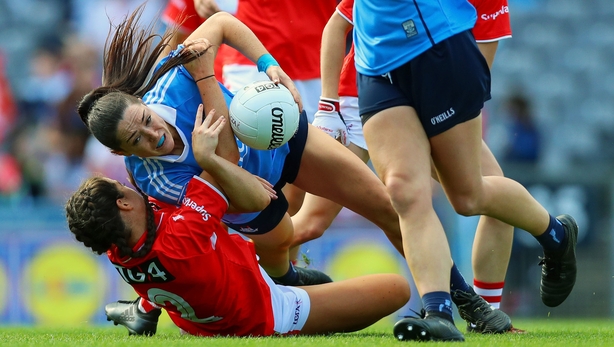 "There's a group of us who have lost finals by a point over the course of three years and then by two points to Kerry, so we just really wanted to get over the line and thankfully this group did it together.
"Away from the lights we went on a journey and Mick (Bohan, manager) said in ten years' time you might see them in a pub or on the street and you just have to give that look, because nobody outside of the team knows what we have been through and how much we push each other. 
"Football is about people seeing the best but behind the scenes things happen to players in their lives and everyone just pushes each other up, and this group is so special.
"Just to win and keep the Brendan Martin Cup in Dublin; we have a huge sense of pride in that. 
"This was a good display of football, and that was important to us. You don't want to just win, you want to win so that 50,000 people have respect for the game and the skill, and hopefully we showed that today."
ANOTHER RECORD BREAKING ATTENDANCE FOR LGFA ALL IRELAND FINALS DAY!

2014: 27,374
2015: 31,083
2016: 34,445
2017: 46,286
2018: 50,141

FIFTY THOUSAND in Croke Park!

Build it, and they will come... 🙌🏻 #LGFA #SeriousSupport pic.twitter.com/69lhn69hgX

— Elaine Buckley (@ElaineBucko) September 16, 2018
The LGFA have been steadily growing the crowd at their All-Ireland finals and this attendance was nearly double the 27,374 that came to watch Cork win in 2014.
This is no doubt helped by the emergence of a successful Dublin team, who beat Cork on a 3-11 to 1-12 scoreline, who are able to mobilise huge numbers of youngsters from clubs around the capital, but it remains a remarkable number.
For Dublin next year that will be natural again – to constantly improve standards and see what way we go - Sinéad Aherne
Those that came through the Croke Park turnstiles didn't exactly see a classic between the sport's two leading lights.
Cork won 11 out of 12 All-Ireland titles on offer between 2005 and 2016, beating the Dubs in the last three of those.
The Girls in Blue took up the mantle and now have a two in-a-row of their own. And while this may not have been a brilliant game, it was tense as it was intense and made for gripping viewing.
When asked did it feel different, Goldrick responded: "Yeah, I think so. We wanted to do two in-a-row, I don't think we would be happy with just the one.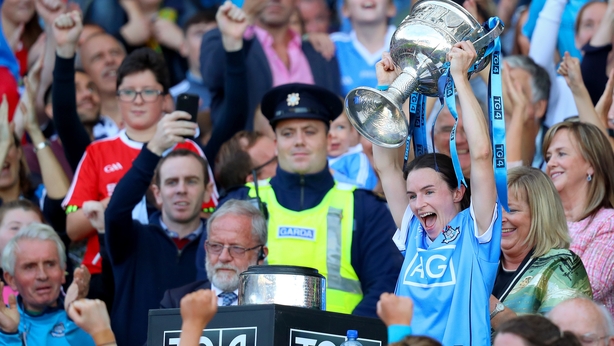 "For years we chased winning that All-Ireland and then we finally had it and we definitely didn't want to lose it."
Dublin captain Sinéad Aherne added: "I suppose this year has probably been a bit different – for the first time in a few years we've been looking forwards instead of looking back, so it was about us and what we could do to push our game on to the next level and that was the approach we took. 
"For Dublin next year that will be natural again – to constantly improve standards and see what way we go."
On the field Aherne led in word and in deed, scoring 1-07 of her side's 3-11 total. That she is already talking about the possibility of a three in-a-row should serve as notice to her team mates that the celebrations won't be allowed to go on for too long into the winter.
Goldrick said: "We're just so proud to get the two and I suppose any Dublin team wants to keep it in the county, so we'll definitely try to do that."