Dublin manager Mick Bohan says this team had to beat Cork in a final to make sure that they were rated as a great team.
The Rebels won 11 All-Irelands in 12 seasons between 2005 and 2016 in one of the most remarkable winning runs in Irish sporting history.
They beat the Dubs in three deciders between '14 and '16, including one where they came from ten points down, so the mental scars were there.
The Girls in Blue won their second-ever Brendan Martin Cup last year, beating Mayo in Croke Park, but they wanted to take the Rebels scalp in the final this time around to make it two in-a-row.
"We couldn't make it out to be more than a game for this group coming into it, but everybody knew that it was and that wasn't shying away from it," said Bohan.
"If we were to build it up in the camp it could become an immovable beast and we didn't want that.
"We're incredibly proud because realistically we have been building for this for 18 months since we came in (as a management team).
"We thought it was going to happen sooner and when we came in we felt that they were the standard-bearers and to take the crown we would have had to take them out.
"And that's said with massive respect to Cork because they brought the game to that level and it has been our goal to set a standard higher than them.
"They weren't (written off) in our camp. Are you joking me? After all the scars they've left here, why would we do that? We have the utmost respect for Cork and that's really what makes this prize today that little bit more special."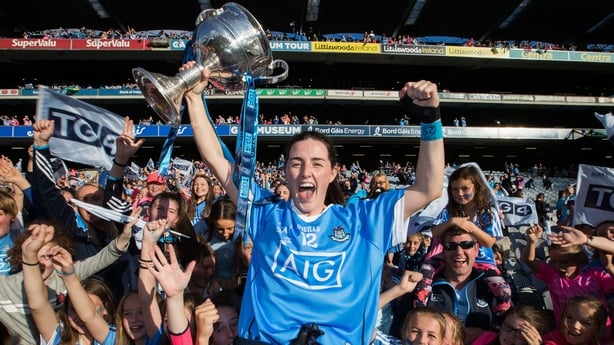 Bohan continued: "It's always going to be special, but to beat the standard-bearers was really important for this group because it was always something that was going to be thrown back at them long after their boots were hung up - 'you couldn't beat that great Cork team'.
"People will say that they've lost their leaders, but the tradition they've built up in their own county in women's football is a huge testament."
Dublin deserved the win and they could have had a more comfortable cushion in the end, but they struggled at times to convert their dominance into scores on the board.
A contentious Cork goal in the first-half levelled the game at 1-04 apiece and ensured there were only four points in it at the break.
Dubs defender Sinéad Goldrick was stripped of the ball coming out of defence and referee Garryowen McMahon put his hand out, apparently signalling advantage to the Dubs.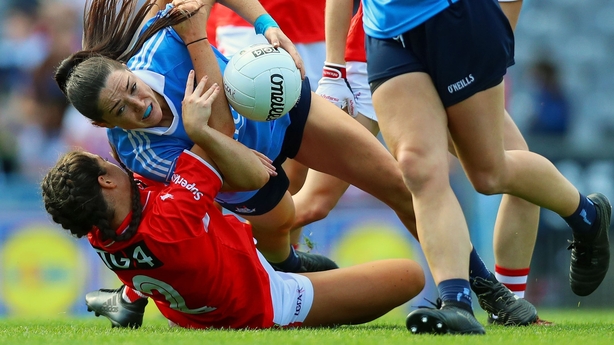 The play continued for another few seconds and Goldrick threw the ball away straight to Cork's Áine O'Sullivan, who stuck it in the net.
"We thought it was a free out, we were convinced it was a free out," said Bohan.
Goldrick added: "I wasn't too sure. It was my own fault for putting it through the centre. When I did it I just knew I had made a mistake, but someone just whispered 'next ball'.
"It didn't make a difference in the end because I wouldn't have been able to forgive myself had there been a goal in the difference."