Dublin defender Sinéad Finnegan wasn't ready to commit herself to the county team when she was first added to the panel as a 15 year-old.
Sitting in St Clare's GAA grounds at DCU ahead of this weekend's All-Ireland final against Cork, she briefly touches on a time when manager Mick Bohan was first in charge of the Dublin team in 2003.
She says that he often refers to those days while training the current team but forgets that Finnegan was on that squad in the early 2000's.
He always says 'Nerd' [Sinéad Aherne] was the only one that was here and I'm like, 'I was actually here as well,'" she laughs.
"It was just to make up training numbers so I got brought in for the All-Ireland series."
She stuck around for another few years after that but the competitive and serious environment didn't suit her during her teenage years.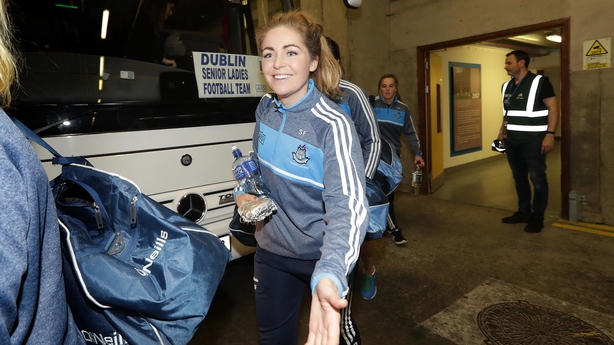 As she grew older, she could feel a change in her mindset and started to identify herself as a Dublin footballer.
"I think I was ready, it was a change of mindset. When I was younger I didn't really want to do it but I still did it because I felt like it was a great opportunity and then as I got older, it was something I really wanted to be part of and I was really lucky to make really good friends.
"We're very lucky that we have a very solid group here."
Her long-time teammate Niamh McEvoy came from similar beginnings with the Dublin seniors, coming onto the panel when she was still eligible to play at Under-16 level and stayed only for the league before stepping away for the summer.
Underage success has always been a prominent feature for Dublin ladies and McEvoy can recall times when winning an Under-14 All-Ireland title felt like the pinnacle of her sport and thus fed into the mentality of not giving enough commitment at senior level.
She was just 20 years of age when Dublin won a first ever senior All-Ireland title in 2010 and presumed that fighting for silverware would be an annual event in a sky blue jersey.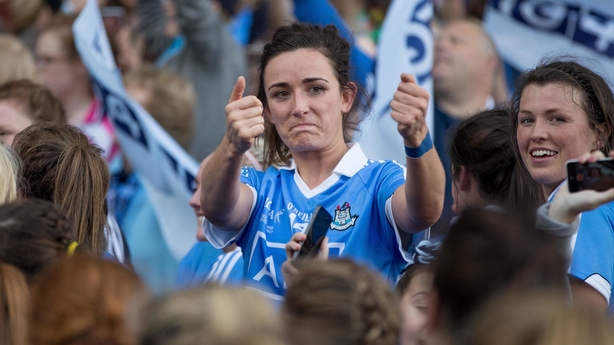 "I probably did take it for granted," says McEvoy. "I thought 'next year when we're doing this and the following year when we're doing this.' But it was a long wait, seven years and it would be something we'd be very conscious about with the younger girls that you need to improve year on year to retain titles and not to be resting on our laurels.
"I think we've grown since that win in 2010 and we probably celebrated that as if it was never gonna happen again. As a result, it didn't for seven years."
The long wait for a second All-Ireland title was an arduous one for Dublin as they were forced to endure heartache in finals on three consecutive occasions before prevailing in 2017.
It was an assured, clinical performance from Dublin against their opponents Mayo but for Finnegan, preparing for that final was a worrying time for her.
She tore her calf while playing a squad game on the day of the men's All-Ireland final which put her in a race against time to recover in time for the clash with Mayo.
Rehabing the wounded area became her primary focus as the big day loomed. A plan was formed with Dr Noel McCaffrey [father of Jack] to get her through 15 minutes of the game and the early signs following the throw-in were promising.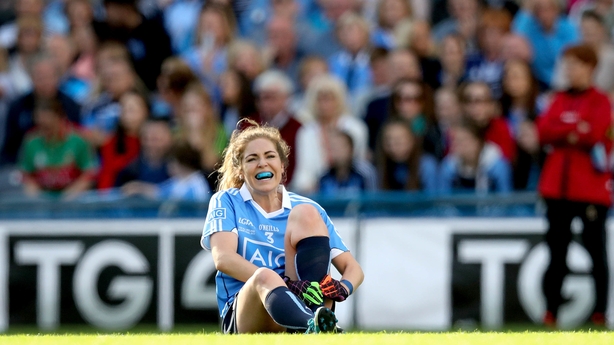 "I had quite a heavy strapping on it and I had quite a lot if pain relief taken. No, it was fine. It was actually grand for about five minutes. I was like, 'Jesus, if it stays like this I actually could be grand'.
"Then I remember at one stage Cora [Staunton] was on the ball. I kind of jumped out towards her to block her and the jumping motion just set it off. That was RIP Sinead for the day."
She was replaced by Deirdre Murphy in the early stages of the first half and as she took her seat among the substitutes, she struggled to watch on as the rest of the game unfolded.
Dublin ran into a commanding lead but Finnegan had witnessed this scenario before in 2014 when Cork rallied from 10 points down in the final quarter to break Dublin hearts. She just simply couldn't settle until the final whistle blew.
"I was like a possessed woman. I felt so sick. I remember I was sitting next to Rebecca McDonell, I kept saying to her, 'I think I'm going to have to go inside here. I'm finding this very, very difficult to watch'.
"At one stage I think we might have been 13 points up and there was three minutes to go. Somebody who was on the bench almost kind of started to celebrate. I was like, 'What are you doing? The match isn't over'.
"They turned and said to me, 'Finno, we're up by 13 points. I know that Cora and Mayo are good but they're not that good. They're not going to score 13 points in that time!' I was on completely on edge; it was very, very tough.
"You can't stop until the final whistle's gone. Thankfully it went our way and we had a few celebrations shortly after. Thankfully I'm going into this match injury-free so."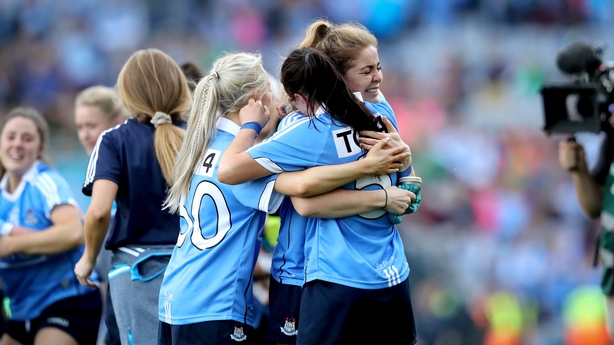 Unfortunately, injuries have continued to plague the Fingallians clubwoman this year which include a broken hand, a broken thumb and an ongoing Achilles issue. But she is experiencing some relief at the moment, which she hopes will continue until full-time on Sunday.
Both Finnegan and McEvoy are going through a transitional period in their professional lives. Finnegan has left the world of PR to join the teaching profession while McEvoy - who is a primary school teacher - is studying a masters in Business and Entrepreneurship in DIT at the moment.
Finnegan has chosen to specialise in teaching Business Stuides and Irish, a language which she has a passion for and sometimes speaks at home with her family. For McEvoy, she's not quite certain about what direction she wants to take with her new course but it's something that she's eager to do.
They're both excited about their new personal projects but facing down Cork to retain the Brendan Martin Cup is their immediate priority.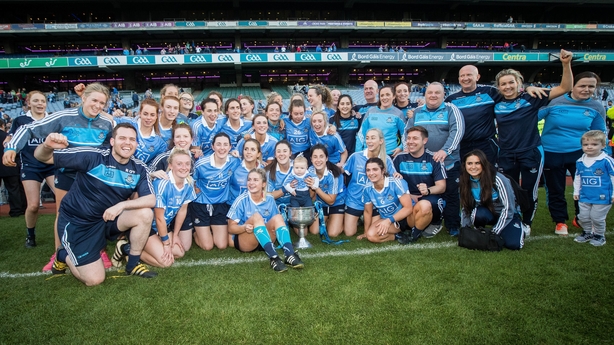 "I think we're very lucky with the team we have this year," says McEvoy, "there's a number of younger girls who have never experienced a final defeat. All they know is success because obviously we had a very successful National League campaign on the back of last year as well. It's really, really galvanised the group.
"We're lucky then that we have the dynamic where we have more seasoned campaigners like myself and Sinead. It's a really nice dynamic.
"Similarly, with the Cork team, they're a completely different team than the teams we would have been playing five or six years ago. I don't necessarily feel as if these two teams have ever clashed before although I know that the counties have, Dublin and Cork.
"The personnel is certainly different. Obviously, we're giving them the respect they deserve but we're really, really looking forward to it."
Follow the All-Ireland Ladies SFC final with our live blog on RTÉ Sport Online and the News Now App, listen to live commentary on RTÉ Radio 1's Sunday Sport and watch highlights on the Sunday Game at 9.30pm on RTÉ2