Kieran Donaghy has revealed the pain of being dropped for the 2015 All-Ireland final defeat to Dublin drove him to extend his inter-county career by another three seasons.
The Austin Stacks man was the Kingdom's captain that year but lost his starting place to Paul Geaney for the big day, eventually replacing the younger forward in the 50th minute.
Speaking after announcing his retirement from inter-county football today, 'Star' told RTÉ Sport that even after four All-Ireland victories, he was hungry for another Celtic cross to add to those won in 2006, '07', '09 and '14.
"It's been on the cards for a few years," he said.
"I was going to go in '13. I was going to go after we won the All-Ireland in '14."
As @starryboy14 retires, we recall a very famous quote that is regulary tweeted to @JoeBrolly1993 to this day. #rtegaa pic.twitter.com/w5NXO24pGO

— RTÉ GAA (@RTEgaa) September 11, 2018
"We won the county Championship with Stacks and I got the honour of captaining Kerry, which was huge for me.
"I came back with a bit of unfinished business in 15', the fact that I was dropped for a final and it didn't go well for us.
"I felt I wanted to come back and give it another good shot and ended up giving it three.
"But the last four years have probably been up there with the most enjoyable of my career. I was playing, I was fit, I was healthy. It felt like bonus territory.
"I was able to play my basketball, huge credit goes to Eamonn (Fitzmaurice) and the team for that, allowing me to get my fitness up and then come back into the football and be accepted into the family."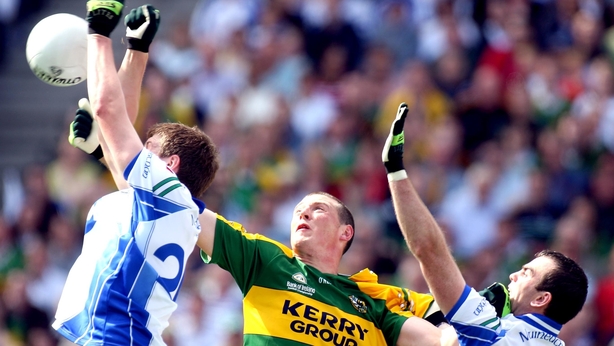 Donaghy believes that the Kerry public took to him because of his traditional, direct full-forward style of play, which has become less common in the game in recent years.
"I'm a basketballer playing football," he reflected. "It's a role that there weren't too many other fellas doing.
"It gave us a different option. There were times in my career when it worked very well but there were also times when it didn't work.
"When it works it's good, and it's an exciting brand of football. I think the people of Kerry have a real warmth with me because we were playing that way, there were high balls going in and I was managing to get my hands on a few of them.
"We had some very successful years. Six finals in a row and I said 'this thing is a bit easy' but as we well know there's nothing easy at the highest level of sport.
"It takes a lot of hard work and dedication and I'm very lucky to have been able to do it for this long."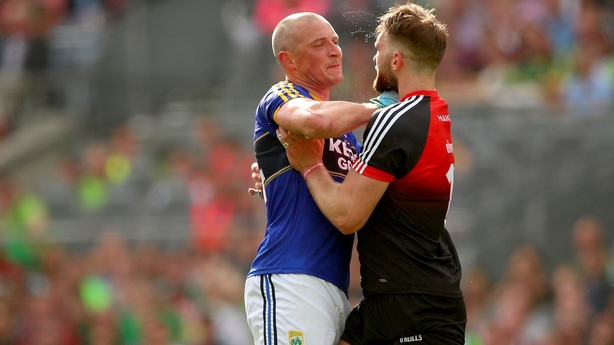 As for his occasional disciplinary lapses, Donaghy insists that the pride of playing for Kerry inspired a fiery determination that he admits meant he was "on the edge" on the field.
"For people who know me, I'm a very normal guy.
"When I put that jersey on, it was almost like it was a crest of honour, I was going into battle for this group of people, this county.
"That's why I was so on the edge as a player. I just felt I had to bring that to get the best performances out of myself."
It's the start of a new chapter for the Star with the X-factor, reports @MartyM_RTE #RTEgaa pic.twitter.com/6jh7nFNYBN

— RTÉ GAA (@RTEgaa) September 11, 2018