Kilkenny camogie boss Ann Downey described Cork's match-winning free was "harsh" after her side lost a second consecutive All-Ireland decider to their rivals.
Orla Cotter settled the tie with a long-range effort after she was adjudged to have been fouled out near the sideline.
Cork were awarded another free shortly before that in a nail-biting finish in Croke Park, and both were considered to be controversial decisions by referee Eamon Cassidy.
While Downey insisted that she didn't want to criticise Cassidy's overall performance, she felt that those calls were incorrect.
"I've had a look at it in the dressing room with our stats people and without criticising the referee, Orla [Cotter] was falling. Our players weren't around her to be quite honest but hadn't touched her. I thought it was a harsh enough free which I suppose you saw from my reaction on the line.
"I thought the free against Davina [Tobin] before that, there were two hard calls on us. I suppose Eamon [Cassidy] has to look at his own performance and judge himself, I'm not going to give out about him. It is what it is, it's not going to change the result. We have to be able to take it on the chin and move on."
Cork were also awarded a penalty in the first half for a tackle on Amy O'Connor, which goalkeeper Aoife Murray sent over the bar.
Downey also disagreed with that call from the referee.
"We looked back at it and I think Colette [Dormer] got a flick of the ball and there was nothing. She never touched the player. These things will happen. Like the player, the referee is not going to referee a game and get everything right.
"But I thought we maybe came out the wrong side on a lot of the calls."
Although Downey was disappointed to be on the wrong end of some officiating decisions, she also pointed out that Kilkenny's poor finishing in front of goals as well as some of their wayward passing also contributed to their defeat.
Their resident free-taker Denise Gaule was superb from placed balls throughout the tie, converting seven opportunities in all but she also dropped one short in the second half after taking a knock shortly shortly before that.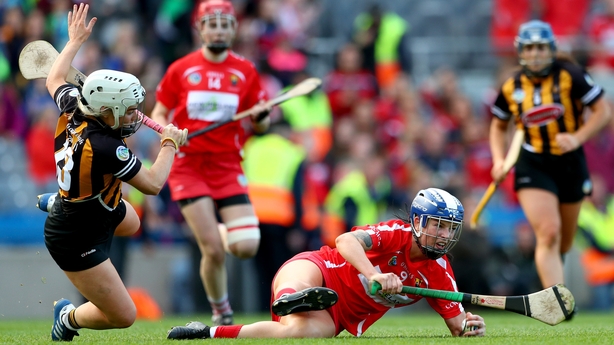 Downey however, added that perhaps the rules of camogie may have to be revised to facilitate the high levels of physicality in the game.
"Something will have to happen because it is a contact sport, it is a physical game. I suppose a few times he had his hand up for advantage and no advantage accrued us and nothing came of it so that was a bit disappointing.
"It's either an advantage or it isn't. It's up the referee to call it back and give the free. I think that happened two or three times in the second half.
"It's disappointing and it's devastating for the girls. At the end of the day we've trained so hard and as hard as Cork did for the last number of months.
"To come out on the wrong side for the second year-in-a-row by one point for what I would consider two bad decisions. But again, it's not all down to the referee. It is what it is and there's nothing we can do to change it. I think maybe Camogie [Association] might have a look at it and decide [to] maybe get in James McGrath now that he's free," she laughs.
"I don't know what the answer is but maybe we're just a bit too strict on the whole physical thing and too many frees."
She concluded:
"They go back to their clubs probably the week after next. It might help to lessen the burden, they'll have a long winter just thinking about it.
"Two years in-a-row, they are devastated inside. I haven't had a chance to speak to them yet and they're just gutted."