Football should move to 13-a-side in order to compete with the entertainment that hurling provides, according to Frankie Dolan.
The big ball code finds itself playing second fiddle to hurling after a summer of scintillating action which has led to some claiming 2018 as the best ever championship.
On the flip side Dublin coasted to their fourth Sam Maguire title in a row with the feeling that they were not pushed by any team on their way to the title.
And former Roscommon player Dolan even admits that he has been watching more hurling than football this summer.
"There needs to be a change," the St Brigid's man told RTÉ's Sunday Sport.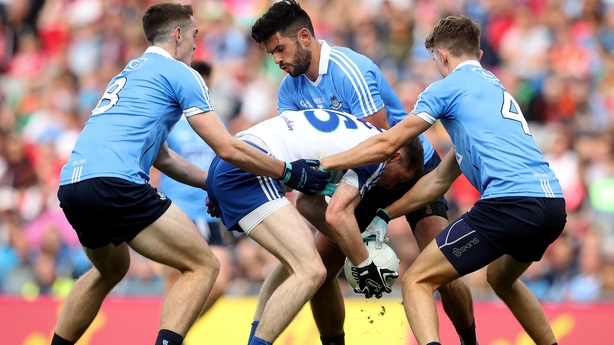 "People are crying out for entertainment, the hurling gave us that this year. I probably watched more hurling this year than I did football.
"People want to see scores, they want to see the best forwards scoring brilliant points, brilliant goals, brilliant moves but the way the game is there is very little of that.
"There is an odd game that will have real quality but players are so well conditioned now they can cover ground so quickly. I think the game needs to go to 13-a-side to give more space.
"You want to see players like Bernard Brogan, Diarmuid Connolly, Conor McManus, Damien Comer, Shane Walsh, you want to see these; you pay your money to watch these lads strut their stuff.
"If they got space on the field, you'd see more entertainment, bigger scores and probably bigger crowds in the end.
"We've seen in it the hurling, the hurling has been unbelievable. A lot of my friends are ex-county footballers and they've watched more hurling than football.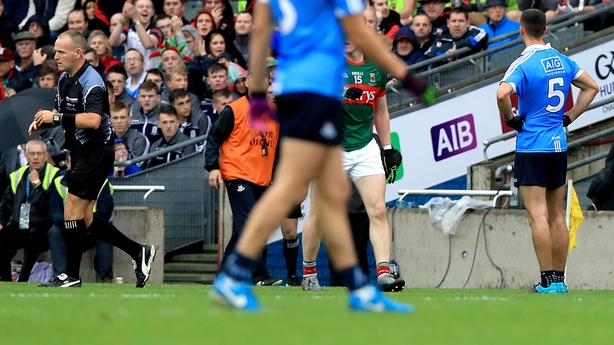 Former Armagh player Aaron Kernan added that he felt a couple of rule changes would help.
He said that the GAA should introduce an attacking mark for a ball caught inside the 21m line and also proposed that the sanction for a black card foul should be changed to advancing the ball 50m up the field instead of a sending off.
Seán Cavanagh told the Sunday Independent he thinks that a penalty should be awarded in those incidents to curb deliberate cynical play.