Back in May, ahead of the start of the football championship, Dublin manager Jim Gavin brought his side to the fields of Flanders for a bonding weekend. He wanted to give his team some perspective and balance.
Fast forward four months and Dublin have beaten Tyrone to win the All-Ireland football final for a fourth straight year.
"We went to the fields of Flanders, to the battle of the Somme, it was some time to get away with each other before the campaign started," Gavin told RTÉ Sport
"It's nice to take some time to reflect on how lucky we are, as Irish men, to live in a very unique island, a republic, to be thankful where we are, to celebrate life and commemorate Irish men who went abroad - rightly or wrongly - to fight for something that they believed in and paid the ultimate sacrifice.
"And that's another side of our history that we will celebrate shortly with the foundation of our state, it's nice to get perspective in life, these guys like Philly (McMahon) do so much behind the scenes for hospital and hospices it's often nice to get a counter balance in life."
Dublin defender Philly McMahon lost his father earlier this summer, making Sunday's victory a very poignant occasion for the Ballymun man.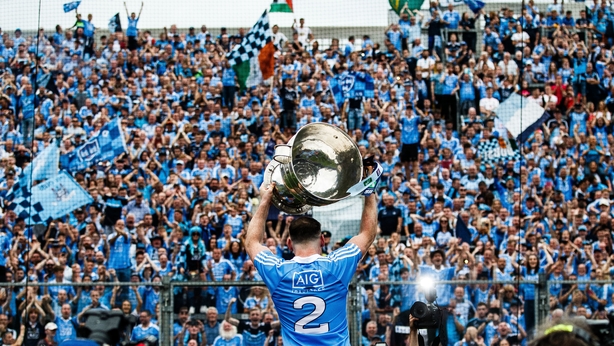 "My dad was a big part of where I am today in sport, I'm very fortunate to be where I am, to have a group of lads and management team around me they have been a great distraction to me," McMahon told RTÉ Sport.
"I know he was there in spirit yesterday, he was there in my mind every time the legs were getting sore or something was going wrong he was my focus, it's been a tough year having the extra family support around you from team-mates and management is very important.
McMahon and his team-mates have now won four-in-a-row, becoming only the fourth team to pull off such a feat. They are undoubtedly a special group of players.
"We are like a band of brothers, we argue, we pull each other up, we celebrate, it's very like a family," said McMahon. "It's the best way I can describe it, we fight for each other as soon as we put that jersey on we know what we represent and the management team have instilled in us what we represent."