When the dust settles and Tyrone's management review their preparation and planning for this assault on perpetual champions Dublin, there will be very little that they will feel they could have done differently to give their players a better chance of upsetting the odds.
Tyrone are a very disciplined and talented team with natural ball-carrying ability in every sector of the pitch but ultimately they did not have the personnel to match Dublin's key men.
One trait that is starkly missing from the Red Hand armoury is a rabid, hungry aggression in the hunt for the ball.
It is often a quality in champions that can be overlooked and when the game was in the balance Dublin were the team coming up with ball they shouldn't.
Fortune favours the brave
The opening phase of the game set out Mickey Harte's tactical terms and conditions and there was just enough surprise to wrong foot the favourites.
The most fundamental game plan adjustment came in the form of how Tyrone decided to deal with Dublin's slow build attack.
The first element of their normal defensive shield involves Colm Cavanagh setting up as a deep sweeper followed by Frank Burns sitting in as a double-up tackler behind his half-back line.
The relegation of Burns to the bench in favour of Rory Brennan before throw-in indicated that their customary second sweeper might not be part of the plan and the early patterns illustrated a clear change of thought process on Mickey Harte's behalf.
Gone also was the mass retreat of Tyrone's middle third to their own 45 to set up a tackling perimeter, behind which Burns normally operates.
Instead, the challengers went after Dublin's runners as they broke and squeezed pressure on the ball carrier and support runners well before they threatened the attacking third.
Tyrone's bold approach, which backed their players' individual defensive qualities, reaped considerable dividends early in the game.
Dublin were rushed as they approached the scoring zone and struggled to get Ciaran Kilkenny, Brian Fenton and Jack McCaffrey on the ball with space from which to pick the right pass forward.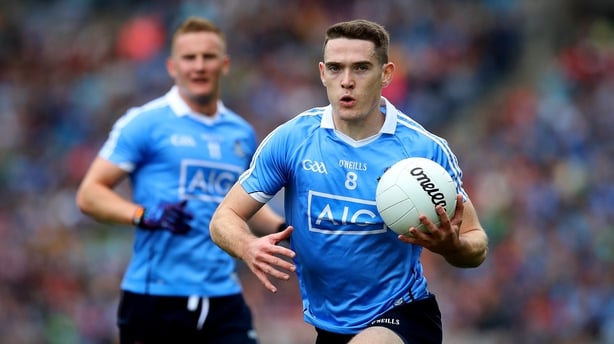 Dublin were dwelling on the ball, making bad decisions and consequently taking contact they don't usually. The result was turnovers – gold dust for Tyrone.
As the early skirmishes settled and the Tyrone players realised they were more than coping with Dublin's build up, their confidence in the Harte's plan grew.
The added bonus to turnovers for the Red Hands was that their middle-third players were counter attacking from higher starting positions having tracked a runner as opposed to retreating to tackle.
As the team's confidence grew, their counter attack running became more empowered and effective.
At this stage of the first half the defensive and middle third match-ups were largely dictated by Tyrone.
They knew who they did not want on the ball in creative areas and injected as much intensity and nuisance factor as they could to interfere with Dublin's normal patterns.
Instead of the deep and layered tackling structure, Tyrone were bringing a dynamic approach to hunting Dublin with only Colm Cavanagh in place as a safety net.
It was a high octane and energy sapping approach to taking Dublin on but it was effective and the team's belief was expanding with every Dublin mistake.
Tactical game on restarts
Restarts from both goalkeepers were providing a very interesting tactical sub-plot.
Tyrone's normal kick-out patterns were exposing the Dublin middle third. Six "defenders" squeezed towards Niall Morgan and sucked their opposite numbers with them to leave prairies of space in the middle.
Tyrone's nominal half-forward line also dropped towards centre-back to provide a team of break ball hunters should Morgan decide to go long.
However, the most effective "out" was towards either initial defenders or middle third targets breaking late towards either sideline and Dublin simply did not react quickly enough to compete often enough.
At the other end, Jim Gavin had made a significant adjustment to his team's starting set up for Cluxton's kick outs that would eventually reap large dividends in the overall battle for possession and ultimately ensure Dublin's stranglehold on the game.
Tyrone have employed a zonal full press on opposition kick-outs throughout the championship.
A front three strung across the 21-yard line to cut off short restarts are supported behind by a further line of four pushed into areas that take away the placed-kick to runners into space.
The end game is to force a long kick-out to where Tyrone have manned the drop area with four strong fielders and have the first line of four coming back into for breaks.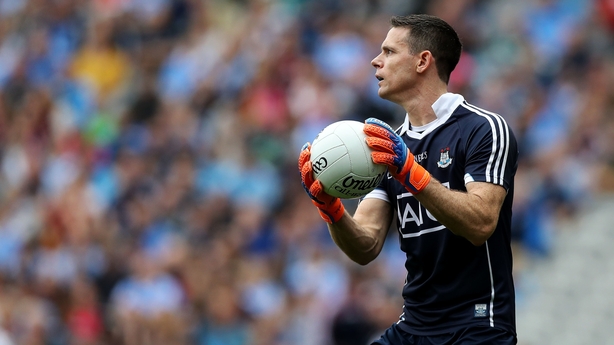 That has deployed 11 men in the pressing opponent's restarts and even if they don't win the ball directly puts their opponent immediately under pressure to retain possession.
Jim Gavin removed Tyrone's ability to employ their normal kick-out press from the outset by pushing up to six players up into the forward line before Cluxton stepped back to consider his options.
In doing so, Tyrone were required to mark the advanced starting positions and no longer had the 11 personnel they needed to set up their zoned net and spaces for the Dublin captain to exploit were easily found.
It would have been interesting to see how Dublin would have coped if Tyrone had set up their normal structure for kick outs, irrespective of Dublin's starting positions and gambled on hemming the champions in.
Tyrone's early storm
When the clock ticked through a quarter of an hour, the Red Hand challenge was more than on track – it was gathering steam.
Their decision to pressure Dublin's build-up play was vindicated as the champions struggled retain the ball where they like to and Tyrone's counter attacking had increasing purpose.
Dublin were shaken – as Tyrone must have hoped they would be – and uncharacteristic mistakes in possession followed.
It was in this period that Stephen Cluxton made his only two errors with kick-outs, costing him a perfect thirty retentions from thirty restarts.
There was another factor to Tyrone's effectiveness in attack. Dublin during the normal run of play will drop Cian O'Sullivan off as a cover player and press everyone else that moves.
They trust each player to bring their maximum work-rate and intensity to the job. Paul Mannion regularly epitomises this as he tracks breaking defenders the length of the field before making interventions that most quality defenders would be proud of.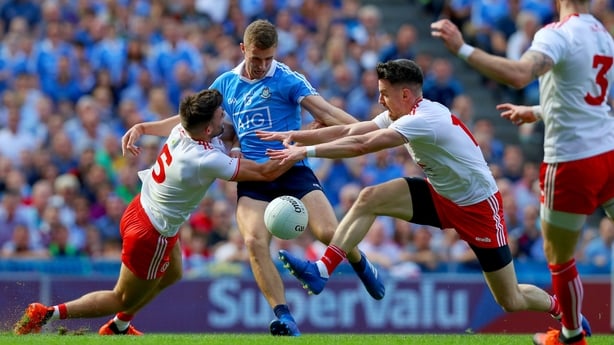 What has enabled this approach to succeed in the past has been the ruthless effectiveness of Jonny Cooper and Philly McMahon as man markers who can curb and deny possession to all comers in the inside line, carefully patrolled by Cian O'Sullivan as a hugely effective comfort blanket.
It was very obvious from early in the game on Sunday that both McMahon and O'Sullivan were not at the levels of sharpness and energy that have set them apart in their roles in recent seasons and that Cooper was struggling to keep his finger in the dyke with his brothers in arms leaving time and space that is normally alien in the Dublin rearguard.
We soon discovered the reason for O'Sullivan's drop in standards as his hamstring troubles forced him off but McMahon's decline has been signposted throughout this season.
It wasn't until Mick Fitzsimons arrived as a man marker, with McMahon moved further out that Dublin looked secure again at the back.
If O'Sullivan's hamstring had lasted and he had finished out the game at the 75% he was operating at it we might have had a different outcome.
Dublin solve the puzzle
The game's momentum and the psychology on both sides certainly turned with Dublin's quick fire 1-03 in the middle of the first half but Dublin had begun to get to grips with Tyrone's strengths just before.
Tyrone had managed to tie down Fenton, McCaffrey and Kilkenny for the opening 15 minutes and when the latter two did find possession they were not allowed space to play.
That was the result of Mickey Harte's adjustment in defence and the huge energy his players had brought to the task.
However, the first signs of Dublin finding a solution appeared in Kilkenny's point to close Tyrone's lead to three points before the penalty.
Dublin's realignment for their kick-outs allowed Cluxton to place McCaffrey galloping across halfway and cutting into the Tyrone heartland.
Kilkenny peeled off and made his first significant contribution of the day to land a sharp point from 40 yards.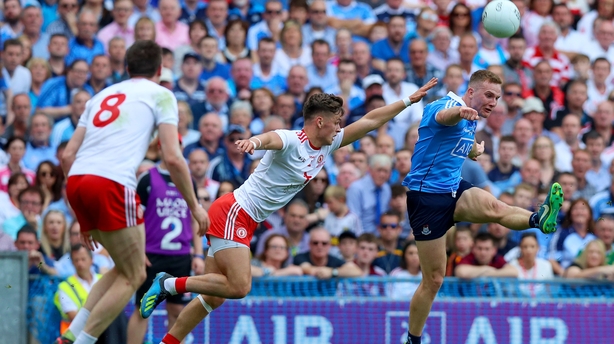 The tears were beginning to show in Tyrone's wrapping paper for Dublin's key architects as they struggled to maintain the pace, physicality and concentration required to cage them.
All three would continue to impress themselves on the play increasingly and ultimately Tyrone just could not stay with them.
Jack McCaffrey in full flight is a force of nature and the perfect antidote to Tyrone's approach of trying to hold Dublin with high intensity pressing in the middle third.
His pace cannot be marked one on one with any type of space ahead of him.
The refined Dublin kick-out clicked perfectly from this point as their middle third runners revelled in exploiting the space their captain now had to find them in and they are of course well versed in building attacks off those opportunities.
Conversely, three ill-judged kick outs in row presented the champions with 1-02 without expending much energy.
Mirror image
Tyrone's All-Ireland final set up flagged a complete evolution to the Dublin template for the Ulster men. The approach is significant for the dynamism in the middle third of the team and reliance on those players' decision making, creativity and athleticism.
Defending as a team without a structured shape to lean on relies heavily on the team possessing what is becoming the most rare specimen in the game – quality man markers under pressure.
And so it was in the All-Ireland final as both teams struggled with those tasks throughout.
Dublin got away with their individual defensive decline, primarily by dominating possession for long periods of the game and protecting their Achilles in that way.
Tyrone's grasp on the champions really began to slip after the napalm of adrenaline dispersed and their middle third intensity dropped.
Suddenly Dublin were allowed more time on the ball and were able to find their forwards' movement. Tyrone simply did not have the quality individually to cope outside their normal web of bodies.
Most of the marking match-ups were exposed. McNamee struggled with Rock and at times Mannion lit Croke Park up, leaving Hampsey in his wake.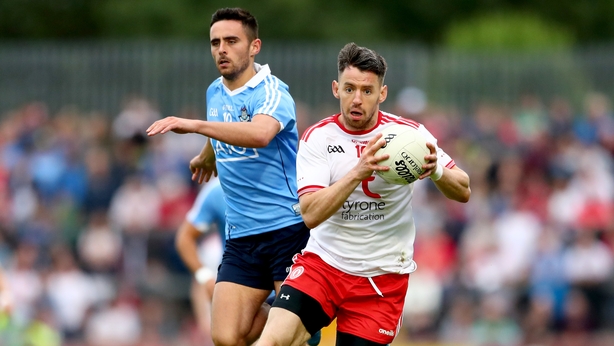 Neither McCann nor Donnelly were able to affect any type of impact on Kilkenny's "creator" game once he found his feet but the key battle that gave Dublin a platform to win the game was the pivot that Con O'Callaghan provided.
Michael McKernan could not combat the pace or speed of thought of O'Callaghan and the young dual star played a simple and effective game knitting attacks together for others to finish.
Mickey Harte got his tactics as close to perfect as could have been hoped for in Tyrone. He found a way to neutralise Dublin's key playmakers while also creating a platform to maximise the effectiveness of his own strike runners on the counter.
Dublin were knocked off their stride and outplayed for 15 minutes and the path to taking them on was clearly defined but ultimately Tyrone could not sustain the herculean efforts required to keep the champions under pressure.
The task remains the same for any pretenders considering a tilt at the drive for five in 2019. Tactics and gameplan will always be central to maximising any challenger's performance but when everything else is boiled away, someone has to find a way to negate McCaffrey, Kilkenny and Fenton's brilliance.
Shouldn't be that difficult…