Comparing teams from different eras is a fruitless pursuit, but it is fun and it will fill up a few long winter nights ahead.
Are Dublin the greatest team ever to lace boots in Gaelic football? It's hard to say…
They've won four in a row - a first for a team in the capital and only the fourth time in over a century and a quarter that it's been done in the big ball game. They're in rarified air, living with the best.
There's little doubt that they'd have beaten the Wexford team of the early 20th century and the Kerry side of the thirties. They'd have beaten the golden years Kingdom team as well.
Whenever the next great team come along, it'll be said that they would have beaten today's best too. That's not to say they're better than them though.
Dublin are without doubt the best-prepared, best-conditioned, best-resourced side in football history. They're bigger, fitter, faster and stronger than anything that has gone before because they are a product of the modern era.
Kerry 1979 were better than Kerry 1929 because, at the time, they were cutting edge.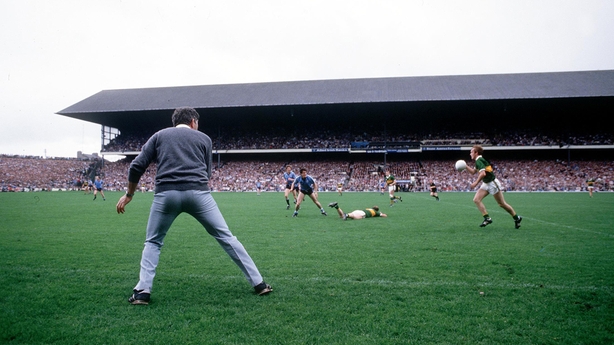 Is Brian Fenton a better footballer than Jack O'Shea was? Maybe, maybe not, but comparing a player from the seventies with a player from the current day is apples and oranges.
Kerry won eight All-Ireland titles under Mick O'Dwyer, a stand alone in 1975, four in-a-row between '78 and '81 and then three back-to-back from '84 to '86.
The Kingdom put four on the bounce 1929 to '32, following on from Wexford's 1915 to '18 foursome.
Modern-day Dublin have six All-Ireland titles in eight years. They came in 2011, '13, '15, '16, '17 and '18. In that time they've won five League titles and compiled a record-breaking 36-game unbeaten run in competitive matches.
Five in a row, something never done in hurling or football before, doesn't look beyond them given the distance they've put between themselves and the chasing pack over the past 12 months.
Wexford, Kerry, Dublin. They're all great teams, just don't compare them.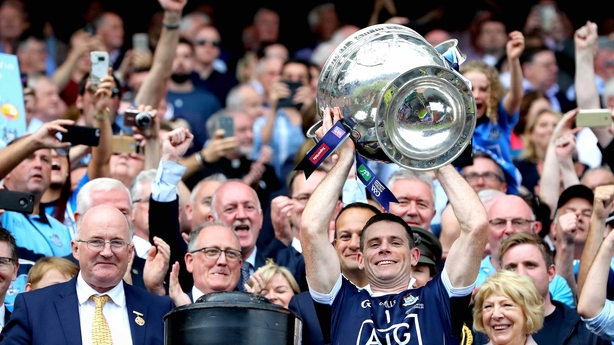 Let's just enjoy the Dubs for what they are because it could be a lifetime before the next great team comes along.
This year's football championship has taken a fair bashing from the critics and Dublin's style of play hasn't been for everyone. The swashbuckling early years of Gavin's management have given way to a more thoughtful, slower style.
That shouldn't take away from any of their achievements. Eleven of them now have six All-Ireland medals.
One of them, in his 200th competitive game for the Dubs, Stephen Cluxton, captained a team to an All-Ireland title for a fifth time - another record. He made his debut in 2001 and had to wait ten years for his first All-Ireland.
Other six-timers are Cian O'Sullivan, James McCarthy and Philly McMahon, who all started in the 2-17 to 1-14 win over Tyrone. Darren Daly, Mick Fitzsimons, Michael Darragh Macauley and Kevin McManamon all came off the bench on the occasion of their sixth.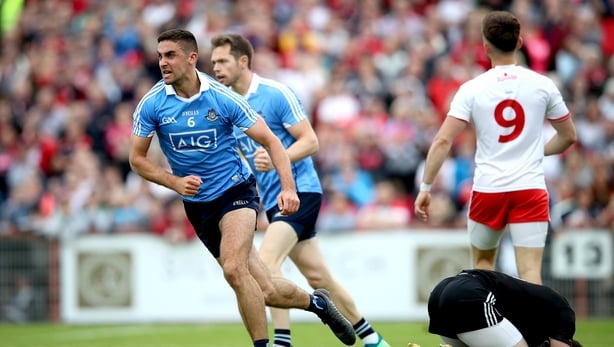 Eoghan O'Gara and Paul Flynn were on the bench, but didn't get a run and Bernard Brogan didn't make the match-day 26 as he comes back from a cruciate knee ligament injury, though all saw championship game-time this season.
Super sub McManamon explained: "It's tricky because there are such warriors there on the second 15 that have played so many games, won All Stars, won everything, big players and big personalities in our team.
"They have absolutely the same responsibility in terms of delivering success as the lads that start the game, we always appreciate that and it's the sum of our parts - we do have a great panel."
Brian Fenton has four All-Ireland medals and he's never lost a championship game with the Dubs. Jim Gavin has been in charge for six seasons and he's only ever been beaten once in the summer - dropping the result to Donegal in the 2014 semi-final. It's 28 Championship games unbeaten since then.
But the backbone of this team continues to change. There was more experience on the bench than on the pitch, with players like Eoin Murchan and Brian Howard winning their first All-Irelands on the field of play.
Con O'Callaghan is just in his second season, Jack McCaffrey is only 24 years old, Paul Mannion 25, the same as Ciarán Kilkenny.
McManamon said: "There has been so many slow shifts in the personnel, the management team, different players sticking their hands up at different times. Each year it's always shifting. Treat each year with respect."
Respect. Treat each year and each era with respect. One isn't better than the other. They're just different.