Dean Rock believes that some of the frees he missed in the first half 'unsettled' Dublin before they recovered to win a fourth consecutive All-Ireland title.
Dublin appeared to be looking vulnerable during the early stages of the 2018 decider, with Tyrone building up a four-point lead inside the opening 15 minutes.
The reigning champions struggled to settle into the game and while both sides were guilty of some wayward shooting, the normally reliable Rock was off target from frees as well as from play, which he believes 'unsettled' his teammates in the first half.
"We were probably sloppy initially," the now five-time All-Ireland winner told RTÉ Sport after an otherwise comprehensive display for Dublin.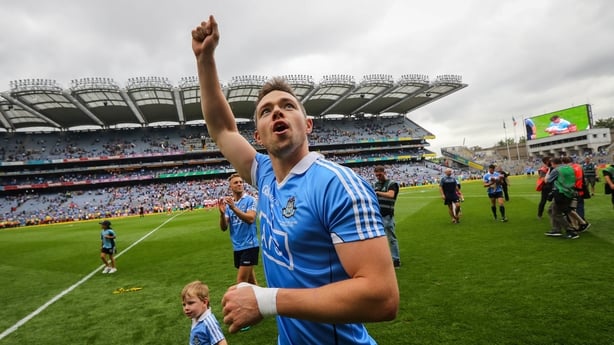 "I missed a couple of frees which just kind of unsettled the team a little bit. Once we got the goal, we won the next kick-out after that and got a score. It kind of settled us after that but Tyrone played with huge intensity in the first 15-20 minutes and we responded well after that.
"It took us a while to get going."
He continued:
"It's an amazing feeling, this is what it's all about. It feels exactly the same as the first one, it's just an incredible feeling. It's a great group of players and supporters, it's amazing."
Aside from racking up a big wide count, Tyrone gave a strong account of themselves and were competitive for large portions of the game.
They were trailing by eight points coming into the last seven minutes of normal time but a Peter Harte penalty and a point from Lee Brennan brought the deficit back to four points before the end
Substitute Kevin McManamon got on the scoresheet soon after to help extend Dublin's advantage again, and Rock says their reinforcements played a vital part in pushing Dublin over the line.
"Towards the end of the game, Tyrone really got a lot of momentum and brought it back to five points but we were lucky enough we had the players to bring on and finish the job.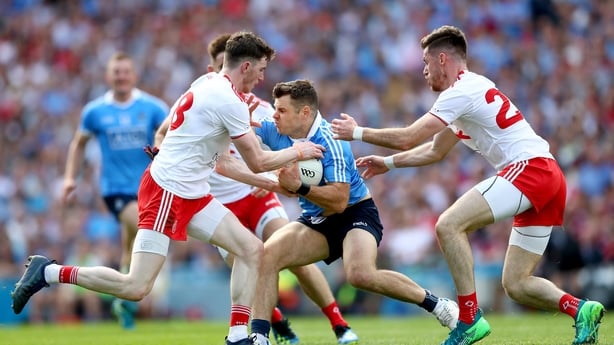 "That's what's really special about this group, we've a strong panel of 30 plus players that can come on on any given day. We're just really thankful that we could put in that performance."
Meanwhile, defender Philly McMahon recalled his younger days of 'kicking the ball off the flats' and told RTÉ Sport that this is what enabled him to become an All-Ireland champion with Dublin.
He dismissed any suggestion that the four-in-a-row charge played a part in their performance in Croke Park and praised the Dublin management team for ensuring that their players are always hungry for more success.
"We're just thinking in the present, this is incredible. Who wouldn't love playing this? Who wouldn't love playing on this pitch with this amount of fans, this amount of people and giving happiness to people around Dublin."
"Preparation has been key with this management team. There was no stone unturned and we've massive respect for Tyrone, they brought the best out of us. We probably didn't have the best performance but we tried right to the end and got the deserved result.
"You're on your toes constantly, that's due to the management keeping the competitiveness of the squad. It's healthy now and long may it continue."