Familiar faces starred as Dublin completed their four in a row with a six point win over Tyrone in Croke Park, but some of the new stars hinted at the coming of another golden generation.
DUBLIN
Stephen Cluxton 8/10
Ropey early kickouts but he found his marks more and more as the game wore on. Standard day at the office after the early wobble.
No one else apart from Cluxton has captained their team to more than two All-Ireland titles.
Cluxton has now done so five times. He'll be 37 soon but still likely to stay on.
Philly McMahon 6.5/10
Another All-Ireland for McMahon although if his form continues in this vein, he probably isn't long for the starting line-up.
Gave away the penalty late in the game although he claimed that artfulness of Colm Cavanagh's part was bought by the ref.
Was denied his only chance of a score by Padraig Hampsey when he was rather slow getting the ball down to his foot.
Still, if he is close to his final lap, he's had a great career.
Cian O'Sullivan 6/10
Had to hobble off with an injury after 26 minutes. Was forced to engage in plenty of fire-fighting as Tyrone gave the unbackable favourites both barrels early on.
Eoin Murchan 7.5/10
Na Fianna's corner back wins the first All-Ireland of his career. Must have felt it wasn't following the script early on due to Tyrone's surprise early shelling.
Lucky not to get black carded midway through the second half following a trip. Still, a tidy job on Niall Sludden, one of Tyrone's key players.
John Small 6/10
Second red card in a row in an All-Ireland final. Deservedly so after a clear instance of pulling back Peter Harte's face.
Annoyed many by hitting the deck extremely easily after an altercation with Peter Harte late in the first half.
Jonny Cooper 8/10
A player beloved by the rest of the country, Cooper was penalised for Tyrone's opening point for a foul off the ball.
He kept his discipline in check thereafter and was his doughty effective self thereafter. Excellent afternoon's work by the Na Fianna player.
Jack McCaffrey 9/10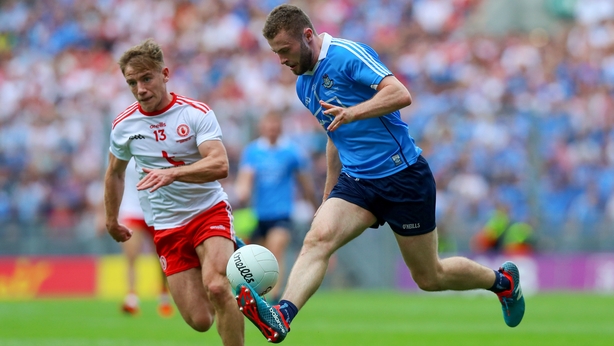 Another phenomenal display from a player with a claim to being one of the brightest among this galaxy of stars.
Took the fight to Tyrone during that dicey opening quarter with constant surging raids down either wing - even if the end product was often missing.
His waywardness in front of goal notwithstanding, McCaffrey was an electric presence throughout. The 2015 Footballer of the Year has to be a contender for the award again.
Brian Fenton 8.5/10
Do we have to contemplate the possibility that he'll never lose a match in a Dublin jersey? Another Rolls Royce display in an All-Ireland final.
Tapped over what looked one of the easiest points ever scored in a decider early in the second half. Added another later on after a very, very long move.
James McCarthy 8/10
Last year's Man of the Match wasn't as striking in this year's final but another sterling shift by the rangy midfielder as he collects a sixth All-Ireland medal.
Niall Scully 8/10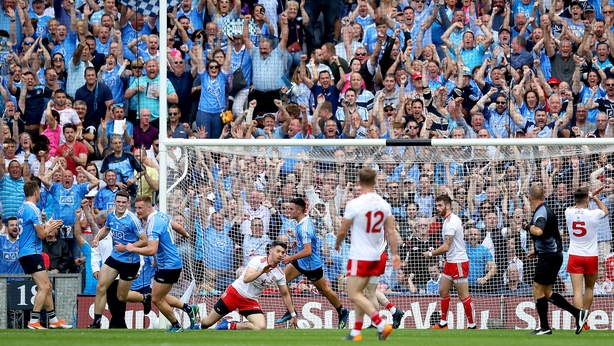 Fine display from Scully who has gone from being a peripheral figure to a central one in the last couple of years. Slipped home a couple of goals against Donegal and was in the right place to palm home the second goal after Con O'Callaghan's industry.
Con O'Callaghan 8/10
Strong display after what people had regarded as a patchy year for O'Callaghan in a Dublin jersey.
Superbly manufactured the second goal which was palmed to the empty net by Niall Scully and was also key in the lead-up to the first goal.
Only surprise was he didn't get on the scoresheet but impressive influence all the same.
Brian Howard 8/10
Whisper it! Is it possible Dublin are on the verge on unearthing a golden generation. Time will tell. Either way, Howard was probably the breakout star of the year and delivered another striking display, decorated by a lovely second half point.
Paul Mannion 8.5/10
Fantastic all-action display from Mannion who lately seems to have taken to making key interventions at both ends of the field.
Took some heavy punishment early on but soldiered through it, slotting the penalty and then slipping over a terrific second half point.
Taken off after 58 minutes for Kevin McManamon. Regarded as a quasi-soccer player in his earlier days in the Dublin jersey but since coming back from his hiatus has evolved into a super player.
Ciarán Kilkenny 8.5/10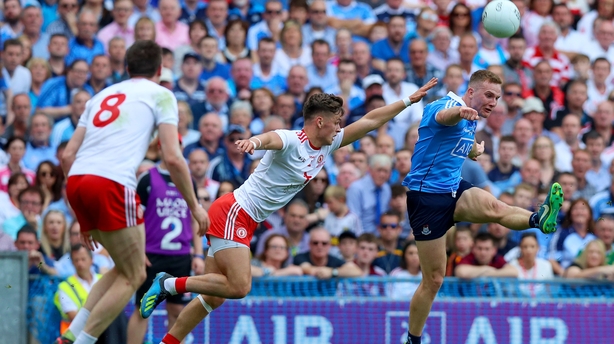 Kilkenny's best year yet as he notched up the biggest tally from play of any player in the 2018 All-Ireland championship.
The focal point of Dublin's attack, Kilkenny stroked over three points - albeit he turned down a gilt-edged chance of a goal for the last one.
His fifth medal and more to come no doubt.
Dean Rock 8/10
Missed a couple of early frees but settled well in step with the Dublin attack.
Slotted over three points from play - same as Kilkenny - and recovered his form from placed balls in plenty of time.
Substitutions
Michael Fitzsimons 7.5/10
Played most of the game after Cian O'Sullivan came on and the 2016 All-Ireland final Man of the Match winner delivered another vigilant and unfussy display.
Another to win six.
Cormac Costello 7.5/10
One of Dublin's heaviest scorers, Costello went on several tearing runs after being introduced but somehow failed to score.
Almost sneaked a goal from a tight angle which probably would have turned the game into a massacre but was turned on to the wrong side of the post.
Kevin McManamon 8/10
Didn't exactly fill his boots as in the semi-final but nonetheless scored a crucial point straight after the gap was narrowed to four points.
Simply ran into Rory Brennan in one bizarre incident but still got a huge amount of ball for someone on for so little time.
Michael Dara Macauley 8/10
Busy and combative for the time he was on and got on the scoresheet with the last minute fisted point to crown off the victory.
A sixth All-Ireland medal for the 2013 Footballer of the Year.
Darren Daly
Not on long enough to be rated.
Eric Lowndes
Not on long enough to be rated.
TYRONE
Niall Morgan 6.5/10
Started brightly on the kickout front but a violent miscue midway through the first half led to Mannion's penalty. Two more went awry afterwards as Dublin grabbed two points from them.
Composed himself afterwards and in the final minutes acted as a kind of advanced sweeper. No harm. Could have done it even earlier.
Michael McKernan 6/10
Tough day for McKernan on a tough day for the Tyrone defence. Still, the 20 year old is tipped to be a big presence in the Tyrone defence in future years and will surely learn from this big day experience.
Ronan McNamee 7/10
Tyrone haven't, as we know, always gone with the specialist at full-back. But McNamee showed his worth with efforts to quieten Conor McManus in the semi-final.
A more trying afternoon today as he had to cope with Dublin's all-singing, all-dancing attack.
Padraig Hampsey 8/10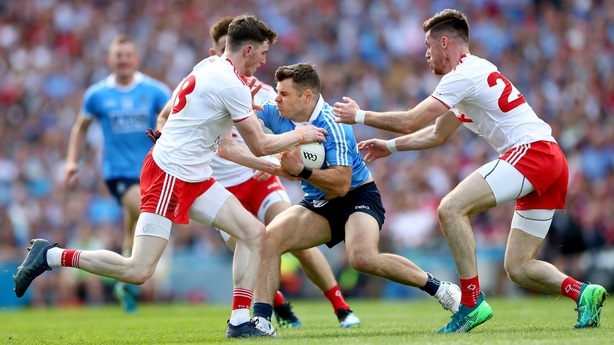 One of the more impressive Tyrone performers on the day.
Wonderful bit of defending to slap the ball away from Paul Mannion as he scampered through the heart of the Dublin defence.
Swallowed up Philly McMahon when the corner back tried for a score early in the second half and his charge up the pitch resulted in a score.
Tiernan McCann 8/10
Decent performance from McCann who was penalised for that controversial first half penalty. Scored an excellent point during Tyrone's early surge and was a combative presence in defence all day.
Possibly unlucky with the penalty although it remains subject to some debate.
Rory Brennan 8/10
A late introduction for Frank Burns, Brennan worked tenaciously in defence throughout, breaking up a couple of promising Dublin attacks.
Dropped a crucial one short late on as it looked like Tyrone might just stage a late rally.
Peter Harte 8/10
An altercation in first half injury-time had the Dublin fans baying for a red card although replays indicated Small was extremely keen to hit the deck.
Tyrone's top scorer in the finish although this is due to placed ball efforts, an early pointed free and the late penalty.
Never stopped probing and working throughout. Emerges with credit.
Colm Cavanagh 7/10
Remarkably lucky to avoid a black card for a plain and obvious rugby tackle on Con O'Callaghan when Tyrone were gasping for air late in the first half.
The long ball into Cavanagh led to Tyrone's penalty, giving neutrals the faintest sniff of a chance that we might be set for a grandstand finish.
Cathal McShane 7/10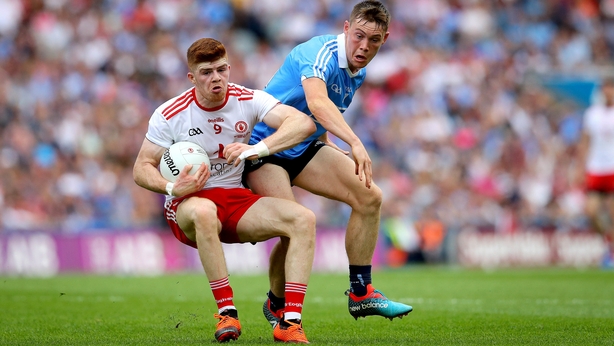 Another Tyrone player to emerge from the game in credit, McShane kicked over a couple of lovely points either side of the break - however he was guilty of a few bad wides.
Took the battle to the champions until he was replaced by Declan McClure late on.
Mattie Donnelly 6.5/10
Difficult day for Donnelly who didn't shine as normal. Didn't register a late score with a long distance effort. Debate still rages as to whether he meant it.
Niall Sludden 6/10
An off-day for Sludden whose last act, ironically, was a wonderful intercept on Jack McCaffrey which led to a score at the other end.
He was withdrawn 45 minutes in with Frank Burns being introduced.
Kieran McGeary 7/5/10
The 2015 U21 All-Ireland winning captain put in a decent shift before being black carded on 46 minutes for a senseless body-check on Brian Fenton right under Conor Lane's nose.
Had only a few minutes before, slotted over a lovely point to reduce Dublin's lead to five points early in the second half.
Mark Bradley 8/10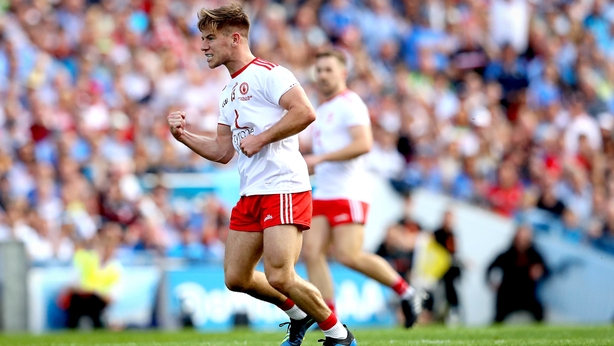 Eoin Mulligan said afterwards that the Tyrone forwards let their team down today but little of that can be laid at Bradley's door who put in an excellent display throughout.
Slipped over two tidy points from play and was lively all afternoon, even during the spells when Tyrone were taking water. Replaced by Ronan O'Neill in final ten minutes.
Conor Meyler 5.5/10
A late introduction for Richie Donnelly but failed to make much of an impact and was replaced 40 minutes in by Lee Brennan.
Conor McAliskey 7.5/10
Tyrone's elegant corner forward slotted two lovely points from play while several of his forward colleagues were blazing wides.
Notched up another free to put Tyrone 0-04 to 0-01 up at one point, followed by another to extend their lead to four points. Feels like a long way away now.
Withdrawn for Richie Donnelly late on.
Substitutions
Lee Brennan 7/10
Nailed a free immediately after coming on but he had a couple of bad misses afterwards, particularly with three minutes left following Harte's penalty.
Scored three in all, all of them via placed balls.
Frank Burns 6/10
Unlucky not to start but such is the way with this Tyrone team. Introduced for Niall Sludden early in second half but wasn't able to influence things.
Harry Loughran 7/10
Showed his worth as a second half substitute against Donegal in Ballybofey. Came on in rather more trying circumstances for the black carded Kieran McGeary today.
Richie Donnelly, Ronan O'Neill and Declan McClure not on long enough to rate.