A golden generation of outrageously gifted young men promises an exciting future of untold success for Kerry football.
A remarkable fifth successive All-Ireland Minor Football Championship triumph was accomplished at Croke Park with all the polish, guile and style that one would expect from the spiritual home of this great gaelic game.
That they had to dig deep for this one was a measure of their resilience and battling qualities, but the manner in which they did so was pure Kerry, adorned with all the style, panache and faithfulness to long-established Kingdom tradition, coming from seven points behind to win by 0-21 to 1-14.
Tony Gill's 24th minute goal helped Galway to a 1-9 to 0-8 lead at the break, but it was the Kingdom lads who pressed the issue in the second half as they drove for home and a 16th title.
Paul Walsh, Darragh Rahilly and Killian Falvey all posted the scores that saw them wear down the westerners as they swept to yet another stylish under-age triumph, this time at the new U17 grade.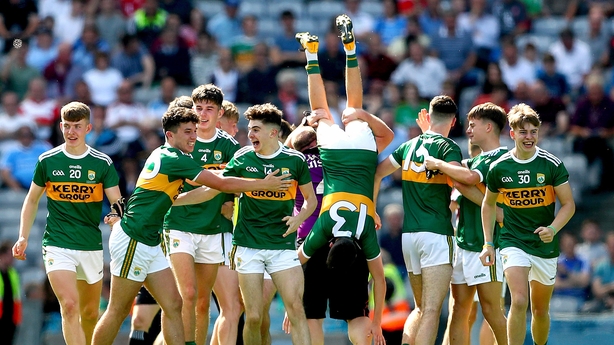 It took Ryan Monahan just 17 seconds to shoot the westerners in front, but Kerry's movement of the ball, with safe hands and accurate kicking, created the openings for Dan McCarthy and Paul Walsh to slot over points, as they moved into a 0-4 to 0-1 lead with the help of a Paul O'Shea '45.
It took Galway manager Donal O Faharta no time at all to adjust, and when his men started to run hard at their opponents, it caused untold problems to a Kerry defence that had looked sound under the high ball in the early stages.
Eoghan Tinney and Matthew Cooley provided the trickery, with skipper Conor Raftery driving the project from midfield, and it all clicked into place for the Connacht champions.
Cooley punished a string of rash challenges with his accurate place-kicking, while Tinny skipped round his marker to claim a tidy score as they eased ahead.
Aidan Halloran crossed for Tinney to punch for goal, but Marc Kelliher saved from point-blank range to ease the pressure, but only briefly, for Galway were pushing up on his kick-outs to tighten their grip on the contest.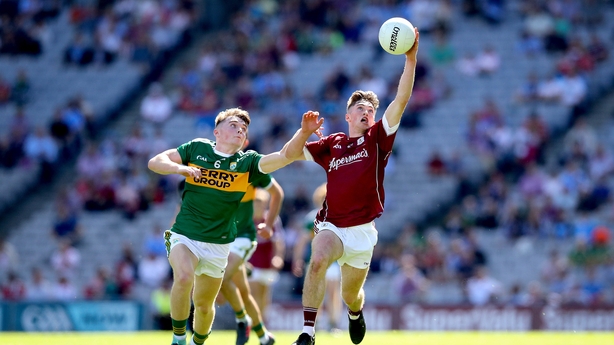 Tinney was a constant threat, and played a major part in his side's 24th minute goal, slipping a pass to Daniel Cox, whose shot was blocked, but Tony Gill followed up to side-foot to the net for a seven points lead.
Kerry had gone 16 minutes without a score, bit they hit four of the last five points of the half, with Paul Walsh escaping the tenacious shackles of Ryan Monahan to hit his second, with Darragh Rahilly and Killian Falvey also on target.
Galway led by 1-9 to 0-8 at the break, but they were pressed onto the back foot from the moment the ball was thrown in, with Darragh Rahilly and Paul O'Shea stepping up their game and Falvey always a threat both on the ball and off it.
Walsh and Dylan Geaney, who had endured a frustrating time in the first half, were now finding more space, and both fired over points, and it was Rahilly who brought the sides level on 42 minutes.
Paul Kelly and Gill battled to turn the game back in Galway's favour, and another Cooley free levelled it again. they did regain the lead briefly through Sean Horkan, but gaps were opening up at the back, and Rahilly galloped through acres of space to plant the ball between the posts for his third, and Ruairi  O Beaglaoioch came off the bench to make a massive impact with three points.
While Galway's distribution became ragged and loose, Kerry's remained sharp and precise, their handling complementing willing and energetic support play, with the bench playing a significant role.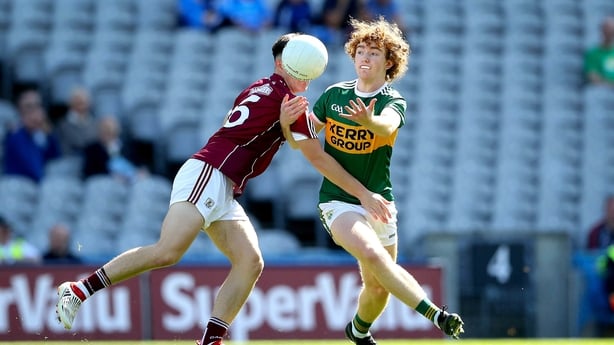 Late scores from the excellent Falvey and sub Jack O'Connor sealed the win and a place in the history books for a county on the rise once again, a 30thgame unbeaten for the Kingdom minors and a future full or promise at a higher level.
Kerry: M Kelliher; C Flannery. O Fitzgerald, D Mangan; C Moriarty, D McCarthy (0-01), D Murphy; D Rahilly (0-03), D Lyne; P Walsh (0-04, 1f), P O'Shea (0-02, 1f, 1 '45), K Falvey (0-04); D Geaney (0-02), P D'Arcy, M Lenihan (0-01).
Subs: R OBeaglaioch (0-03) for D'Arcy (41), K O'Donoghue for Mangan (53), J Kennelly for Lenihan (55), J O'Connor (0-01, f) for Walsh (63)
Galway: D Halloran; E Walsh, S Black, C Deane; R Monahan (0-01), T Gill (1-00), C Sweeney; P Kelly (0-01), C Raftery (0-02); L Judge (0-01), A Halloran, S Horkan (0-01); E Tinney (0-01), D Cox, M Cooley (0-05, 4f).
Subs: O McCormack for Horkan (38), T Culhane (0-01) for Cox (44), O Gormley (0-01) for Halloran (46), C Halbard for Sweeney (50), C Hernon for Judge (55), E McCormack for Cooley (63)
Referee: S Hurson (Galbally).