In September 2016, the Tyrone county board rejected Mickey Harte's request for an extension to his term as manager, prompting speculation that influential forces within the county were growing tired of looking at the same face on the sideline every year.
Tyrone had just regained the Ulster title for the first time in six years but there was little credit forthcoming for that after the one-point loss to Mayo in the All-Ireland quarter-final.
Harte's presumed 'manager-for-life' status, conferred after the astounding successes of the noughties, was now being questioned by the higher-ups on the county board.
The proposed extension would only have carried him up to the end of 2018 but the board were now unwilling to commit to that.
Tyrone won the Ulster title again, and with even more swagger in 2017, and the press began talking them up as the team with the gumption and street wisdom to topple, or at least trouble, Dublin.
Much of this talk derived from the deep-seated belief in Harte as a footballing sage and wise man, someone who is several chess moves ahead of everyone else in tactical terms.
Tenuous analogies were even drawn with Arsene Wenger. Wild initial success followed by many more years of frustrating underachievement
The notion fell flat on its backside in spectacular fashion that day and, as the scales fell from their eyes, the public decided that the defensive footballing template of the noughties, with which Harte had long been identified, was now finally rendered obsolete, washed away by Jim Gavin's blue tsunami.
Tenuous analogies were even drawn with Arsene Wenger. Wild initial success followed by many more years of frustrating underachievement which eventually rendered the early success a distant memory. Given Tyrone's history, Brian Clough might have been a more appropriate analogy. (The former comparison is probably unfair to Harte, but the latter is unfair to Tyrone).
A year later, and Tyrone are back in the All-Ireland final for the first time in ten years. Mick O'Dwyer and Billy Morgan are the only managers with longer gaps between All-Ireland senior final appearances (1986-1998 and 1993-2007) but both sat out championship campaigns during those spells.
Harte, by contrast, has remained with the same team, managing them continuously between 2008 and 2018. It's arguable whether this is a wholly positive achievement (it presumably would have said more for him had he made a final in the past decade) but it's an achievement of sorts, testament to his resilience.
The All-Ireland wins over Kerry that he masterminded in 2005 and 2008 left him with a reputation that endures still. Even now, the only sliver of doubt in many people's minds that Dublin won't saunter to victory on Sunday – like the jockey in the Harry Enfield sketch - is the residual belief in Harte's guru-like powers.
Their 2018 run even evokes memories of the 2008 triumph. The summers followed similar patterns.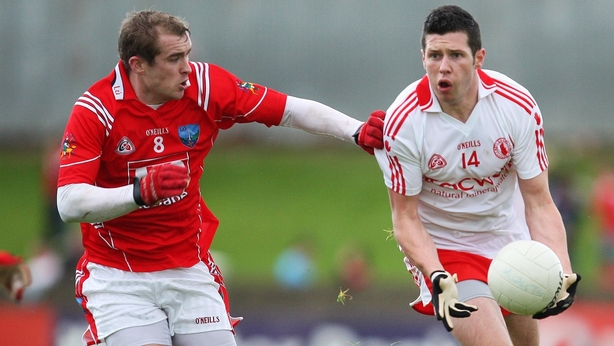 The Ulster quarter-final losses to Down in 2008 and Monaghan in 2018 both had an air of finality about them, apparently scotching the idea that Tyrone were fit for a run at the big prize. Their qualifier runs began in plodding fashion against lower division opposition. But gradually, they picked up speed. The gameplan became more honed, the attacking flourishes became more swift and impressive.
"Mickey Harte has, not for the first time, looked closely at his materials and stitched together a hugely effective gameplan," RTÉ analyst Aidan O'Rourke wrote after the opening weekend of Super 8s fixtures.
"Harte has built a team that now knows and has honed its patterns to a degree that is unmatched by any of the other All-Ireland contenders."
This assessment was vindicated when they surged past Ulster champions Donegal in Ballybofey – their first win at the venue since the early 70s – and then gained revenge against Monaghan in the All-Ireland semi-final.
Harte was criticised for failing to evolve in step with the game after last year's semi-final bloodbath. These quibbles have quietened this summer – although they may re-appear should Tyrone suffer a mauling on Sunday.
Three-time All-Ireland winner and RTÉ columnist Philly Jordan says Harte was constantly evolving, even when Tyrone were top dogs.
"Reading different columns and articles even this week about how Tyrone approached the game in 2003 and 2005, I sometimes wonder was I playing for a different team" - Philip Jordan
"The years that we won the All-Ireland, the following year Mickey always said to us that what we did last year won't be good enough this year. We're going to have to bring something different. Unfortunately, we didn't tend to do that well the following years! But we did come back a couple of years later often to win All-Irelands.
"Results speak for themselves in how he's adapted. If you keep doing the same thing, you'll keep getting the same results.
"People probably thought that Tyrone brought some new tactics and a more structured approach to the game in Mickey's early years in the noughties.
"But if you look back from 2018, it probably doesn't look that structured at all at this stage, when you think of how the template for playing football has changed.
"We've seen how Tyrone's approach has changed even this year – and it's not something many commentators have mentioned.
"When you look back to the last couple of years when Tyrone probably had a very defensive set-up, you can see the progression this year. They've brought a more attack-minded element to their game."
In 2018, Tyrone have left a few scoreboard operators with repetitive strain injury. 3-20 against Cork, 4-24 against Roscommon and, most impressively, 2-17 away to Donegal in Ballybofey.
But Harte's reputation as an avatar of defensive, spoiling football remains fixed. This is a man after all who, according to Darragh O'Se in the Irish Times, regards crowding out a high fielder once he returns to the ground as one of the fine skills of the game.
Jordan says the portrayal of Harte's All-Ireland winning teams as defensive doesn't survive scrutiny.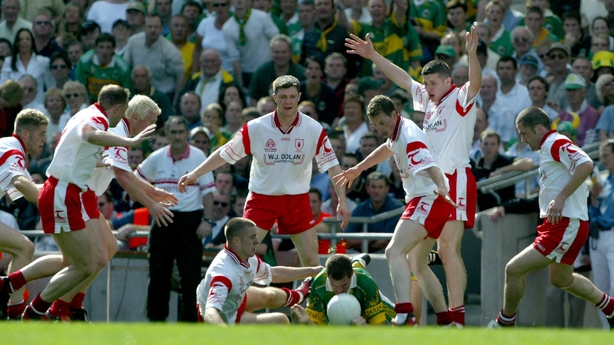 "Reading different columns and articles even this week about how Tyrone approached the game in 2003 and 2005, I sometimes wonder was I playing for a different team.
"History is often re-written about how teams play and we're characterised as an ultra-defensive team. If anyone looks back at 2005, you'll see the scores we put up and the way we attacked the opposition.
"The puke football comment arose from an iconic clip in 2003 when we put a press on Kerry in their own 45. It wasn't a blanket defence that people talk about. When people saw that manic hunger they made up their own mind about how they wanted to view it as a tactic.
"The game has evolved now and Mickey has had to evolve with it but some of the views on how we played in the noughties are coming from a blinkered lens."
Tyrone GAA and Millwall Football Club probably don't have a whole pile in common but the former did flirt with adopting the latter's beloved slogan for a while.
During a rain-sodden All-Ireland semi-final against Kerry a few years back, a banner appeared on the Hill bearing the message 'Nobody likes us, we don't care'.
This, of course, came in the wake of the great Tiernan McCann hair-patting scandal of 2015 but the sentiment presumably still applies.
As Roddy Doyle and Colm Meaney have attested to, when Dublin play in an All-Ireland final they can usually count on the rest of Ireland rooting against them ("That seems to me to be quite normal," said Doyle on Second Captains. "I'm sure it's Paris versus France and it's certainly South of England versus the rest of the UK).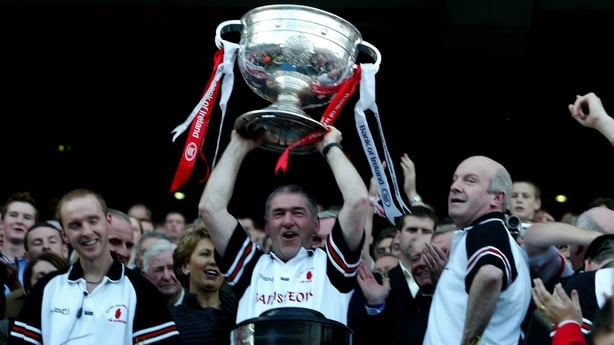 It says something that, even in spite of the wearying effect Dublin's dominance has had on the rest of the field, Tyrone apparently can't count on this backing.
This rests on many factors – the 'puke football' business, a reputation for sledging and cynicism, southern prejudice against Nordie upstarts. But it can't be denied that much of it has to do with the divisive figure of Harte himself.
And it meant that many neutrals seemed to cheer the tentative moves to shoo him towards the exit door a couples of years ago.
But in football terms, and in results terms, the argument always stacked up in favour of Harte. He remains the only man to have led Tyrone to a senior All-Ireland title. He's managed them to six Ulster titles. Even the supposed lean years (2011 to 2015) weren't really lean at all. Only twice, in 2012 and 2014, did Tyrone exit the championship well before the business end.
Now after rapping at the door and hanging around until the semi-final stage for a few years, Harte is back in a September showpiece, a match in which he retains an 100% record. He and his team, never the darlings of the neutrals, are the only ones left to prevent Dublin's march to a four in a row.
Win or lose, he is set to remain on the Tyrone sideline, peering out from under his peaked cap, until 2020.