And so Mayo must go back to the drawing board yet again.
The search is on to find a new manager to follow on from John O'Mahony, James Horan, Pat Holmes/Noel Connelly and Stephen Rochford who of all assumed the role in this decade.
Rochford's departure after three years at the helm was a surprise, though rumblings of discontent were emerging in the last 24 hours that something was up.
A fortnight ago, Rochford confirmed that he was staying on for a fourth year at the helm. However, long-serving coach Donie Buckley, goalkeeping coach Peter Burke and selector Tony McEntee would not be extending their involvement with the Connacht county.
The task then for Rochford was to find a new backroom team to work with him and remaining selector Joe Keane for 2019. In the last couple of days news emerged that Peter Ford and Shane Conway from the Breaffy club were the men lined up, with both accepting the invitation from the manager to come on board.
A meeting between Rochford and the Executive Committee then took place in which it seems a major fallout occurred.
And in a statement released on Monday evening, Rochford revealed he had stepped away after three years in charge.
"After a meeting of the Mayo GAA Board's Executive Committee last night, held to discuss the management team I had assembled to manage Mayo senior men's team in 2019, the board issued a statement saying they wished to meet the management team and me about our structure and plans," the statement read.
"It was apparent from what transpired at that meeting that the desired level of support for me as manager was not forthcoming from the Executive Committee.
"This disappoints me greatly. Accordingly, I see no value in meeting with the officers of the board and I am resigning my position as Mayo manager."
Mayo GAA officials subsequently thanked Rochford for his time at the helm - a period in which the Green and Red twice came close to landing that much-coveted All-Ireland title..
Speaking on 2fm's Game On, Mayo News journalist Angelina Nugent was not surprised that Rochford walked away.
Following an executive meeting of Mayo GAA this evening the officers of the board were authorized to meet Stephen Rochford & his management team on their structures & plans for 2019. #mayogaa #gaa

— Mayo GAA (@MayoGAA) August 26, 2018
She said: "The Mayo county board executive officers put out a tweet on Sunday evening to discuss the proposed backroom team put forward by senior management.
"It was felt that any tweet going out at that time would formally propose Stephen Rochford and his backroom team for ratification in front of a full county board meeting. That's not what happened. They said they wanted to meet with Rochford and his backroom team to discuss their plans and what structures they had in place for the 2019 season.
"Stephen Rochford is his own man and I don't think he'll be dictated to by the county board or players"
"Reading between the lines of all that I felt that this was the way things were going to end. Rumours were rife on social media that Rochford was going to step away.
"Things have moved at a pace, but nobody thought things would move as quick."
Nugent also dismissed any notion that 'player power' had anything to do with Rochford's departure when adding: "I don't believe the players had any hand, act or part in this.
"Stephen Rochford is his own man and I don't think he'll be dictated to by the county board or players."
Of course, following on from the episode where Pat Holmes and Noel Connelly left their position in 2015, one can only wonder whether 'player power' will surface again ahead of this next appointment?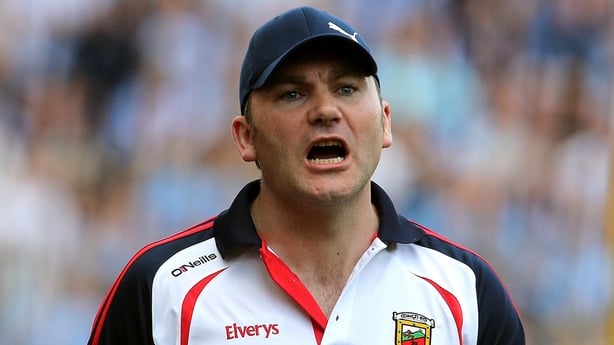 There is talk doing the rounds that James Horan would be welcomed back by some of the current squad. Michael Solan, who led Mayo to an U21 All-Ireland title in 2016 and the inaugual U20 final this year will no doubt also be in the frame. It's perhaps less likely that Kevin McStay or Jim McGuiness would be contenders.
What's coming down the track is "the biggest appointment in the history of Mayo GAA", according to Bernard Flynn when he spoke on Game On.
"A strong management team is need to take this current Mayo team forward," he outlined.
"Mayo still have a lot to offer. When they get re-energised, get everybody back, they will have a massive say in what might happen in 2019.
"The next appointment is crucial. It has to be got right. And I think the players will have their say. They will have their fingers in the pie again. Not for the first time, Mayo are in a bit of a quagmire."
How they emerge from that quagmire will be key as things currently are not right within the county.
More unwanted focus on a proud footballing tradition.