Ahead of the football showpiece this weekend there has been significant discussion and conjecture around how both teams – particularly Tyrone – should and might adjust their approach to achieve a tactical edge that could prove decisive.
Something different or unexpected can not only create room for your own team but more importantly, can disrupt and unsettle your opponent.
There are so many patterns already established for both teams but looking forward, as we all do, it can be overlooked that the principal indicator of how both teams will try to play is the Super 8s clash that took place just over a month ago.
Tyrone almost took advantage of a late lapse in Dublin concentration that day to chase them down and salvage something from the game but in truth Dublin were in control for the majority of the contest.
"Control" is the crucial terminology as the biggest challenge facing Tyrone is how to short circuit the champions' capacity to create opportunities from measured possession outside scoring range.
Dublin will gladly attack teams directly but where we are now in the Championship that luxury is not expected – particularly against a team that fixates on eliminating space in their defence like Tyrone.
Instead they will control the ball outside a 40 metre horseshoe perimeter and probe for space to break into that scoring zone through. When that space appears, the pace Dublin's personnel can inject is often irresistible.
Dublin's first score of the game in Omagh took 90 seconds to create from the point at which they collected a break ball off their own kick out. That is not an urgent or panicked timeframe. They were patient, maintained distance from Tyrone's tacklers and moved the ball quickly and crisply down both sides and occasionally in and out of the shooting zone until the opening presented.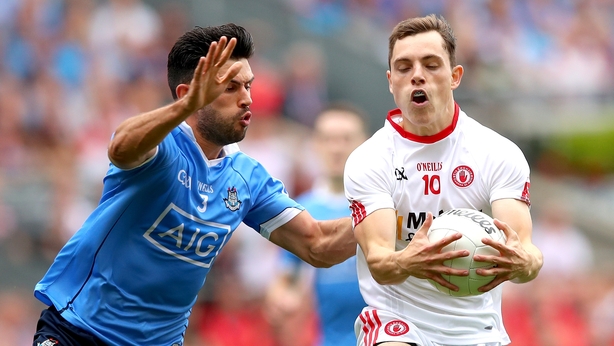 A blur of quick hands and angles later and the ball is dispatched over the bar. This is their template and it bore fruit throughout; patience and accuracy on the ball with perpetual movement and pace off it.
At times in their last encounter Tyrone had numbers up to and including 15 players inside their 45m line and it still did not prevent Dublin from penetrating. Such is the movement of the champions within and through the scoring zone, the Ulster standard-bearers still struggled to prevent popped passes and runs in behind zonal defenders.
By now this Dublin team have faced most variations of defensive approach. That also includes 15 men camped inside their 45, as they did against Carlow in last year's Leinster championship – granted that is Division 4 opposition.
Nothing presented to them so far has blunted their cutting edge once they are allowed the time and space to build their customary set up beyond the pressure of most opponents' intensity.
There was a further alarm for Mickey Harte in Omagh in the form of Dublin's apparent greater appetite for the battle.
From the first throw-in Cian O'Sullivan set a tone for physicality that his team-mates would back up consistently over the course of the game.
He drove through Niall Sludden to win the loose ball and set up the first attack of the game. It was a ball he shouldn't have won and it flagged a quality Dublin possess that has to be surpassed if they are to be beaten.
The challenge for Tyrone on Sunday is multi-faceted but crucial to their possible success is making Dublin uncomfortable psychologically – and that includes fundamentally interfering with how they want to play when they have the ball.
Sitting in and attempting to deny space and frustrate the last phase of their attack is what Dublin are used to, what they expect and what they have practised against more than 15 opponents in preparation for the final.
The key to unsettling them is pressing their creators outside of the horse shoe. If Tyrone can bring maximum intensity to the 20m channel outside the scoring zone to rush Dublin's passing and decease their accuracy cracks can be opened.
This requires a realignment of Tyrone's normal middle third player tackling duties. Instead of the customary 45m area engagement, their tacklers should be empowered to go after Dublin in that creative channel.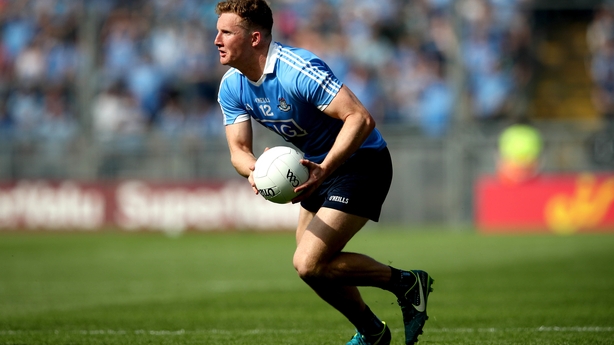 If Ciaran Kilkenny, Brian Howard, Brian Fenton et al are allowed to control the ball unflustered just beyond the horseshoe, then the game is a foregone conclusion. Tyrone can still retain enough bodies within their 45 to mark and patrol space and aggressively hunt the Dublin playmakers.
It will not take a massive adjustment to how Tyrone already defend to develop the capacity to do this.
Instead of waiting for work to come to them on their own 45, retreating 'middle-third' players can engage the Dublin possession game and squeeze their use of the ball. It might not create direct turnovers but it may create enough inexactness with distribution and – more importantly – dictate which Dublin players can retain possession in this critical area.
That approach will need the maximum defensive energy possible in each Dublin possession but the reward waiting for Tyrone is the fruit of the turnover. Dublin are not designed to deal consistently with coughing up possession in attack – their response is built largely around a good initial scramble to slow the counter attack and allow everyone to get to work but there is no one better running ball from turnovers than Tyrone.
This is how Tyrone can hurt Dublin. Robbing possession when the champions are pushed up to set up their attacking perimeter will create the perfect platform for their superb ball carriers to break at pace and cause serious damage.
Tyrone have a tall obstacle ahead of them on Sunday – I doubt if they'd have it any other way – but it is far from insurmountable. They have to find the keys to unsettling the champions in big and small ways from the moment they take to the pitch but the priority task has to be to take on Dublin's building patterns and targeting the key architects – without opening the gate to direct ball into their full-back line.
Every moment played under a Championship atmosphere short of oxygen is significant and Tyrone will have examined every opportunity that will present itself around and during the 70-plus minutes to be difficult and awkward for the Dublin players and coaching staff.
Winning enough of the early psychological and physical battles across the field can create enough doubt and uncertainty to allow a serious challenge to be mounted.
Dublin will present a very good version of themselves in Croke Park as they always do and it will take a huge effort to derail them. The question hanging is what version of themselves Tyrone will present for their biggest challenge.
To prevail, Tyrone must master controlled aggression in everything they do individually and collectively so that Dublin can feel their hunger. Sitting in and hoping for Dublin mistakes will simply validate the script most people expect.
Surpassing the champions' desire and physicality must be a given but crucially they must also go after their gameplan – and they must do so spitting fire.