Joe Brolly believes that Tyrone's best chance of beating Dublin in the All-Ireland football final is to be bold rather than defensive.
Former Donegal manager Jim McGuinness has suggested that Tyrone might drop 11 or even 15 players back inside their 45 to counter the three-in-a-row champions' attacking threat on 2 September.
Jim Gavin has adapted the Dubs' gameplan since being frustrated by McGuinness' massed defence in 2014, however, and Brolly highlights that Mayo, who opted to take on man for man, are the only team to have challenged them since.
Dublin beat Tyrone by 1-14 to 0-14 in Omagh in an often cagey encounter in the Super 8s last month.
"What you want here is for Tyrone to go out and play," the Derry man told RTÉ Radio 1's Saturday Sport.
"They should have a go. You cannot win big in Croke Park without having a go.
"Dublin will not go into a zonal defence. Dublin will play you, as we saw with Mayo.
"You're not losing a lot by going man to man with Colm Cavanagh as a sweeper because he's a brilliant sweeper.
"Alongside Dublin they are the best conditioned, quickest and most athletic team in the game. They will cause a lot of problems for the Dubs if they get stuck into them."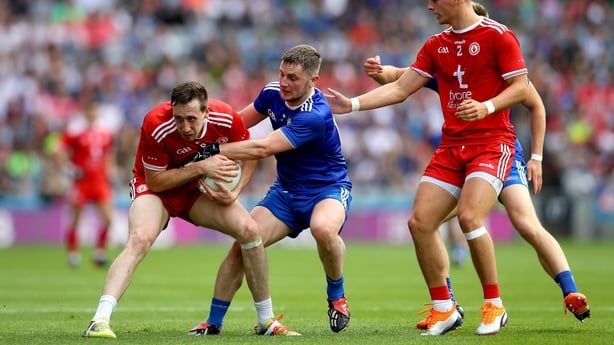 Brolly points out that adopting a defensive approach in the All-Ireland semi-final last year ultimately resulted in a 12-point defeat for the Red Hand.
"I don't think Tyrone, with the pedigree of footballers they have, need to be unduly worried [about taking Dublin on]," he said.
"What they should be worried about is, if they go into a blanket defensive shell and lose the game by eight or nine points, what's the point?
"Tyrone tried a 14-man defence last year against Dublin and saw where it got them."
Listen to the interview in full here
We need your consent to load this SoundCloud contentWe use SoundCloud to manage extra content that can set cookies on your device and collect data about your activity. Please review their details and accept them to load the content.Manage Preferences
Brolly is optimistic that Tyrone are starting to play a more expansive game and believes they can win All-Ireland titles with that approach, if not this year, in the longer term at least.
"I've been very depressed about Tyrone football since Jim McGuinness came along and Mickey Harte began to copy him," he said.
"I revelled in the great Tyrone teams of the noughties. Brilliant teams, played the game in the right way.
"There were green shoots of recovery against Monaghan in the semi-final. I appreciate they didn't take advantage of the attacking opportunities, they kicked 11 wides in the first half alone, but if they really have a go...
"Although they managed to get through it and no more, it was the first time in a long time that I was excited by a Tyrone team.
"They were winning the ball high up the pitch, which they haven't done for two or three years because they've been dropping back behind the 45. Once they get used to that they are going to be a serious team.
"I have no doubt there are All-Irelands in the offing. They're strong, powerful and extremely skilled.
"The Dubs and Mayo have been continuing to play Gaelic football for the last four or five years while the others have disappeared into that blanket defensive hole, so they have effortless chemistry now. It's going to take Tyrone a while to get there."
Follow the All-Ireland senior football final via our live blog on RTÉ.ie and the News Now App, watch television coverage on The Sunday Game Live, RTÉ 2 or listen to exclusive national radio commentary on Sunday Sport, RTÉ Radio 1. Highlights on The Sunday Game at 9.30pm on RTÉ 2.