The theme tune alone is enough to provoke a reaction among sports fans in Ireland.
For some it means their regular summer Sunday night appointment with an Irish institution. For others, it brings back childhood memories of Sunday nights being allowed to stay up late to watch highlights of the big matches.
There are those who aren't fans of hurling and football who hear those opening bars of James Last's tune, it's called Jägerlatein, in case you were wondering, and reach for the remote and switch off.
But for many more it's the ritual that rounds off their weekend, ensuring they can join in on the #SundayGame chatter online and have something to talk about with friends and colleagues in work on Monday morning.
"This programme is Ireland's show," said Rory O'Neill, series editor of The Sunday Game highlights. "Everyone feels a sense of ownership and it's a real privilege to work on it."
Across 19 editions annually over five months, May to September, The Sunday Game is a major landmark in Irish life.
Weekly, an average of around 200,000 viewers tune in live - that's 20 per cent of the viewing public at that time. For non-live sport in the modern television market, where audiences are falling, that's a remarkable number.
On any given weekend, there are as many as 40 people working on the show, including presenter Des Cahill, analysts, producers, editors, make-up artists, camera and lighting people, and on the list goes.
That doesn't even take in to account the staff that were at the grounds for the actual matches, including those involved in the Saturday and Sunday Game Live broadcasts.
The planning for any given episode starts on a Monday when there's a debrief on the previous night's broadcast.
On Tuesday the running order for the following Sunday is put in place, though, according to O'Neill, "this is aspiration, we build in a lot of flexibility". A production plan is put in place and this is essential as The Sunday Game is often two shows in one, with hurling and football necessitating two different sets of guests.
On Wednesday, the logistics are looked after for that weekend's pundits, including wardrobe and accommodation, should it be required. Thursday is one of the quieter days and Friday sees the final round of meetings to nail down details.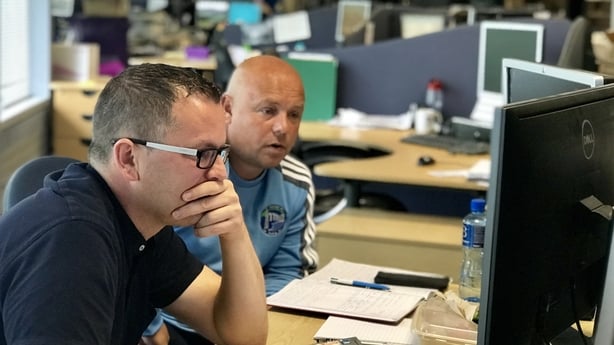 It has been a particularly busy season for The Sunday Game thanks to the new, compressed GAA Championship calendar, with games every Saturday bar the weekends of the All-Ireland finals.
And there were the further complications for the show in 2018 of the World Cup and the European Championships during the summer stretching resources in terms of staff, facilities and more.
We join the team on the Sunday of the second All-Ireland football semi-final, between Tyrone and Monaghan. It's a quieter week in terms of highlights, with just two games, but there will also be an All-Ireland hurling final preview in the mix.
O'Neill, who was on site all day on Saturday looking after highlights of Dublin-Tyrone, is at his desk at 11 in the morning and it's the start of a 13-hour, non-stop day for him and the crew.
O'Neill is a 42-year-old from Turner's Cross in Cork. His home club is Nemo Rangers, but he's now the chair of St Patrick's, Donabate in north county Dublin. He's been calling the shots on The Sunday Game since 2013 and has a total of ten years experience on the programme.
Hurling analysts Derek McGrath and Michael Duignan are in first. They have been in touch during the week with the ideas they want to tease out so they sit down with video editors to put together specific packages. The idea is to have this done before the football throws-in
McGrath, a lifelong student as well as a teacher by day, reveals that he'd love to spend the winter getting to grips with the editing software used by the professionals so that he could cut his own packages.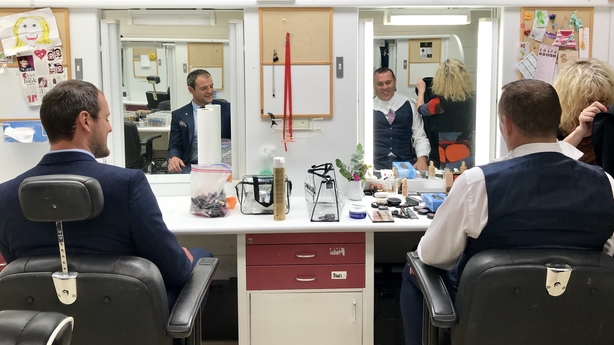 Michael Duignan is more often on co-commentary these days, but he's in on the highlights show this weekend to preview Galway-Limerick.
"In the commentary box, your job is to know the players, but you can't really do anything until the game starts and then it's a case of calling it as you see it," said the Offaly man.
"For the night-time show you have more time to think about specifics. In studio during the daytime you have an opinion on what will happen, you have a few clips picked out and then you're reacting to what's happened and what you've seen.
"At night-time it's more reflective, you watch the matches and you try to bring something different to the table. People might have seen the match live, they've seen the highlights so why did such a team win, why did such a thing happen? You're looking for things that people mightn't see at home.
"Some people do take it personally and I love that - it's really GAA! You'll see it in your own county, it's club first, it's parochial.
"Then you go into the county and if you say something about Waterford or Tipp, Limerick, Kilkenny, whoever and you go to a match the following week they'll let you know and that's brilliant I think. It's part of it," said Duignan.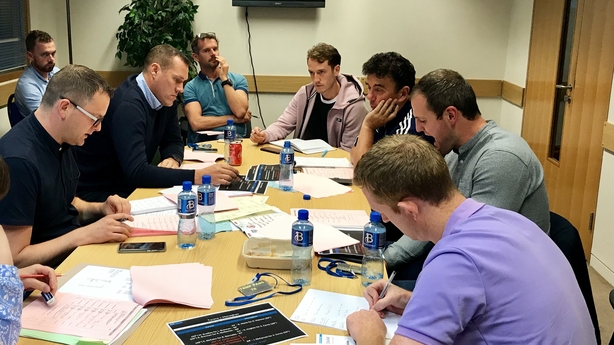 At 6.30 there's a football meeting featuring Ciaran Whelan, Michael Murphy, Colm Cooper, Cahill, O'Neill and several other key personnel working on the transmission. This is followed at 7pm by the hurling conclave.
It's here the final running order is established and the outlines of the debates between studio guests are set down. Plenty of the on-air conversation is freewheeling, but much of it has been discussed in advance.
The pundits are experienced, with the exception of Donegal captain Murphy, who is making his debut, and professional. They take this job seriously and they have their homework done.
After the meetings, editors start putting analysis packages together as the clock counts down towards 9.30 and the moment that signature tune belts out. The guests get suited, booted and made up at 8.30 and are on the studio floor for 9.
In the centre of the studio is the large desk and around it are arranged Cahill and the pundits, sitting under the lights. Behind the cameras it's a hub of activity.
Upstairs in the gallery there are six people sitting in front of a bank of television screens, knobs and dials. Alongside O'Neill in the front row are director Dave Berry and broadcast coordinator Joan Lynch.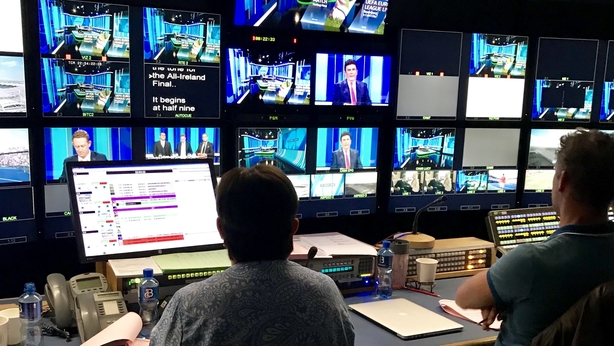 On a live show as big as this there are a mind-boggling amount of moving parts. There is constant chatter in the gallery and between the gallery and the studio floor, to floor manager Michael Broughton, the camera operators or direct to Cahill.
There is jeopardy at every corner. On busier weekends, when time is tight and resources are spread thin, highlights packages might be being edited until seconds before they hit the air; the margins are that tight.
This is a highly pressurised situation and at times to the outsider it can look like organised chaos, but make no mistake - it's highly organised. Everyone is on their toes, but it's strangely relaxed too with all of the main actors having played these parts so often before.
There is a digital countdown clock on the wall which is everyone's guiding light, signalling how long is left in each particular segment. The old-fashioned pen, paper and stopwatch are also used as a back-up.
The two-hour show contains 102 minutes of live television, with the rest ads, and the show off air for 11.25pm as per schedule.
When the final credits are finished rolling, the work is complete and it feels almost a lifetime ago since the day started. People congratulate each other on a job well done and drift off quietly, but there isn't much rest before it all starts again on Monday.
Follow the All-Ireland senior football final via our live blog on RTÉ.ie and the News Now App, watch television coverage on The Sunday Game Live from 2.30pm on RTÉ 2 and RTÉ Player. Listen to exclusive national radio commentary on Sunday Sport, RTÉ Radio 1. Highlights on The Sunday Game at 9.30pm on RTÉ 2.