Mickey Harte will bring his Tyrone team to Croke Park for the All-Ireland SFC final without a shred of doubt in his mind that they will defy the odds and come home with Sam Maguire.
That's according to one of Harte's former warriors, Brian McGuigan, who soldiered under the veteran manager as a minor in the late 90s before progressing with a golden batch from that panel up to the senior ranks, where they delivered three All-Irelands, in 2003, 2005 and 2008.
There's an iron will within panels that can take them to places no one else thinks they can go.
McGuigan recalls, in particular, the '08 decider against a Kerry side he says possessed more individual talent, but not the same relentless, insatiable desire.
This Dublin side are almost robotic in their pursuit of success. They're 70 minutes from a fourth title on the bounce and many are of the opinion that this one is a formality. Not Harte.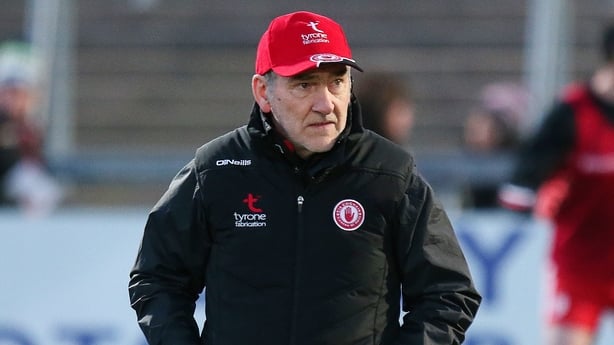 "You have to have that belief," McGuigan said. "I was speaking to Mickey on Wednesday and he was starting to make me believe that we're going down there to win!
"I remember us going into the 2008 final against Kerry and we were maybe 3/1 to win that.
"We probably knew we were going out against individually better players in the Kerry team but as a collective unit we just knew we'd a chance.
"The one thing that will stand to Mickey is he'll have three weeks to prepare. For the Super 8s games and the back door he only had a week to prepare his team for the match.
"The dangerous thing for Dublin now is that he has three weeks and he is going to be looking at Dublin religiously. He will definitely come up with some sort of plan. The unfortunate thing is Mickey might come up with a plan and it still won't be good enough against this Dublin team."
Harte has already had a good look at the Dubs this summer. There was only a goal in it when they clashed in the Super 8s in Omagh last month.
The Red Hand pushed the visitors but couldn't get close enough to land a serious blow. While McGuigan said they should take encouragement from that day, as well as Mayo's exploits against the Sky Blues in recent deciders, he also warned that Gavin's charges looked like they had another gear.
"You can't neglect what Mayo have done in the finals over the past few years and they've got so close.
"The thing is, I honestly believe that Dublin, when they went to Omagh and they went five points up, they took the foot off the pedal a wee bit. The Super 8s does allow you to do that.
"You just have to win by two or three points and you get the two points. I do think they were watching themselves and they didn't want any injuries or anything. It seemed like in the Super 8s they were doing enough to get through and then they were playing keep-ball."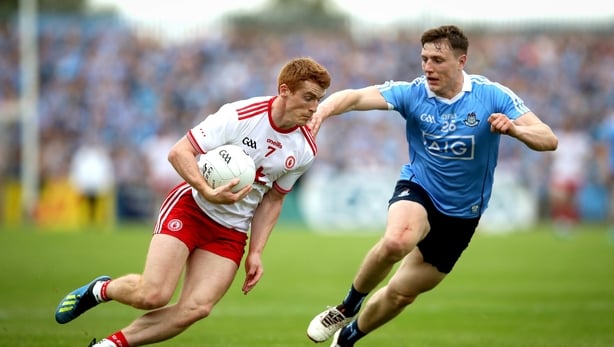 How exactly Harte sets up his 15 will be discussed and disputed up until throw-in. McGuigan says balance is key.
"The one thing I've noticed about how Mickey has set up his team now is that in the past he would have wanted to set up a whole zonal defensive system in the middle of the field and that was leaving the wings idle at that time.
"The two defeats they got was Dublin in the semi-final last year, Monaghan in the Ulster championship match this year. How those teams did the damage was keeping their teams wide and nobody following them.
"I noticed against Monaghan in the last match in Croke Park, when Monaghan went wide, Tyrone players followed them wide.
"The one problem with that is if we're making the centre free… it's trying to get the balance right between picking up the men going wide and protecting the middle. How Mickey deals with that, I don't know."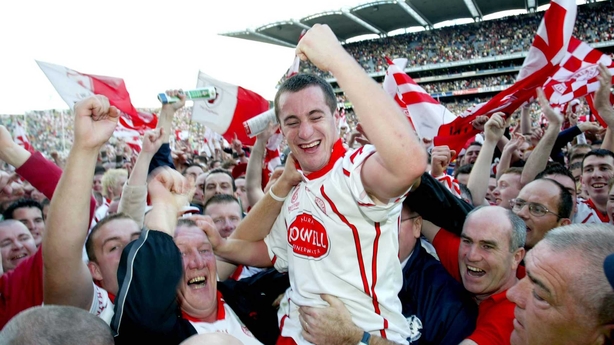 McGuigan was speaking at the announcement of new documentary Tír Eoghain: The Unbreakable Bond, the story of Tyrone's minor teams of 1997 and 1998, which airs this Sunday August 26 at 8.30pm on TG4.
That special crop came through together under the watchful eye of Harte, who still looks for the same crucial qualities in any player pulling on the county shirt.
"A lot of players Mickey would have picked didn't only have talent – he knew they were going to work hard," McGuigan added.
"There were so many players in the county at his minor age in '97, '98 that had talent but they didn't make his teams because he knew they didn't have the hard work.
"Even now, Mickey has this eye for a player where he calls him into the senior squad and you say, 'he's not a boy you'd have thought would make the county team'. But whenever they come into Mickey's team they do a job.
"Mickey deserves immense credit for some of the players he's brought in."
Brian McGuigan, Kevin Hughes and Mark Harte at the announcement of the documentary Tír Eoghain: The Unbreakable Bond, airing this Sunday August 26 at 8.30pm on TG4