Ignorance of the rules and the increasing involvement of over-enthusiastic parents are two of the main factors behind abuse of officials in hurling and Gaelic football, according to some of those wielding the whistle.
Reporter Brian O'Connell spoke to two GAA refs, who have over 50 years of refereeing experience between them, for Today with Miriam O'Callaghan on RTÉ Radio 1.
Flan O'Reilly of Cratloe, Co Clare, started 25 years ago. How does he feel things have changed?
"Winning was important alright but it wasn't everything," he told RTÉ. "Now we have the cult of the team manager, which has created a new environment and they're all powerful.
"There are a lot of coaching courses today but often parents are involved as well with teams and that doesn't help the cause. If they played, it would be a great help but a lot of them haven't played the game or don't understand it.
"Another problem is this perception of 'letting the game flow' - basically, 50% of fouls are not pulled for.
"This is not helping. Being at matches and listening to supporters, they don't have any idea what the rules are because they're really not being implemented at the moment.
"It's a paradox to say you're letting the game flow, it's actually the opposite. But fouling seems to be the norm.
"Another factor that comes into play is that there is quite a bit of betting going on nowadays. It's a problem.
"Also, social media, where people feel that they can say what they like virtually."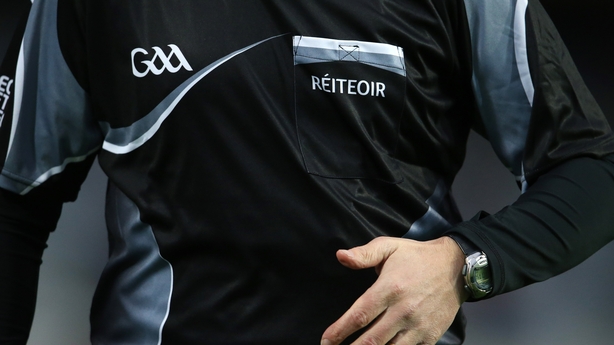 O'Reilly outlined his approach to sideline abuse at underage games.
"A couple of years ago, an under-12 competition started that wasn't the championship. I had (brought in) a 'vow of silence' and it worked perfectly. They (parents) began to understand that they needed to let the kids play the game and leave them alone.
"They were delighted to hear it because they knew where the parameters were.
"You wouldn't like to stop a game because of outside interference. I never had to do it but I'd have no hesitation in suggesting the gate they came in would be the gate they would be going out, if they persisted that the match would be stopped.
When asked whether he had ever felt physically threatened, O'Reilly said: "Maybe once or twice. Someone said that I was too large to put into the boot of a car. Maybe that was a help!
"There would be a lot of verbal abuse but if you know what you're about you don't pay any heed to it."
Another, unnamed, referee said: "There is a tendency of just tolerating a certain amount of medium-level abuse.
"I'm not a referee that tolerates that but I can see how that culture is endemic in the game. Maybe not at inter-county level but certainly at club level.
"Parents are much more involved with their kids than in my time (playing). Very few people went to the games other than the trainers. Nowadays it's the whole family that goes.
"There are very few young referees coming through at the moment. I think (inter-county) players are not criticised as much as they could be because they are amateurs. Referees come in for an awful lot of criticism.
"You have people criticising referees who have never refereed a game themselves, who don't know the rules or have an interpretation of the rules that is not in any way connected to reality."
"No referee and no coach should ever be verbally abused. That's a bottom line"
Gearóid Ó Maoilmhichíl, the GAA's Child Welfare and Safeguarding Manager, admitted that abuse of officials was still occasionally an issue but said that the organisation had a zero-tolerance approach to such behaviour.
"The GAA is not immune from poor behaviour," he said. "All sports attempt to tackle what could be seen as unacceptable behaviour.
"No referee and no coach should ever be verbally abused. That's a bottom line. It isn't a question of accepting certain levels of abuse and moving on, you accept no level of verbal abuse.
"At underage level, we know that if a parent engages in the abuse of a referee or a coach, the child will follow suit.
"We have enshrined what we call 'good behaviour' into our respect initiative. We call it 'Give respect, get respect'.
"The parent has to sign the code. The manager of the club has the respobsibility to ensure that his or her players behave in accordance with our code.
"We have a children's officer in every club in Ireland. Their role is to promote the code and they, through the managers of their teams, have a responsibility to either correct or stop bad behaviour.
"My own son referees and I've seen an improvement over the last number of years.
"There are sanctions. If you step out of line, we try to deal with it first and foremost in an informal manner. Should it continue, we will absolutely deal with it formally, but there are decreasing numbers (of cases) because people, once they are spoken to, realise that they are not doing themselves, the club, and particularly the child any favour whatsoever when they start roaring and shouting."
Listen to the full segment below (begins at 54:40)