It's a sign of how far Tyrone have travelled over the past 15 years that no one in the county will settle for defeat after a good performance in the All-Ireland final.
We have to be realistic - Dublin are favourites and rightly so. If Tyrone had played better against Monaghan on Sunday we may all be a lot more confident, but the fact of the matter is we know we're up against it.
Someone asked me after the weekend whether if Mickey Harte won an All-Ireland with this team this year it would be his greatest achievement, and I would have to say it certainly would be. Bigger even than winning the county's first.
He would be achieving it with a totally new team. In 2003 we were a young outfit, but we had a lot of underage success behind us and there were a few older players there who knew the ropes.
Over the next three weeks though, I along with the rest of the people of Tyrone will no doubt manage to convince myself that we can end the Dubs' reign and that's the great thing about sport.
I haven't often seen Mickey celebrating on the sideline, usually only after winning Sam Maguire, but he celebrated on Sunday and that shows just how much it meant to him.
If this was 15 years ago the whole county would have been going mad. Just winning a semi-final, getting to a final, would have been enough. A brave display in the All-Ireland, even if it ended in defeat, would have been a positive outcome.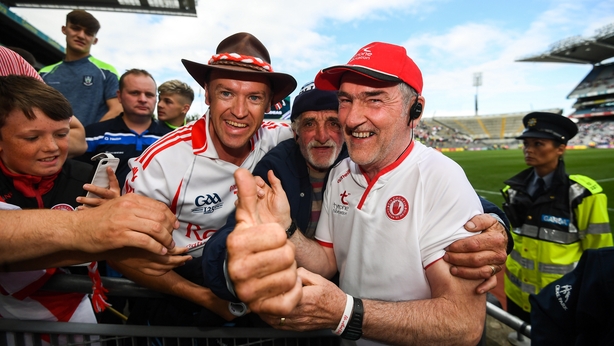 That's not the case any more and that shows just how much higher the bar is now. That's down to Mickey Harte and he deserves a huge amount of credit for that. He has changed the mindset of a whole county and the only currency Tyrone fans deal in now are All-Irelands.
At the start of the year we certainly didn't expect to see the team in an All-Ireland final, particularly after getting knocked out of Ulster by Monaghan at the start of the summer.
The fact that we are there is probably a reflection on the standard of football in 2018, the fact that Mayo went out early and that no one has really stepped up as serious challengers to Dublin's position as the best team in Ireland.
Over the next three weeks though, I, along with the rest of the people of Tyrone, will no doubt manage to convince myself that we can end the Dubs' reign and that's the great thing about sport.
When we got knocked out of Ulster by Monaghan, hopes weren't high, but there was a feeling that we'd been down this route before and that we could still get something positive out of the season.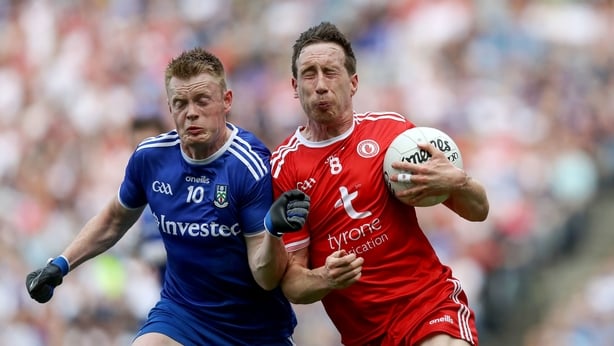 This team is quite different to the side that were hammered by Dublin in last year's All-Ireland semi-final and they've changed as the season has gone on.
Mickey thought he had the system best suited to giving Dublin a good rattle last year, but the Dubs were just too good.
The double sweeper is gone and he has changed to a more attack-minded game-plan; players are going man-to-man. What they did well against Monaghan was turn the ball over in the tackle and transition quickly into attack with fast runners on and off the ball.
There looked to be tiredness and nervousness on both sides at Croke Park on Sunday. The tiredness was because both of them came through the backdoor and then through the Super 8s, the nerves were down to what was at stake.
Both teams probably felt that they were better than the other so they were backing themselves to make the final, which brings added pressure. The mental baggage made it tough to perform.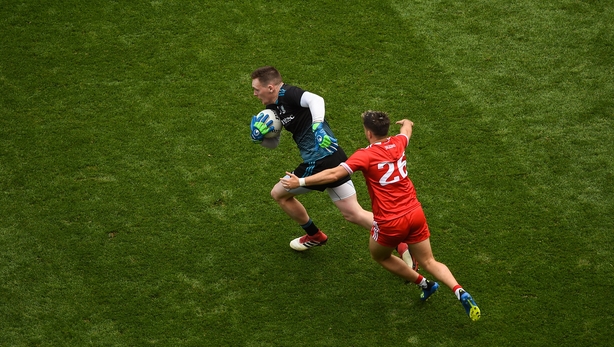 At stages throughout the game, Tyrone were impressive and when they turned the ball over they ran at pace. If they met a blockade on the '45', they stopped, recycled the ball and were cute in trying to work the openings.
Monaghan were very deliberate in their build-up and they didn't ask enough questions in one-on-ones. They'll be disappointed because they went a point up late on and had all the momentum before conceding Niall Sludden's goal.
Then we saw Rory Beggan coming up the field and ballooning the ball away, which shows how extreme pressure can lead to a lack of composure. Declan McClure did the same thing at the other end just a few seconds later when Tyrone fans were roaring at him to hold onto the ball.
It's just like people are praising Mickey and criticising Malachy O'Rourke - the winner writes history. Monaghan fans were critical of the referee afterwards and it would have been identical had Tyrone lost, pointing to one or two debatable decisions. It's always the same.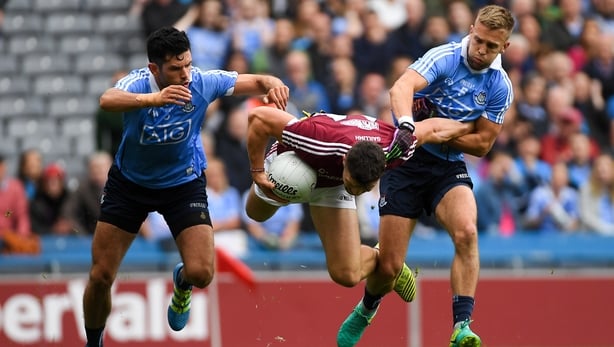 Dublin, who beat Galway on Saturday, are a very different team now to when they won their first All-Ireland under Jim Gavin in 2013. They don't have the same explosive, devastating forwards, there's no Diarmuid Connolly or Bernard Brogan, but they are a better team.
If I was a defender, I wouldn't be fearing any particular Dublin forward because they haven't displayed that ability to pull a team apart yet so far this season. But they have the best management, the best players and they find ways to win matches.
You very rarely see them running into the tackle one-on-one and getting turned over - they always take the right option. Most teams they play have 12 or 13 players inside their '65' so they have the ability to move the ball, create space and then pick off a score from close range. No one can seem to stop them doing this.
When you're playing Dublin you have to prepare and play in such a way that you are still in the game going down the stretch - you need to stay in the game. But even then, no one has managed to beat them since 2014.