All Ireland semi-final weekend produced two games that followed predictable paths in their own way. Tyrone and Monaghan inevitably butted heads for 70+ minutes and, as has been their way in recent years, could only be separated by the feather balance of decision making under pressure – by players and officials.
Galway produced 50 minutes of resistance with a more offensive approach before Dublin eventually took a stranglehold and overpowered the Connacht champions.
At face value, from the outset, the destiny of Sam Maguire in 2018 was unavoidably back with Dublin as it appears no one has the tools to solve the champions' riddle.
That may end up being true but the winner of the second semi-final – whoever prevailed – would be best equipped to finally try to ask the questions that might undermine the capital's push for four in-a-row.
Styles will always be important in any fight and ironically, Monaghan have a better set of weapons to take Dublin on with, but Tyrone may have the best mind-set to rise to the challenge.
In 2008 following a provincial quarter-final loss to Down, Tyrone regrouped and navigated their way through the qualifiers to arrive back in the All-Ireland decider for a third time in six years.
Immediately following their semi-final win Mickey Harte dismantled their set-up to build a tailored game plan that would nullify the celebrated twin tower threat that Kerry had blasted their way through to the final.
If Tyrone are to secure a fourth All Ireland title, Mickey Harte will have to summon all those 2008 qualities to mould an adapted offensive and defensive approach that carries more risk than they have been willing to play with in recent seasons. Primarily, they must take away Dublin's space to create and punish their turnovers to the maximum.
There are three key areas that if Tyrone are successful in can significantly weaken Dublin's capacity to perform to their normal standards.
Target Dublin's build up
To this point, sitting deep in any form of layered defence to attempt to take space away from the Dublin attack has been futile and counter-productive. Of course the Dublin inside forward line will need protection from a covering player but Tyrone's deep-lying tackling line and additional sweeper will be picked apart if Ciaran Kilkenny, Brian Fenton, Jack McCaffrey, etc. are allowed to control the ball unpressurised in the space in front.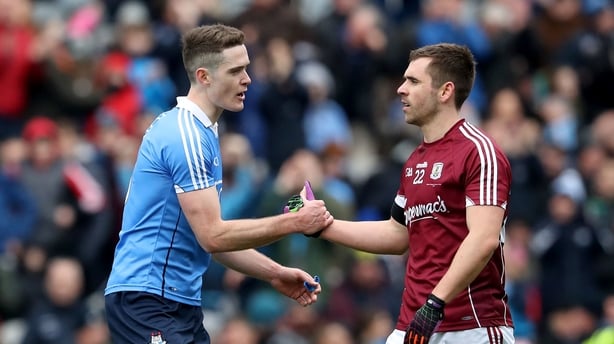 In previous generations this space in early attack beyond the halfway line used to be the territory that Greg Blayney, Trevor Giles, etc. craved to deliver creative distance passing from.
In Dublin's case that space is now the domain of the attack's fulcrum in a different way. It is here that lines of running are set up and where areas of weakness to be broken into ahead are identified. Rather than sit behind this, Tyrone must push their tacklers out to engage the key Dublin ball players, rush them, make them offload and turn them over.
A crucial aspect of this is not to retreat to formation then push out – they have to interfere with how Dublin build out of defence and through the middle third – and that means tagging the key men immediately from kick outs or turnovers and go toe to toe with them. Tyrone have the athleticism to achieve this when matched with Dublin's middle third but there can be no weak links or lapses in concentration or they will be open up with the domino effect.
An additional factor is that Dublin are no longer conditioned to kick early over any sort of distance because they simply expect packed areas in front of goal that necessitates a more calculated build.
If Tyrone can trust each other to really lean into the task of tracking and hunting contact then they have the potential to break Dublin's play up earlier than anyone has done to date and in areas that will springboard immediate attacks – with support already higher up the field.
The collective mind-set required to go after the All Ireland champions in this way will not be built in a day but Tyrone have to build initiative and take the game to them if they want their title. An extension to this approach is that they must understand that when Dublin get on the front foot and create momentum then Tyrone must use all tools at their disposal to kill it instantly.
This approach is very close to the psyche of Tyrone's first All-Ireland winning team in these areas.
Attack Dublin with variety
Better than any other team, Tyrone are equipped to run the ball with pace and guile. In Peter Harte, Mattie Donnelly, Conor Meyler, Niall Sludden, Tiernan McCann, etc. the challengers have serious potency with the ball in hand. However, it is what Dublin expect, what they will prepare for and they have the matching cards to nullify this danger over 70 minutes.
The route to causing serious damage (goals) to Dublin has been obvious for some time – aerially. Two of the biggest jewels in Jim Gavin's crown have been Jonny Cooper and Philly McMahon. Both are hugely aggressive, belligerent defenders and are of a dying tribe of man markers who relish the one on one nature of their task.
Cover and support tacklers have reduced this species towards extinction. Two facts though are inescapable.
Firstly, the decline in McMahon's performances in that environment this season have been alarming. Secondly, Cooper is not as commanding in the air.
Pumping ball after ball on top of the square will only succeed in permanently stationing Cian O'Sullivan there to counter but if Tyrone can pick that ball in every third or fourth attack after O'Sullivan has had to press out to meet their running game then goals can be created.
Mickey Harte's problem is that, despite the waning of McMahon's aura, Tyrone don't have an obvious aerial ball winner like Damien Comer, Kieran Donaghy or Michael Murphy whereas Monaghan could have unleashed Kieran Hughes to cause havoc.
Additionally, only Peter Harte has shown the intent or ability to deliver the type of direct ball needed to open this particular door.
Galway went pulling this thread at the weekend with some success but the quality of the ball in left a lot to be desired. A flat ball over the top of Cian O'Sullivan will give a brave ball winner good odds against a marker not best suited to that task and a small keeper.
Break the Dublin Kick out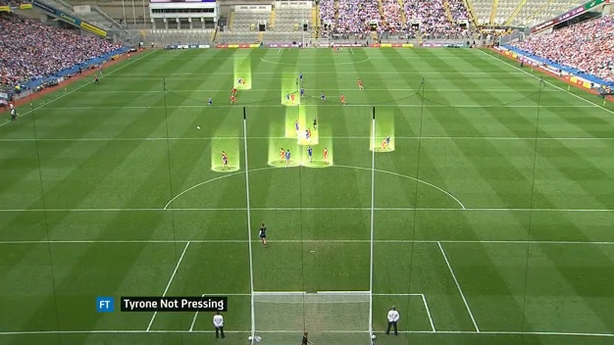 Stephen Cluxton's kick out is universally recognised as a major part of their attacking armoury but it is the area of the Super 8s game that Tyrone should take valuable lessons out of. The effect on the flow of play during the second half when Tyrone cut off simple options and made Cluxton kick long in that game was worth noting.
Wider spaces and greater familiarity with Croke Park will reinforce the Dublin processes in this aspect of their game. The Tyrone players will need to produce a phenomenal feat of concentration and aggression when the ball goes dead, but they can make hay if they are aggressive and taking on the kick outs in such a manner.
Of course Cluxton will always retain the get out of jail card (kick it long for Fenton to fetch) so Colm Cavanagh will need to invoke the spirit of the 2008 McMahon brothers to undermine another towering presence.
Tyrone's alternative is to maintain their current defensive conservatism, which limits their attacking options and try to stay in the game through their undoubted athleticism and weight of numbers.
The only end game here is to give themselves a puncher's chance late on – as they did in Omagh last month.
Unfortunately for the Ulster men Dublin have been sharpening weekly because of the Super 8s format and presented with the same limited questions in the final, the outcome could be closer to last year's semi-final tale.
Master tactician Mickey Harte has another opportunity to find answers that no one expects ahead of the All-Ireland final. This Tyrone team have the capacity to upset the odds but they will have to adopt the aggression and self-belief of their previous incarnations.
Dublin can be beaten but their game-plan, psyche and expectations will have to be attacked for Tyrone to succeed.