Joe Brolly believes Tyrone need to change their approach on opposition kickouts to avoid annihilation in the All-Ireland SFC final.
Niall Sludden's 64th-minute goal proved the decisive score in a gripping semi-final as the Red Hand pipped Monaghan by a point to reach their first All-Ireland final since 2008.
It tees up a first Dublin-Tyrone All-Ireland final since 1995, when Charlie Redmond's first-half goal and Sean McLaughlin's controversially disallowed last minute point contributed to a one-point victory for Pat O'Neill's team.
Tyrone held firm in the closing stages with Sludden's goal arriving at a time when the momentum appeared to be swinging towards Monaghan.
Brolly praised Tyrone's flexible man to man defensive approach in open play, where Colm Cavanagh acted as the sole sweeper with the rest picking up men.
However, speaking after the game on The Sunday Game live, Brolly argued that Tyrone's man to man approach on opposition kickouts was counter-productive.
"Tyrone are going man to man on the kickouts. That means the opposing team dictate where the opposing team goes to.
"Dublin play a brilliant zonal formation, and Mayo are very good at it as well. They play outside and they hem the opposing team in.
"Here, the Monaghan player is able to dictate where the ball goes. And it's very, very, very cushy for Rory Beggan, as it will be for Stephen Cluxton.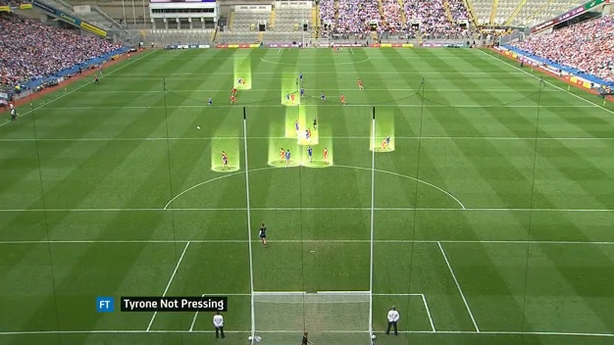 "What Tyrone need to work out is a zonal press on the kickout. What I mean by that is the inside forwards will be outside their men, the midfielders will be outside their men. You'll hem them into that central area so they can't run to the wings."
Five-time All-Ireland winner Tomás O'Sé paid tribute to Mickey Harte. In the 16th year of his reign, he has led Tyrone back to an All-Ireland final for the fourth time.
They have yet to lose an All-Ireland final in Harte's reign.
"You have to give great credit to Mickey Harte. They came up here last year, they got a tanking. They had to go home with their tails between their legs. Their aim, apparently, was to get back to a semi-final. And they've got to a final."