This weekend sees another unprecedented amount of live sport across RTÉ One, RTÉ 2, RTÉ Player and RTÉ Radio. Don't miss a second.
SATURDAY 11 AUGUST
Coverage of the penultimate day's action at the European Championships begins at 9.45am on RTÉ 2. In the 20km Walk, Alex Wright and Cian Manamon will be in action from 9.55am.
From 5.35pm on the RTÉ Player, Ben Shaw, Russell White, Orla Walsh and Laura Wylie compete in the Mixed Relay Triathlon. Deferred showing of this event can be seen on RTÉ 2 following the conclusion of the Dublin v Galway All-Ireland SFC semi-final.
Coverage from Croke Park begins at 4.15pm on RTÉ 2, with live commentary also available on RTÉ Radio 1's Saturday Sport.
The Puissance is the feature event at the Dublin Horse Show and RTÉ 2 will have a deferred showing of that competition from 9.30pm.
RTÉ 2 schedule (Possibility of extra-time in the Dublin-Galway game)
9.45am-4.10pm: European Championships (20km Walk, Diving, BMX, Gymnastics).
4.15pm-6.55pm/7.25pm: The Saturday Game - Dublin v Galway
7pm/7.30pm-9.25pm: European Championships (Triathlon, Athletics, Diving)
9.30pm-10.55pm: RDS Horse Show - The Puissance (Deferred)
SUNDAY 12 AUGUST
It's an 8.00am start on Sunday as the European Championships draw to a close. First up on RTÉ 2 will be the Women's Marathon with Lizzie Lee, Breege Connolly, Gladys Ganiel, and Laura Graham flying the flag for Ireland. The men's marathon starts at 9pm and features Kevin Seaward, Mick Clohisey, Paul Pollock, Sean Hehir and Sergiu Ciobanu.
At 10.30pm, you can see Eddie Dunbar, Marc Potts, Conor Dunne, Robert-Jon McCarthy and Matthew Teggart in the Men's Road Race.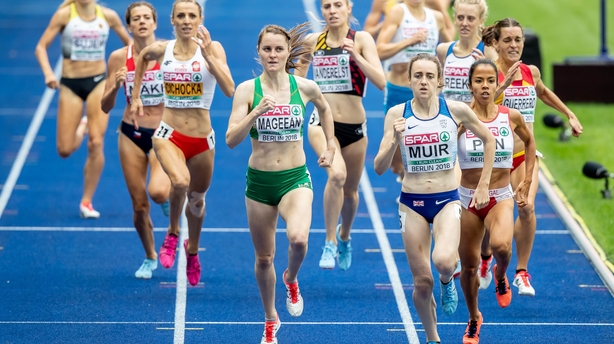 Our evening athletics includes an Irish women's team at 6.20pm in the 4x100m relay, and the 1500m Final with Ciara Mageean at 7pm.
Before all the that gymnast Rhys McClenaghan, who qualified first in the Pommel Horse on Thursday afternoon, goes in the final at 3pm on RTÉ One.
The second of the All-Ireland SFC semi-finals sees Monaghan v Tyrone square off at Croke Park and coverage of that game begins at 2.45pm on RTÉ 2. Live commentary on Sunday Sport, RTÉ Radio 1, from 2pm.
The Dublin Horse Show concludes at the RDS and live coverage of the Grand Prix is on RTÉ One from 3.40pm.
RTÉ 2 schedule (Possibility of extra-time in the Monaghan-Tyrone game)
8.00am-2.40pm: European Championships (Marathons, Men's Road Race, Women's 3m Diving)
2.45pm -5.25pm/5.55pm: The Sunday Game - Monaghan v Tyrone.
5.30pm/6.00pm-9.25pm: European Championships (Athletics finals live and Gymastics/Cycling highlights)
9.30pm-11.25pm:The Sunday Game
RTE One schedule
2.40pm-3.35pm: European Championships (Gymnastics – Rhys McCleneghan competing for a medal)
3.40pm-5.36pm: RDS Horse Show - Grand Prix