Dublin v Galway, Saturday, 5pm
There are all sorts of conspiracy theories about Galway's performance against Monaghan last week.
They were beaten by double scores and when you compare it to one loss all season, they were full of confidence, they were playing at home in Salthill, I can only put it down to not being tuned in.
I don't think they set out to be beaten but maybe the fact that they were qualified for the semi-finals had some bearing on their performance. It lacked an intensity that has been the mainstay of their season.
Monaghan made a mockery of their defence and Galway's forwards were just unorganised. I don't think they'll be a shadow of that team tomorrow evening, I think Galway will give a performance.
I do not judge them on last weekend. Look what they brought against Kerry, against Kildare, all season in Divison 1.
It's going to be a huge physical battle and I think the Dubs will gladly fight this battle.
The Dubs aren't getting better, in my opinion, but nobody is catching up with them either. They answer every question asked. I think that battle against Tyrone will stand to them.
I don't think this Galway defence is as sound as people might think and that's not based on last weekend, it's based on what I've seen throughout the season.
[Stephen] Cluxton, Brian Fenton, Cian O'Sullivan, Ciaran Kilkenny, I think they have the experience and the control to guide Dublin to another final.
I think the Dubs will come through this.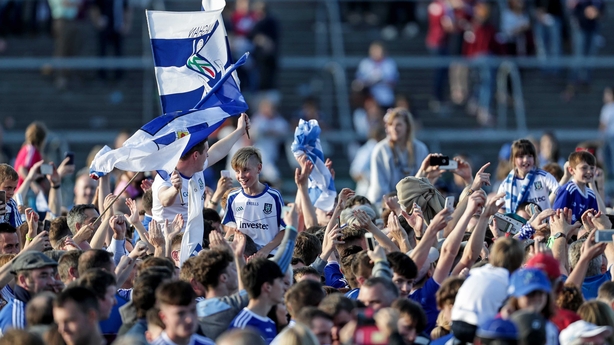 Tyrone v Monaghan, Sunday, 3.30pm
It's a defining game for Monaghan. I don't know how many times I've said that but I've said it a few times.
They keep coming, they keep getting knocked, but they've actually shown their true potential by qualifying at least for an All-Ireland semi-final, the first time in 30 years.
They've done it with bits of magic here and there, Rory Beggan's performances have been scintillating. Carl O'Connell against Kildare and other teams and Conor McManus has been a constant, but I think it's the manic work-rate that they bring to the table.
That's the foundation of everything they achieve.
Another thing that's been thrown against them is that they haven't had too many scorers outside of the three lads but eight scorers against Galway at Salthill, threw that out of the water.
Can they repeat that? If they do, I think they'll get to the All-Ireland final.
Incidentally, of the three teams left other than Dublin, I feel Monaghan are the team best equipped to tackle the Dubs.
But Tyrone are still hanging around and I think Monaghan could do without meeting Tyrone, anybody else but Tyrone in fact.
They've beaten them already this year but Tyrone are not the same team as when they met with Monaghan earlier on.
I admire Mickey Harte, you have to give him credit for sticking to his guns with his system. If Tyrone can stay in the match for the first 50 [minutes] I will just hesitantly give it to Tyrone.
Tomás Ó Sé was in conversation with Des Cahill on RTÉ's Morning Ireland
Follow Dublin v Galway (Saturday, 5pm) and Monaghan v Tyrone (Sunday, 3.30pm) via our live blogs on RTÉ.ie and the News Now app, watch live on RTÉ2 or listen to exclusive national radio commentary on RTÉ Radio 1