Clare players and supporters will have been sick leaving Thurles last Sunday. 
To drag themselves back into game after a horrendous start and yet fail to get over the line in the finish will nag at them over a long winter. 
Make no mistake, this was a golden opportunity to reach an All-Ireland final and it slipped through their fingers. 
It was a completely different sort of game from the drawn encounter. It was cagey and defensive from the start. I think Clare will regret they didn't trust themselves and discard the overly defensive tactical template before the off.
But one thing they've clearly shown over 160 minutes of hurling is that Galway are far from bullet-proof.
There was a popular notion at the start of the summer that this was Galway's All-Ireland to lose. Certainly, they have the strongest first XV in the championship and were very impressive at times during the Leinster campaign. 
It's like watching two completely different teams - the side that tears into it for the first 25 minutes and the one that sits back for the remaining 45
But I never subscribed to that idea that they were somehow invincible. I just don't think they have that aura about them yet. 
For the third game in a row on Sunday, they delivered 25 minutes of top class hurling but then got sucked into a lull which allowed their opponents room to breathe and work their way back into the game. 
It's like watching two completely different teams - the side that tears into it for the first 25 minutes and the one that sits back for the remaining 45. 
It's become something of a pattern and it's very difficult to pinpoint why it's happening.
Hunger simply shouldn't be an issue. Galway are going for back-to-back titles for the first time since 1988 and they will all have a clear enough memory of the lean years and near misses before 2017.
The players have gotten a taster of success and are surely ravenous for more. They also now know the levels of performance that are required to get over the line and win the All-Ireland. You need to raise those levels again to stay ahead ahead of the chasing pack. Even before last year's ultimate success, everyone knew the level and depth of talent that existed within Galway's ranks.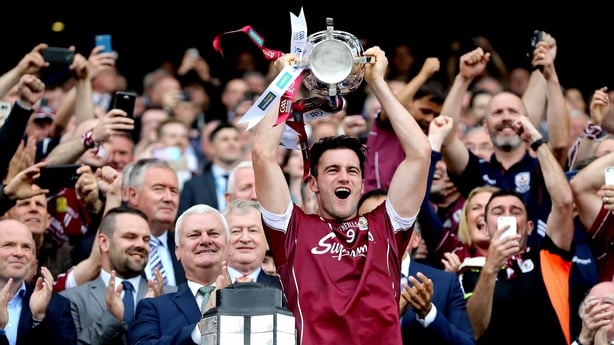 Perhaps there's an argument that the sheer intensity and pace of their openings can't be sustained and they're tiring rapidly and concentrating on snuffing out their opponents' attack for the rest of the half. 
I suspect that the pressure of being billed as the best team in the country could be weighing on them somewhat. The notion that I mentioned earlier - that this is an All-Ireland that they should be winning - is possibly getting to them and affecting their psyche, preventing them from playing with enough abandon. 
And usually, this sort of nagging pressure comes from within your own county rather than the national media generally. 
For whatever reason, in Kilkenny we never felt that suffocating pressure from outside the camp. We certainly put pressure on ourselves but that's a different dynamic altogether. As for any talk or expectation that floated around outside the tent, it just never got in on us. 
There's no doubt, if Galway hadn't the twin threats of Joe Canning or Johnny Glynn in the forward line, they'd be out of the championship. Kinvara's Conor Whelan has also delivered several outstanding performances this year. 
Against Limerick, Galway could badly do with a big display from Conor Cooney or Cathal Mannion, both of whom starred in 2017. In fairness to Mannion, he delivered a superb display in the Leinster final replay but his consistency hasn't been there throughout 2018. 
Their defence could be more ruthless too.  
How neither Shane O'Donnell or Peter Duggan were dragged down before rattling their goals, I'll never know. We saw down the other end that Conor Cleary didn't hesitate to haul down Joe Canning in a similar situation.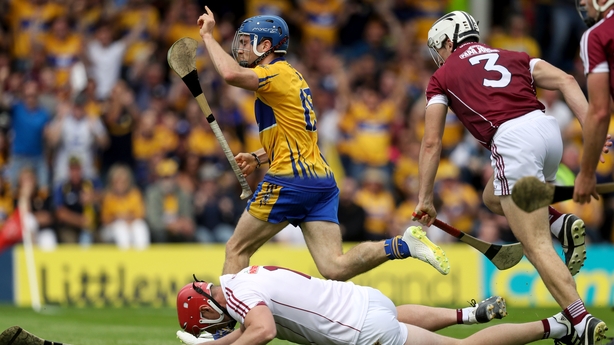 That possibly hints at a bit of naivety that may still exist within the Galway set-up. 
If Galway don't get that consistency of performance across the 70 minutes then they're going to run out of lives soon. 
This Limerick team have already given ample demonstration that they're a different animal to their predecessors. 
I won my second All-Ireland final for Kilkenny against Limerick in 2007. We hit them for a couple of early goals but they rallied well. We ended up winning by six or seven points. 
That side had some excellent players and were no pushovers but they probably didn't have the experience at the time. 
But this Limerick outfit, despite their youth, have serious credentials. So many of their players have two All-Ireland U21 medals already won. They'll have no fear whatsoever heading up to Croker in 11 days' time. 
We saw their mentality in the All-Ireland quarter-final when Richie Hogan rattled home that goal in the final few minutes.  
Previous Limerick teams would have allowed the heads to drop but these guys have the winning habit from underage and they powered back into it. 
This year's All-Ireland final may well have come too soon for this crop. But I reckon this Limerick team will win a couple of All-Irelands over the next five years.