Roddy Doyle was interviewed on Second Captains recently, the primary topics being his new book and his love of Chelsea Football Club.
The Booker Prize winner made no bones about not being much of a 'GAH' fan.
At one stage of the interview, he presented listeners with the novel theory that GAA fans were really football fans (of the association variety) trying to get through the summer, a proposition which, aside from anything else, suggested he probably isn't much of an LOI man.
It also implied that his conception of the standard GAA fan was that of the stereotypical Hill 16 glory hunter in summertime, a caricature which is usually tossed about by 'culchie' fans intent on riling the Dubs. Recall the glee when late substitute Eric Lowndes was given an extra loud roar in the closing stages of last year's All-Ireland semi-final, the Hill having mistaken him for Diarmuid Connolly.
However, even Doyle recalled the events of the 1983 All-Ireland final, reaching for it as a prime example of the Dubs versus the rest phenomenon.
"There's Dublin and there's Ireland. I think it's always been like that. There's an old All-Ireland final going back years and years and years ago where Brian Mullins was sent off.
"And Micheál O'Hehir was going berserk in his own inimitable way. The feeling... you could almost put a match to it.
"It was Dublin versus the 31 counties."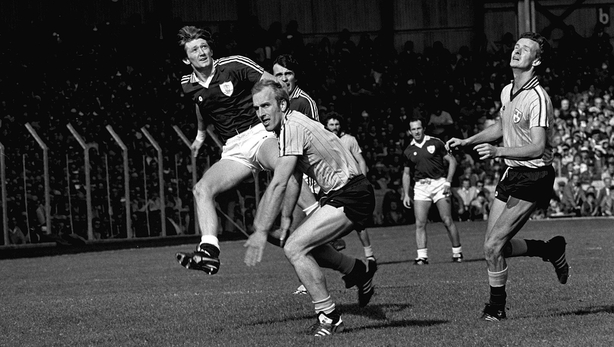 The 1983 All-Ireland football final - amazingly, the last meeting between Dublin and Galway in the championship - is so notorious it has its own 'Scánnal' documentary, alongside such notable events as the Éamon Casey affair and the Monica Lewinsky saga.
The papers the day afterwards were reportedly full of recrimination and 'won't someone think of the children' moralising. The actual identity of the victors was an afterthought.
"It was a very untidy game, it was very physical, it was over-robust. And it's not the type of football I would go to see as a spectator," GAA President Paddy Buggy told RTÉ the day afterwards. He was too diplomatic to be drawn on whether, as the RTÉ questioner put it, there was any place for a man who kicked another man on the ground. And he disagreed that rule changes were required.
The fare on the pitch was violent enough but events off it were even more hair-raising.
According to those on either terrace that day, 1983 was a damned close shave. One of the GAA's bigger crowd safety scares.
GAA matches, even All-Ireland finals, weren't all ticket affairs back then. If you wanted a seat in the stand you needed one (unless you were a child). But no tickets were required for the terraces. You just arrived on the day and paid at the turnstiles.
The result that day was terrible crushing on the Hill and the Canal End.
Future Dublin manager Paul 'Pillar' Caffrey, whose brother John operated as a third midfielder that day (a dizzyingly new-fangled concept in 1983 by all accounts), spoke to Dublin.Live this week about his experiences on the Hill.
"I was on the Hill that day and there weren't enough crash barriers as the crowd swayed dangerously. It was a filthy, wet day and as you came out afterwards there was a steep bank which people were slipping and sliding down.
"How there wasn't somebody seriously injured was a minor miracle."
One Galway supporter tells us that stewards at the Canal End had to open the gates to prevent crushing outside the ground. Supporters flooded up the steps but such were the crowds that many didn't get far enough up the stairs for the pitch to come into view.
"There was such a crush outside that they eventually had to let people in. People got in the gates alright but they wouldn't have gotten up the steps and into the terrace because there were so many there.
He did get in but "it was really crushed and very uncomfortable. I felt like I had half the Canal End on my back. There was a real health and safety issue there."
The Galway county board made a formal complaint later on that several of their supporters had been attacked outside the ground. There were widespread reports that buses full of Galway supporters were stoned as they left Dublin.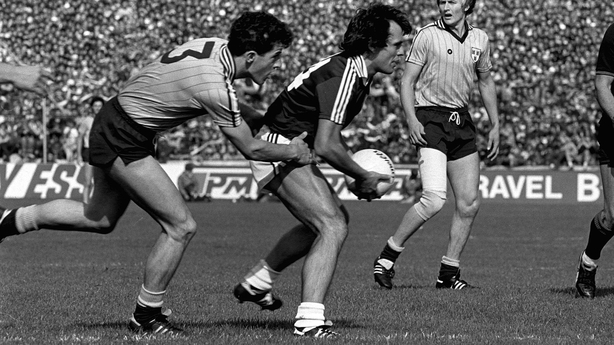 The winners now go by the nicknames 'The 12 apostles' or 'The Dirty Dozen' depending on your sympathies (though presumably the 'dirtiest' members of the Dublin XV weren't among that dozen but anyhow...)
The weather did strange things throughout the afternoon. The first half was played under desperately gloomy skies and there was an almighty downpour midway through the first half.
In the second half, the sun broke out suddenly.
Through it all, there was a gale blowing down towards Hill 16. This partially contributed to Barney Rock's early goal, one of the most ridiculous ever scored in an All-Ireland final (though only the second most ridiculous goal Barney Rock ever scored in Croke Park).
Galway wing back Seamus McHugh latched onto a breaking ball in the full-back line and was fouled by Kieran Duff as he burst out. He hit the deck and in retaliation one of the Galway players hit Joe McNally a bad dig. It all looked slightly like the ruckus that prompted the melee in the 1996 All-Ireland final replay.
The result was a Galway free on their own 21 metre line. Goalkeeper Padraig Coyne came out to take. Kick-outs not being painstaking science they are in 2018, he simply lamped the ball as far as he could into the breeze, unfortunately shanking it straight into Rock's chest 40 metres from goal.
According to Seamus McHugh, Coyne wasn't helped by events with the ball in mid-flight.
"Heffo (Kevin Heffernan) came in to tend to Joe McNally. At the time, there was great controversy about management encroaching onto the field of play. So, Padraig took the kick-out and, in some way or another, I think he got involved with Heffo verbally."
Quick as a flash, Rock booted the ball back in the direction from which it came. Horrified, Coyne turned and scampered back to his goal Paddy Cullen style. Aided by the wind, the ball beat him and wound up in the net.
It all happened so quickly that Coyne's verbal involvement with Heffo couldn't have lasted beyond a split second, though perhaps roaring 'f---- off the pitch' was enough to distract him from his duties.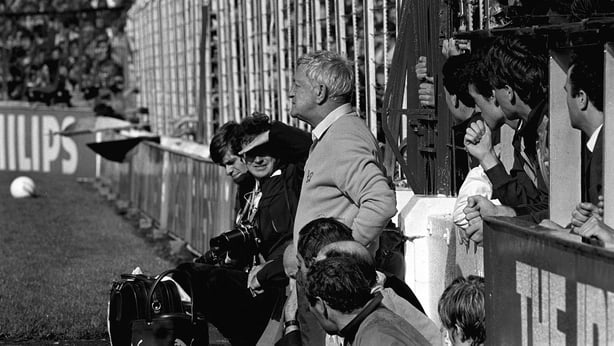 Then came the sendings off. Brian Mullins, back playing after surviving a horrendous car crash three years prior, got his fist to a high ball in midfield and then got his fist to Brian Talty's face, as Micheál O'Hehir had it.
Shortly afterwards, Dublin defender Ray Hazeley and Galway attacker Tomas Tierney were, possibly harshly, sent off following a tussle on the Hogan Stand sideline.
Early in the second half, Kieran Duff, the centre of aggro all afternoon, got into a tussle with his marker Pat O'Neill and then threw a boot at his head as he lay on the ground. Referee John Gough was quickly across to banish a fourth man from the pitch.
Dublin now nursed, what would be in ordinary circumstances, a fairly substantial seven-point lead. But they had to play nearly an entire half into a gale force wind with a serious numerical disadvantage.
It looked like an eminently doable task for Galway in the circumstances. They couldn't do it.
Certain Galway players, Talty for one, said later on that they might have fared better if it remained 15 on 15.
"I feel if we have 15 against 15 again that we would have a better chance than the way it went," Talty told the makers of 'The Tommy Varden History of Galway Football'.
"I live in Dublin and people still slag you about the fact that you had two extra men and they weren't used. I feel that if we had prepared, or if we had a better style of football in fact, that we would have come on and won that game."
It seems fanciful that a team wouldn't derive any benefit from having two extra players on the pitch. The line about their style of play scuppering them may be more honest here.
Time and again, Galway defenders ballooned the ball brainlessly into physically over-matched forwards when a touch of patience might have enabled them to use their numbers to work a score.
Possession stats weren't de riguer in 1983.
Manager Mattie McDonagh, four-time All-Ireland winner as a player, was accosted afterwards by a number of Galway supporters, angry at the abject failure to make their numbers count.
The Galway footballers of the 1980s were good enough to dominate Connacht for a long stretch but probably not good enough to achieve too much more.
That they were in the '83 final at all was thanks to a late Val Daly goal which stole victory from under Donegal's nose in the semi-final.
From the mid-70s until the early-90s, the only time a Connacht or an Ulster team reached the All-Ireland final was on every third year when the two provinces collided in the last four. 1983 was one such year.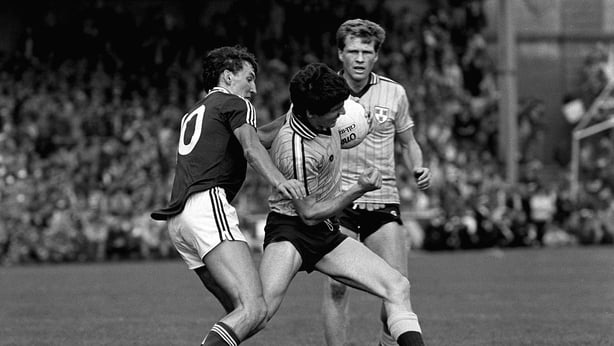 Following a Stephen Joyce goal and a Mattie Coleman point, Galway got the score back to 1-08 to 1-05 with plenty of time left but proceeded to start panicking again, as if erroneously informed by someone on the sideline that there were only seconds remaining.
At the other end, Barney Rock kept the scoreboard ticking over with frees, a couple of them soft enough.
The Dublin Dozen worked and scrapped like dogs and hung on for a two-point victory.
There was something oddly fitting about captain Tommy Drumm choosing to lift Sam Maguire upside down from the Hogan Stand afterwards – a tribute to a topsy turvy All-Ireland final.
While the authorities tut-tutted, to the more punk-minded of the Dublin supporters, it is one of the most treasured victories of them all.
Both sides have managed to avoid each in the championship in the years since, with either side's peaks coinciding with the other's troughs.
It was Heffo's last All-Ireland title as Dublin manager.
They reached the next two finals but were beaten by Kerry and, thereafter, Meath wrested control of the province. The Dubs wouldn't get back to a final until 1992.
Galway, meanwhile, didn't get back to the final until 1998 and it's often said it took them years to psychologically recover from the '83 loss, though that team won a few more Connacht titles and were seconds away from reaching another final in 1987.
But 19 September 1983 certainly left scars. Full-forward Gay McManus, speaking on 'The History of Galway Football', is fairly blunt on the matter.
"My memories of it are not good. We didn't play well. The conditions were atrocious. Nothing went right and there's not much more to be said. I don't talk about it much because there are no good memories from it."
Follow Dublin v Galway (Saturday, 5pm) and Monaghan v Tyrone (Sunday, 3.30pm) via our live blogs on RTÉ.ie and the News Now app, watch live on RTÉ2 or listen to exclusive national radio commentary on RTÉ Radio 1.