It seems incredible that Rory Beggan and Niall Morgan could have such an influence on Sunday's All-Ireland semi-final, but such is the way of the modern game and the quality of these two goalkeepers.
Monaghan and Tyrone are two evenly matched teams, and if you offered either manager this fixture at the start of the season for a place in the All-Ireland final, they would have bitten your hand off.
Many observers see this as a 50/50 game, and I can't see there being more than a score between the sides at the full-time whistle, which means the influence of the men between the sticks is crucial.
All season Malachy O'Rourke's men have dominated possession, the foundation for their run to the last four.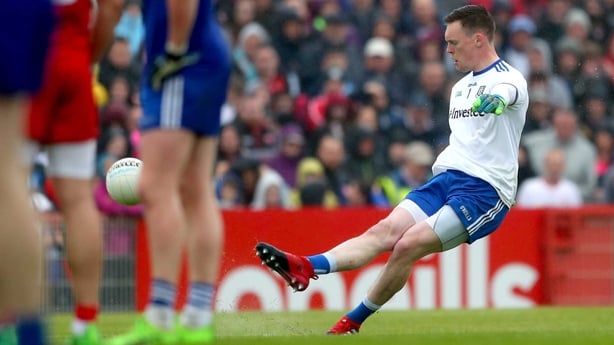 We saw it in Omagh in their Ulster clash this season with Beggan finding team-mates repeatedly. As well as that, his place-kicking is simply artwork, making long distance frees look almost routine.
Niall Morgan (below) had one poor kick-out last weekend against Donegal which was severely punished when Michael Murphy blasted to the net, but apart from that mishap, was superb and major reason why Tyrone dominated the second half. They pretty much had certain possession of their restarts.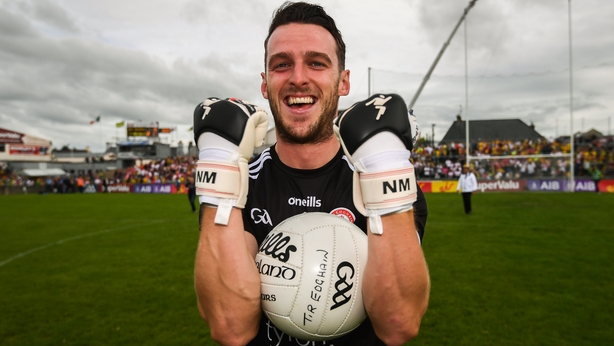 Both keepers can pick targets out from 50 or 60 metres out and can create attacks further up the pitch, which puts opposition immediately on the back-foot.
Tyrone have tended not to push up on opposition kick-outs in the past, but this is something i would like to see change and put Beggan under pressure. They must attempt to turn Monaghan over on their own restarts.
Much has been made of Tyrone's tally of 2-05 from the bench against Donegal, but I don't see many changes in personnel.
The full-forward line is probably the one area that didn't perform like Tyrone would have hoped for, but had been fairly consistent up to that point.
Conor Meyler looks likely to miss out after picking up an injury, but at most I would see only two changes.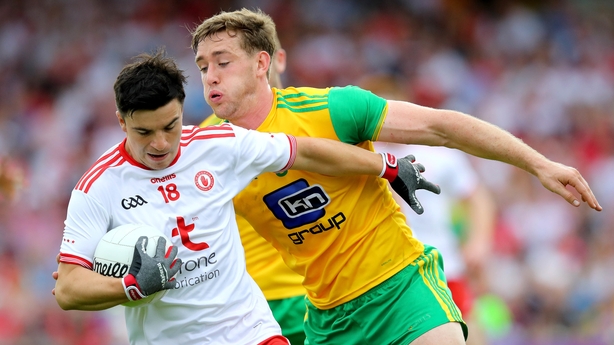 Kieran McGeary has been superb in the last few weeks and brings a serious amount of energy and drive to the half-back and half-forward line, while Lee Brennan's four points after his introduction will see him pushing for a spot.
He is also the best free-taker in the county in my opinion and that will give management more to mull over.
Some players however are better suited to coming into a game than others. Brennan still doesn't have much football under his belt and could be better served as an impact sub if the game opens up a bit, his fresh legs could open up the Monaghan defence. Richie Donnelly for example is someone who I think would be better utilised from the start rather than later in the game.
You take Dublin out of it, Tyrone have the strongest panel in the country, with a lot of players in and around a similar standard.
What they lack is perhaps an out-and-out superstar like the other teams have.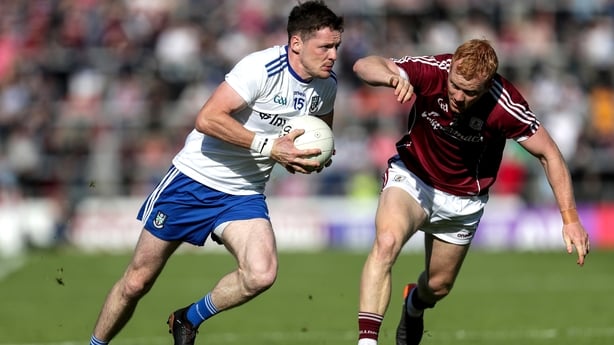 Monaghan seem to have improved all season in getting quicker service into Conor McManus (above). He received a lot of credit in the Ulster win over Tyrone, but up until the last five minutes, Ronan McNamee held him fairly well.
Against Fermanagh it was s similar story, but the delivery has improved since then and the challenge for Monaghan is to continue that.
McManus is likely to make a lot of runs to drag Colm Cavanagh out of the sweeper position and leave openings for others, and that is an aspect of his game that is under-appreciated.
He doesn't have to score to influence a game, even though he is one of the most lethal finishers in the business.
There will be no quarter asked or given between these two rivals, but I had to laugh when I read Dick Clerkin warning Monaghan to be aware of Tyrone's cynical play.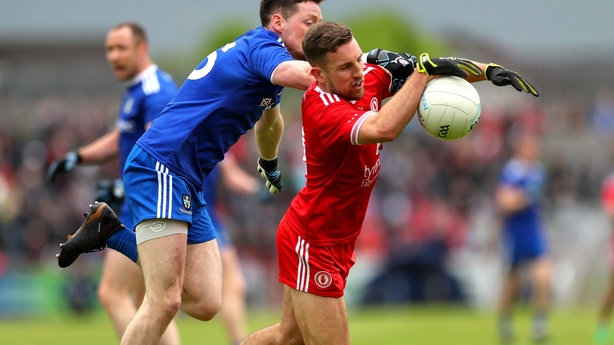 It's pretty ironic coming from a man who was well-known for his cynical acts!
Anyway, I don't think Monaghan have too much to learn. Every team now has a certain cynical element and players are willing to do whatever it takes to win.
With two teams that know each other so well, at this stage of the season, there is bound to be some off-the-ball stuff going on. It's an All-Ireland semi-final, I wouldn't expect anything different.
Ultimately Tyrone's greater spread of scorers, and the fact that they seem to create more goal opportunities – their execution has left them down at times – should be enough to edge past Monaghan and seal a first All-Ireland final in a decade.
Dublin v Galway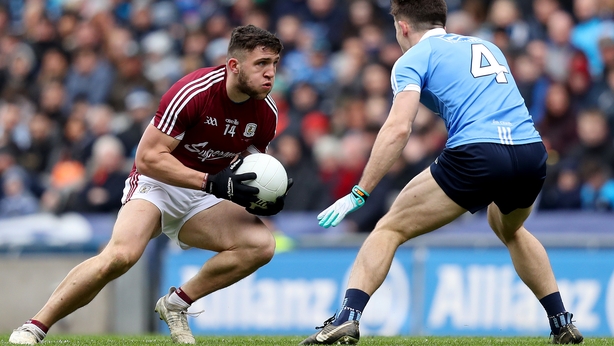 It's going to be a challenge for Galway after losing at home to Monaghan last weekend.
We are into the unknown with the Super 8s in that regard, where a team can lose a game of football and still have an important game the following week.
We have seen provincial finalists often bite the dust in the subsequent qualifier with the psychological baggage that goes with a defeat.
"Galway tend to perform better in the second half of matches, but a poor opening 35 minutes won't cut the mustard at Croke Park"
They had such momentum – it was only their second loss of the year – and it will be interesting to see how they react to it.
The fact they are playing Dublin will help focus the mind, and few give them a realistic chance of turning over Jim Gavin's side.
The key for them is a good start. They tend to perform better in the second half of matches, but a poor opening 35 minutes won't cut the mustard at Croke Park.
They must keep the contest alive and in fairness to Galway, their gameplan is about containment. Aside from the double-score defeat to Monaghan, you don't expect the Tribesmen to ship too many scores.
We all talk about the quality of this Dublin team, but their game management is what sets them apart. It is streets ahead of anyone else in the country.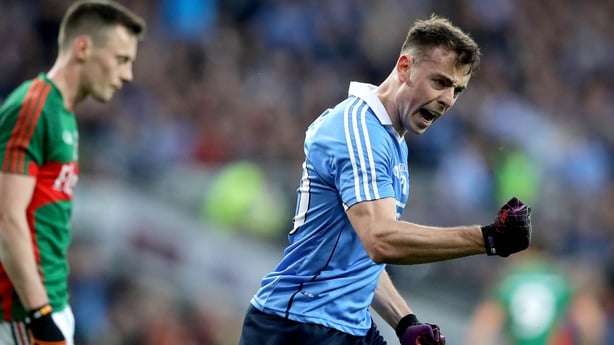 The options in personnel still looks pretty healthy. Cormac Costello (above) had a fantastic game last weekend and comes into the equation, but I think Jim Gavin has a pretty settled team with everyone fit and available.
The one thing that gives a degree of hope is that the Dubs don't seem to be blowing teams away like they used to. The Super 8s probably changed their outlook slightly and maybe they are trying to peak differently this year.
Galway have real quality attackers in Damien Comer, Ian Burke and Shane Walsh, but the three have yet to fully click together in Championship.
I can see the Connacht champions being in the game with 15 minutes to go, but the Dubs to pull away down the stretch.