The way Monaghan were caught by a Kerry sucker-punch two weeks ago would have been enough to floor another team.
David Clifford's late equalising goal in Clones earned the Kingdom a draw and left Malachy O'Rourke's men facing a must-win game against Galway.
It was the second time that they'd coughed up a costly late goal this season, the first against Fermanagh to lose them what had seemed a near-certain place in an Ulster final.
I was just afraid the referee would call off the game or something - Malachy O'Rourke
With these and repeated All-Ireland quarter-final near-misses behind them they could have packed up and gone home. Not this Monaghan team though.
They came out and drove into the Tribesmen at Salthill, hammering out a double-scores win against an outfit that had only lost one competitive game all season, and earned a first All-Ireland semi-final appearance in 30 years.
Free-scoring goalkeeper Rory Beggan didn't get too hung up on the Kerry result, even though the internet never forgets and wouldn't allow him to put Clifford's amazing strike out of his head.
He joked: "I tried to forget about that on the Monday after the game, but it kept popping up on the phone - I kept seeing it!
"Listen, we played Kerry off the park for 74 minutes and we got hit with a sucker-punch at the end for the second time this season. There's amazing character in this group that we're able to bounce back and get this result playing very well again."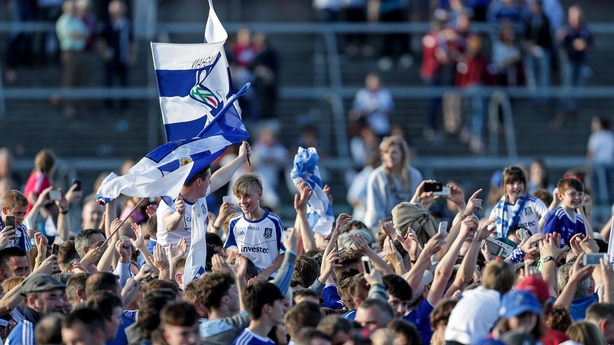 Midfielder Darren Hughes, speaking to RTÉ Sport, was feeling the exact same way.
"The initial reaction after the final whistle in the Kerry game was one of frustration, but we got in and got settled," he said.
"Mal came in with a big smile on his face and said 'that's great, three points on the board after two games - we'd have taken that a couple of months ago, let's go to Galway and win'. That was it, it was tunnel vision from there.
"We have enough experience in the squad so it didn't take a flinch out of us. Once we got settled, we left confident.
"We knew it was win or bust, we had to go full tilt against Galway. We had to; we had it all to lose."
Winning at Pearse Stadium now means that Monaghan top Group 1 of the All-Ireland quarter-finals, earning them an extra day's rest and the bonus of avoiding four in-a-row chasing Dublin in the last four.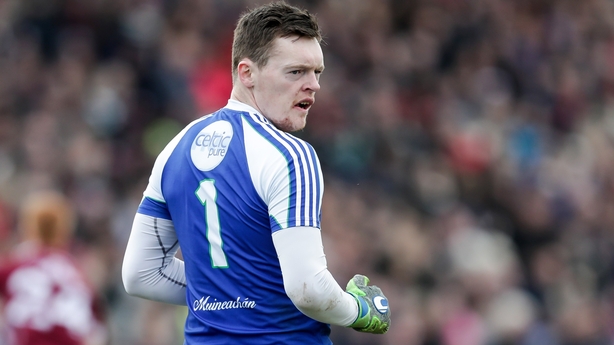 They face an Ulster derby in the next round, at Croke Park on Sunday, 12 August, taking on the winner of Sunday's Donegal-Tyrone clash in Ballybofey to see who finishes second in Group 2 behind the Dubs.
As Hughes noted: "It's an Ulster final to get to an All-Ireland final."
Monaghan manager Malachy O'Rourke confirmed that he had his ticket for Ballybofey booked already and he would spend his Sunday afternoon running the rule over his team's next opponents.
There was quiet satisfaction from O'Rourke at a job well done, though under the new format there are only days, rather than weeks before the next game so there isn't much time to savour the feeling.
In stoppage time at the end of the game, with the result already beyond doubt, the Monaghan management team was joined on the sideline by their supporters, ready to rush the pitch and celebrate with the players.
Referee Conor Lane played nearly eight minutes extra and the only tension was when he'd blow the final whistle, with many fans sneaking onto the pitch early.
O'Rourke said: "I was just afraid the referee would call off the game or something.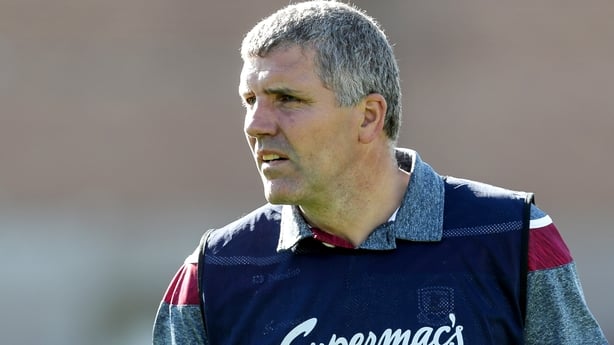 "It is great. After we lost to Fermanagh a lot of people could have lost faith.
"But we went down to Waterford and the one thing that gave us a massive boost, when we arrived in Waterford at the ground, there was maybe 4,000 Monaghan supporters there, they followed us on the journey and they just showed us how loyal they are.
"The boys need them as every team needs them and just delighted to give them another day after this as well."
For Galway, the gloss of making an All-Ireland semi-final with a game to spare is dulled and now they face Dublin next Saturday at GAA Headquarters with a whole load of new questions to answer.
"We digested it even coming towards the end," said Tribesmen manager Kevin Walsh. "By half-time we would be unhappy with intensity levels in the first-half. A lot of poor turnovers up in the scoring area where a little bit more patience or more go forward ball would be required.
"The hungrier team on the day. It's great to qualify after two games but sometimes that can come into it. You hope that doesn't happen. But the likes of Dublin have ten years in Division 1, Monaghan have six or seven years up there.
"We have continuously said that these are the matches that we need to become a serious team and experienced team you have to deal with those situations."