Donegal qualified for the semi-finals of the TG4 All-Ireland SFC for the first time in their history following a victory over Armagh at Healy Park in Omagh.
Donegal were big winners over Armagh in the Ulster final earlier in the summer on a 9-21 to 4-8 scoreline and although today wasn't anywhere near that, it was enough.
Donegal were six points up at half-time but on two occasions in the third quarter Armagh came back to just a point down, before getting back on terms 13 minutes from time. Late points, though, from Eilish Ward (two) and Niamh Hegarty took Donegal over the line in a tense finish.
Donegal, who were missing captain Karen Guthrie for all but two late minutes due to a hamstring injury, will now look forward to a semi-final in two weeks' time against either Cork or Westmeath, who will play on Bank Holiday Monday.
Armagh were much improved from their provincial final defeat in Enniskillen, taking their deficit back to just one, 0-4 to 0-3, in the 15th minute today when Mackin scored her second of the afternoon.
However, that preceded Donegal's first half purple patch, when six points in seven minutes – through Geraldine McLaughlin, Sarah Jane McDonald and four from Bonner - made for a 0-10 to 0-4 Donegal lead by the 25th minute.
Armagh were unfortunate not to pull a goal back when they seized on a short kickout from Laura Gallagher and worked the ball to Aoife McCoy, whose shot for goal struck the post. Ciara Hegarty, the Donegal centre-back, then made a goal-saving tackle to pinch the ball off Mackin.
At the break, Donegal were 0-11 to 0-5 in front.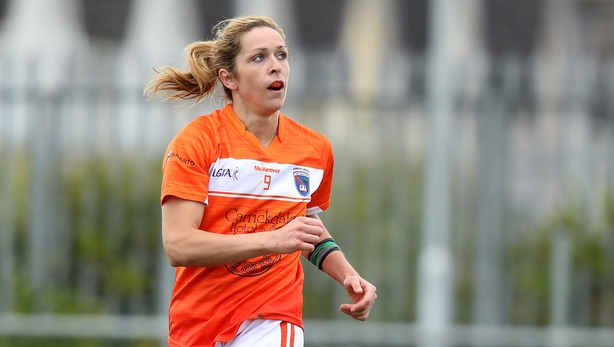 Gallagher had to make a point-blank stop from Aimee Mackin in the opening minute of the second half as substitute Shauna Grey was denied by the Donegal goalkeeper from the rebound.
Mackin then scored a fine point from an angle for Armagh, only for Eilish Ward to do the same at the other end. Armagh were indebted to Marian McGuinness for a block from McLaughlin.
But Armagh continued to fight and points from Caroline O'Hanlon and Aoife McCoy meant the team under the stewardship of Fionnuala McAtamney and Lorraine McCaffrey were back to 0-13 to 0-9 down by the 41stminute.
Then, an Armagh goal sparked the comeback, when McCoy shot past Gallagher after a fine break from the middle of the field by O'Hanlon. That made the score 1-10 for Armagh and 0-14 for Donegal.
In the 47th minute, Armagh took advantage of Donegal's jitteriness managed to level through Grey. Katy Herron edged the Ulster champions back into a slender lead, 0-16 to 1-12 with ten minutes to play but Blaithin Mackin tied it up right away.
After Ward score to put Donegal one up again, McCoy had an almost identical goal chance to the one she scored at the other end. But she shot just wide and claimed a push, while Niamh Hegarty doubled Donegal's lead.
Ward pushed the advantage out to three to the delight of the Donegal support.
Donegal scorers: Y Bonner 0-5; G McLaughlin 0-4, 1f; S J McDonald, E Ward 0-3; N Hegarty 0-2, A McDonnell 0-2; K Herron 0-1.
Armagh scorers: A Mackin 0-7, 2f; A McCoy 1-1; C O'Hanlon 0-2, K Mallon 0-1, 1f; B Mackin, S Grey 0-1.
Donegal: L Gallagher; T Gallagher, N McLaughlin, D Foley; T McCafferty, C Hegarty, E Gallagher; K Herron, A McDonnell; A M McGlynn, N Hegarty, S J McDonald; G McLaughlin, Y Bonner, E Ward. Subs: A Boyle Carr and O McCafferty for Foley and McGlynn (48), K Guthrie for McDonald (58).
Armagh: C O'Hare; S Marley, M Sheridan, S Reel; M Tennyson, T Grimes, M McGuinness; B Mackin, C O'Hanlon; M Morriarty, F McKenna, L McConvolle; A Mackin, A McCoy, K Mallon.
Subs: S Grey for McKenna (half-time).
Referee: Brendan Rice (Down).