The decision to arrange Sunday's Clare-Galway All-Ireland semi-final replay for Thurles caused controversy from a ticketing point of view but Ger Loughnane believes it could have a significant impact from a playing perspective. 
Saturday's draw was Clare's first game in Croke Park since their All-Ireland final replay victory over Cork in 2013. And the 1-30 apiece draw bolstered the notion that Clare are a team who, for whatever reason, thrive at GAA headquarters.  
Loughnane - whose own Clare team lost only one out of their nine championship matches in Croke Park between 1995 and 1999 - believes many spectators underestimate the difference between Thurles and GAA HQ from a playing standpoint.  
The two-time All-Ireland winning manager told RTÉ Sport that it's not an accident that Clare's performance levels rise when they hit Jones's Road and says the decision to locate the replay for Thurles presents them with a stiffer challenge on Sunday. 
"That's not a myth. And I said it before the game the last day. It's hard to explain to people who haven't played in Croke Park or Thurles, the difference (between them). 
"Clare have a structure and physicality which is ideal for Croke Park. But in Thurles, it's a much more open field. It's a much faster field.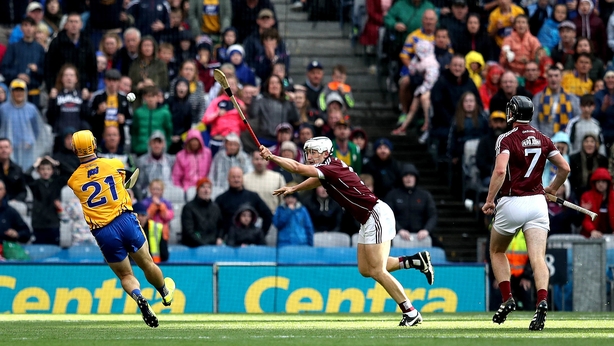 "If you watch the ball in Croke Park - and you saw all the difficulty players had rising the ball the last day - it's not bouncing as high, the field isn't fast, the butt of grass is thicker. It's as simple as that.
"Now, it's a great pitch. It's a brilliant pitch. But the ball doesn't move as fast as in Thurles. 
"Thurles suits a creative, fast moving game. We would be afraid of our defence when the pace of the game is very, very fast. That's what happened against Cork in the second half (of the Munster final).
"As a result, when they saw the defence was creaking, the rest of the team seemed to lose confidence. We may have learned from that. Hopefully, we have. 
"The forecast for the weekend is that it will be very, very fine on Sunday so that means it will be very fast in Thurles."
Galway had a poor record in Semple Stadium for a long time, losing seven of eight championship games there between 2004 and 2014. 
But they've turned a corner at the venue in recent years, winning their last three championship encounters there. 
"Thurles suits this (Galway) team," Loughnane insists. "Because they have such skill and they can move the ball so well.
"Clare have good skill as well but they haven't overall as much skill as Galway have. Clare would have seven or eight brilliant players. Or maybe ten brilliant players with the rest genuine players. Galway have a superior number of outstanding players.  
"You saw the way Galway played against Kilkenny in Thurles. That'll give them a huge boost. 
"It's a bigger task for Clare going to Thurles on Sunday than it was going to Croke Park last Saturday. And if they survive against this Galway team there, then they're a real force."