Mayo manager Stephen Rochford is going to have to recruit a new coach and some selectors for his backroom team if he decides to stay on for a fourth season in charge.
Highly respected coach Donie Buckley and goalkeeping coach Peter Burke, both of whom also served as team selectors, have both informed Rochford that they will be stepping down from their roles.
It's also understood that a third selector, Tony McEntee, who is based in Armagh, is unlikely to be on board in 2019 after three seasons working with the Westerners.
However, Rochford's other selector this year, his former Crossmolina team-mate Joe Keane, is expected to stay on.
Rochford is due to meet with Mayo GAA officials at some stage after next Sunday's All-Ireland Under-20 football final between Mayo and Kildare to discuss his future plans.
The 39-year-old, who led Corofin to the All-Ireland club football title in 2015, was given a two-year extension to his term as Mayo manager by the County Board last October.
Senior Mayo GAA officials decided that they should wait for a month after Mayo exited the Championship before sitting down for a review of the 2018 season with Rochford.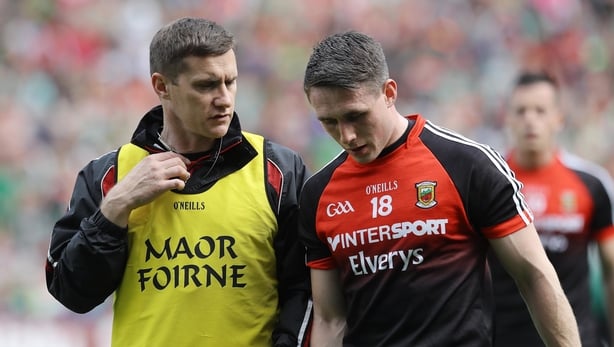 Last Monday marked exactly four weeks since Kildare knocked Mayo out of the All-Ireland title race.
Kerry native Donie Buckley and Armagh All-Ireland winner Tony McEntee were appointed as Mayo selectors in 2016 while Peter Burke also assumed selection duties for each of the last two seasons.
Buckley, who has been part of the Mayo senior set-up since the start of 2013, will be the hardest member of the departing trio to replace.
The former Limerick and Kerry coach is very well-regarded in Gaelic football circles in the country, and is known to have played a major role in developing both Mayo's defensive and attacking systems since his arrival.
Peter Burke's departure from the Mayo backroom team brings to an end his eight-year association with the senior football squad.
The Kiltimagh clubman, who lined out in Mayo's 1997 All-Ireland Final defeat to Kerry, was brought into the Mayo fold by James Horan at the beginning of 2011 as a goalkeeping coach.
It was a role he also filled under joint managers Noel Connelly and Pat Holmes in 2015 before being retained by Rochford.