The GAA's crammed fixture schedule could be wound tighter still this weekend following the final round of Super 8s football quarter-finals games.
The Super 8s draw to a close on Sunday with the All-Ireland Senior Football Championship semi-finals starting six days later and Croke Park will be sweating on the results of this Saturday night's games.
There's a chance – and not an entirely improbable one – that Kerry and Monaghan will be deadlocked in Group 1 on points, head-to-head, scoring difference, scores for and goals for.
If this happens a play-off will be required to decide who progresses to play the All-Ireland semi-final against Group 2 winners Dublin, scheduled for Saturday 11 August.
But if a play-off is required, there's no way that the semi-final will be able to go ahead on that date.

The All-Ireland hurling final is on Sunday 19 August, there's no GAA activity on the following week due to the Pope's visit to Ireland and then the All-Ireland football final is down for decision on Sunday September 2.
That means any play-off between Kerry and Monaghan, at a venue to be decided by the Central Competitions Control Committee (CCCC), would likely have to be played on the weekend of 11/12 August, with the semi-final on the Saturday before the hurling final.
There is a list of five tie-breakers for teams that finish level on points at the end of the Super 8s.
The first is head-to-head, which doesn't count between the Kingdom and the Farney as they drew their meeting in the second round, David Clifford scoring an incredible late goal to tie it up.
It then goes to score difference, followed by highest total score for and then the next tie-break is highest total goals for. After that it goes to a play-off.

In Group 1 Galway are already through to the All-Ireland semi-finals and Kildare are out, with Monaghan and Kerry battling it out for the remaining place in the next round.
As it stands, Monaghan have scored 1-32 in their two games and have conceded 2-27 to leave them with a +2 scoring difference. Kerry are 2-27 for and 2-30 against to stand on -3.
So if, for example, Monaghan go to Salthill and lose to Galway by 0-15 to 1-10 while Kerry beat Kildare in Killarney on a 0-15 to 0-12 scoreline there will be nothing to separate the sides.
Both will be on three points with a neutral scoring difference, each with 2-42 scored and 2-42 conceded in their three games, their points total will be identical and they'll both have scored two goals.
In that event, a play-off will be necessary - a headache the CCCC could do without considering the tight time-frame they are working within following the GAA's decision to shorten the inter-county season.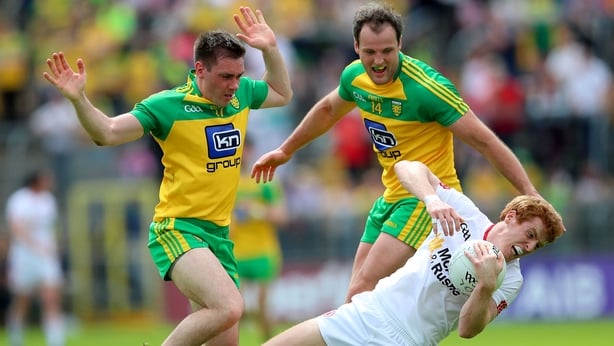 There are plenty of other permutations, of course. If Galway and Monaghan draw, both teams go through with Galway on top and avoiding a semi-final with All-Ireland champions Dublin.
If Monaghan win they'll top Group 1. Kerry need to beat Kildare to give themselves any chance of going through, but their fate isn't in their hands.
They need Monaghan to lose against the Tribesmen at Pearse Stadium and hope that they can force a six-point swing in scoring difference in the process.
Things in Group 2 are somewhat simpler. Dublin have topped the group regardless of this weekend's results and Roscommon are out.
Donegal and Tyrone meet in a winner-takes-it-all clash in Ballybofey, with the victor guaranteed second place and a semi-final place against the Group 1 winner. If the match ends in a draw, Tyrone would progress thanks to their better scoring difference.