If they ever make a movie about the Limerick hurlers, Sylvester Stallone is surely in line for a starring role.
Like his indefatigable screen boxer, this Treaty team simply never give up.
Eight points behind at half-time in a promotion decider against Galway in March? No problem.
A goal down in extra-time of the league quarter-final against Clare? Diarmuid Byrnes equalises with the last puck of the game and they go on to win hurling's first free-taking competition in a competitive game.
They hit four in a row to force more additional time in the semi against Tipperary, before eventually losing out.
In Munster, Kyle Hayes earned them a draw against Cork after they played the entire second half without the red-carded Aaron Gillane, while most sides would have crumbled when a Richie Hogan goal put Kilkenny ahead in the All-Ireland quarter-final.
Not this team. They scored five of the last six points for a first win over the Cats since beating them in the 1973 All-Ireland final.
They haven't won one since but will have another chance to end the famine after a superb fightback in today's semi-final victory over Cork.
Trailing by six points with less than 10 minutes to play, Limerick chased the Rebels down remorselessly and then finished the job in extra-time.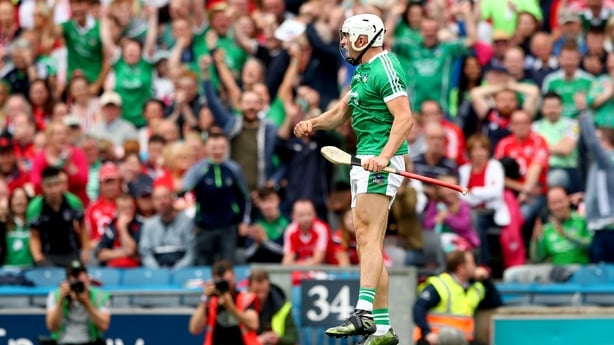 "It didn't look great but I suppose we have been in that position before in league games, especially in Salthill against Galway in the final round of the League games, and to get promoted. We were eight or nine points down at half-time," said captain Declan Hannon afterwards.
"This year, we said we would try and stick to our game plan for 60, 70, 80 minutes. There was no point in deviating because if we did deviate in these last few minutes we wouldn't have won or we wouldn't have gotten that draw in normal time."
Hannon believes this Limerick side is a steelier vintage than the version that lost out in devastating fashion in the last four in 2013 and 2014.
"There is always heartbreak in losses but I don't think we were ready in those years for the occasions and the semi-finals," he said.
"We were a different group mentally and physically to this 2018 squad. I just thought we were in better space coming into today and going eight or nine points down, we kept going and ground it out until the final whistle."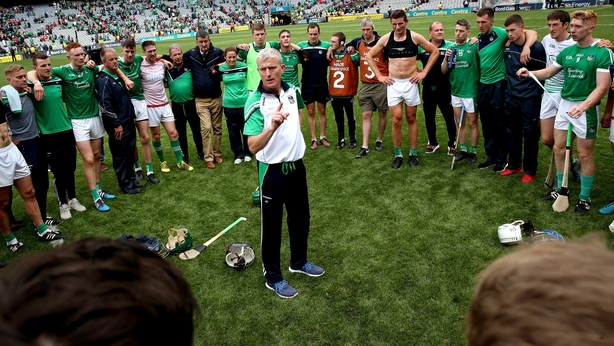 Ultimately, Limerick's greater strength in depth won them the game.
Shane Dowling (1-4), Barry Nash, David Reidy and Pat Ryan all came off the bench to score while Peter Casey and Willie O'Donoghue also made big impacts.
"This, if anything, is a tribute to the lads on our 36-man panel," declared manager John Kiely. "What they did today, in the contribution they made when they came on, Barry Nash, Shane, David Reidy, William O'Donoghue, I probably shouldn't have started naming because I'll forget them all!  
"Our AvB games in training over the last couple of weeks, they've been really really tight games. Our B team have been putting huge pressure on our A team, sometimes taking the lead on them and making the lads respond in kind, and that in itself is a great thing as it puts them under ferocious pressure.
"But today, they got their day to shine. They took their chance, and I'm massively proud of the effort of the whole panel."
Comparisons to Rocky aren't just the desperate notions of a journalist frazzled from two extra-time hurling epics in quick succession.
Hannon attributes the team's close bond to time spent unleashing their inner Balboa in a white-collar boxing event last winter.
"Probably back at the start of November, we did a boxing fundraiser and we kinda went at each other on the night of it," he recalls. "It just built morale and built a bond that hasn't been broken this year.
"I think everybody has just bought into what we are trying to do and that is the main difference to be honest. There are 10 lads in that dressing room who aren't togged out today and they really drive it.
"I just heard John talking about the A versus Bs, you know a lot of time the 'B' team - or the perceived 'B' team - are on top in those games.
"That is massive preparation for these kind of games. We haven't played a whole massive amount of challenge games against other counties, we have kind of stuck in house and worked on ourselves."
"We really want to make history"
Galway or Clare await in the All-Ireland final. Clubber Lang or Apollo Creed. Neither will be easily beaten.
Limerick will have to go the whole 12 rounds once again. But they've certainly got the heart, and are unburdened by the baggage of past knockouts.
"It is kind of a new group of lads, a new era," reflects Hannon.  "As Tom Morrissey said before 'trying to create their own history' and we've got to the All Ireland final, but we obviously want to win it because we really want to make history.
"It is a marvellous feeling and none of us have had the feeling before bar Seámie (Hickey) from 2007. But the boys are very level-headed, we will enjoy tonight and get back to recover and get ready for the All-Ireland in three weeks' time."