What a game of hurling.
Level nine times over 90 minutes. And still we couldn't find a winner between Galway and Clare.
Some of the 60 points scored in the drawn All-Ireland semi-final were of breathtaking quality.
Three came directly from sideline cuts, two from last year's Hurler of the Year Joe Canning and the other from the 2013 edition Tony Kelly.
Cathal Mannion, Colm Galvin and Kelly all split the sticks from inside their own halves.
Peter Duggan's 64th-minute effort was an unbelievable piece of skill as he flicked the sliotar to his hurl to avoid over-carrying, bouncing it twice and firing over the bar with his only free hand as multiple defenders harried him.
"A truly astonishing score" - Peter Duggan hits a spectacular point as Clare try their best to stay in the game.

Watch highlights on The Sunday Game at 9:30pm on RTE 2 tomorrow. pic.twitter.com/yjLgwIbeZ2

— The Sunday Game (@TheSundayGame) July 28, 2018
At one stage, the left corner-forward position seemed like an enchanted meadow for Galway as Conor Whelan (twice) and Canning lofted over scores from the narrowest of angles.
The tally could have been even higher. There were 41 wides, 19 for Clare and 22 for Galway.
Bubbles O'Dwyer may still rue the intervention of technology in the 2014 final but Hawk-Eye denied Galway today on four separate occasions.
"There have been many epic games this year and today followed suit," said Clare joint manager Donal Moloney afterwards.
"It was shades of Domnhall O'Donovan in 2013," he added of Jason McCarthy's last-minute equaliser.
Moloney said Clare hadn't lost hope, even when Galway went nine points clear in the opening stages.
"They did that to Kilkenny in the Leinster final replay. We planned for that and talked about it but executing it is different and Galway were in full flow during that period.
"But we never had any real doubt we were going to bring this thing back.
"An eight or nine point hurling at that stage isn't that big these days."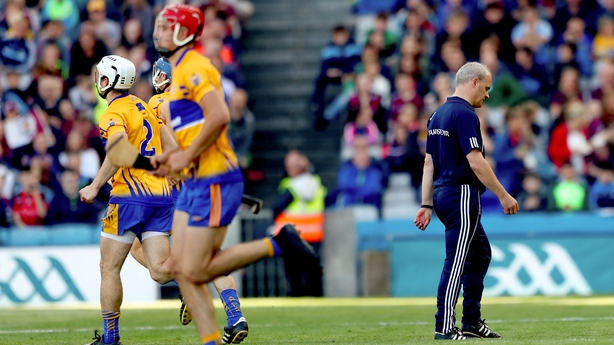 The Banner men were four minutes late coming out for the second half as their opponents waited on the pitch, and they were booed by the irate Galway fans when they eventually reappeared.
But whatever was said in the dressing-room clearly did the trick as Clare upped their game and closed the four-point interval gap.
"To be honest with you, we lost track of time," said Moloney. "When you go eight points down to Galway you have a lot of stuff to fix.
"The players wanted to discuss things and thrash things out. You only get one shot at this.
"Your season is riding on this and you have to get it right but the players did to be fair and they turned in a huge second half.
"If we caused anyone any offence we're sorry but we've had it both ways, we've been waiting on the field this year and we've had other teams waiting for us."
Moloney paid tribute to a group of Clare players who are considered to have underachieved since their last appearance in Croke Park – the 2013 final victory over Cork.
"Our boys have taken a lot of criticism over the years, which we've always deemed very unfair.
"In Davy's (Fitzgerald) time they were taking huge criticism but they're the most professional group of young men I've ever seen and it's a privilege to be associated with them."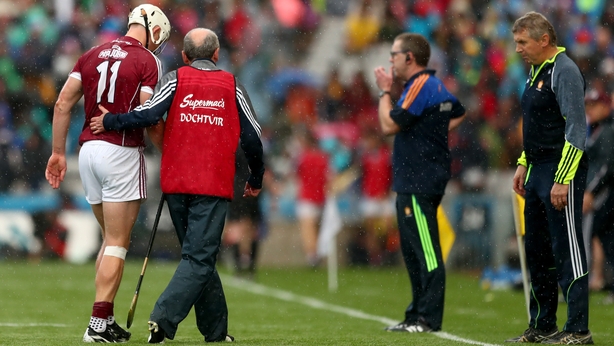 Galway manager Micheál O'Donoghue said he couldn't confirm whether the replay will come too soon for Joe Canning and Gearoid McInerney, who must surely both be severe concerns after hobbling off injured.
One compensation was that Daithi Burke, who had been considered a doubt with an ankle complaint, played the whole game, extra time and all.
Reflecting on the result, O'Donoghue believed a draw was a fair outcome.
"We got a good start and they came back well into the game," he said.
"Once we came back close to parity, it took a life of its own. Both teams just went at it.
"Both teams probably had chances in normal time and in extra-time. I think both teams deserve another crack it.
"I'm really proud of our lads. They worked really hard and any time they had a setback they worked really hard and got the scores when we needed them.
"We'll just draw on our experience now and go again next week."
That 'again' will be in Semple Stadium next Sunday. Will time be on Clare's side once more or will Galway seize the hour and take a step closer to back to back titles? We're setting the alarm clock already.