Former Dublin goalkeeper John O'Leary believes the tactic of killing games with prolonged bouts of lateral handpassing poses unnecessary risks for teams that engage in it.
Jim Gavin's side deployed the tactic most infamously in their opening Super 8s game against Donegal ten days ago, though they are far from alone in seeking to kill games in this manner.
Galway, increasingly regarded by many as the second best team in the country this summer, are also adept at seeing out matches in this fashion, slowly the game down as they nursed a two-point lead against Kildare in Newbridge on Sunday.
Speaking on the RTÉ GAA podcast, O'Leary said teams risked losing momentum by engaging in the tactic and pointed out that the strategy had resulted in teams coming unstuck before.
"Dublin are playing okay-ish, from my point of view. I just wish they had played like Tyrone did against Roscommon and looked more lethal and put teams to the sword as opposed to playing the last 15 minutes hanging onto the ball.
"What frustrated me was that Dublin were six points up. They had 33 passes, give the ball away and Donegal get a point. Then it's 25 passes, give the ball away and Donegal get a point. Now it's down to four (points).
"And if one of those had been a goal... It's very hard to rescue momentum when you lose it like that.
"They were doing it a little bit last year. It's obviously a decision they've made in how they close out games."
O'Leary reminded listeners that the practice of running down the clock by keeping possession has a longer history than many suppose.
Kerry, he suggested, tried to engage in it in the closing moments of the 2011 All-Ireland (they had run down the clock by holding onto the ball far more successfully at the end of the 2009 final).
"But I always remember the 2011 All-Ireland final. Kerry lost the ball in the middle of the field in the last couple of minutes, when they were doing the same thing, kind of fluting about with the ball.
"They turned the ball over and Dublin got it and stuck it in the back of the net. The momentum is gone and Dublin got the next score and won the All-Ireland.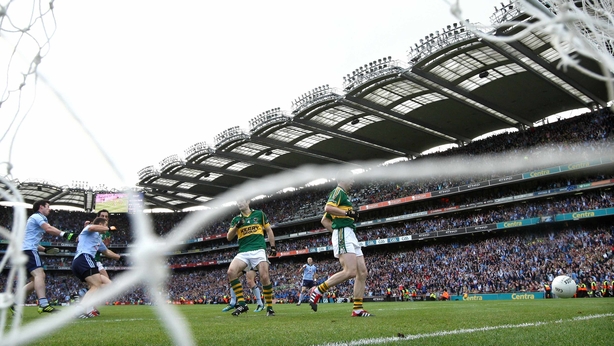 "So out of that, if you excuse my French, arseing around with the ball in the middle of the field which Kerry were doing, they turned it over and Dublin have now won five All-Irelands in seven years.
"If they hadn't been doing that, it could have gone the other way and we'd have a different sort of history.
"It is frustrating, I think it's very high risk. It just takes a turnover, you concede a goal. And the opposition rise their energy, yours is down and you've fellas giving out to each other. You just can't risk the momentum.
"If you're two points ahead and are still trying to do that kind of stuff, I think it's nuts."

Follow all the hurling this weekend via our live blogs on RTÉ.ie and the News Now App, watch television coverage of Galway v Clare on The Saturday Game Live, RTÉ 2, from 4.15pm and Cork v Limerick on The Sunday Game Live, RTÉ 2,from 2.45pm, or listen to exclusive national radio commentary of both games on Saturday Sport and Sunday Sport, RTÉ Radio 1. Highlights on The Sunday Game at 9.30pm on RTÉ2.