Former Kildare star Johnny Doyle says he has 'sympathy' for Daniel Flynn after he was dismissed with a red card in their crucial Super 8s clash with Galway over the weekend.
The key forward was sent off in the second half after referee Seán Hurson received advice from linesman Joe McQuillan about an off-the-ball incident involving Flynn and Galway defender Seán Andy Ó'Ceallaigh.
Flynn was a major loss to Kildare's attack having already scored two points and the home side were subsequently defeated by the Tribesmen, meaning they are out of contention for an All-Ireland semi-final spot.
Manager Cian O'Neill expressed his fury at the decision after the game, and speaking on RTÉ 2fm's Game On, former Kildare midfielder Doyle said he felt for Flynn.
"I do [have sympathy for him] and I watched it back - we have the benefit of being able to do that. The linesman has one look at it at the time and draws the referee's attention.
"I certainly thought there was a bit of pulling and dragging which you'd expect, this is tough football, it's the serious end of the Championship. To me, when I looked at it and I slowed it down and stopped it - yes there was a swing back but the second hand comes back around. Flynn looks like he's just trying to throw him off. 
"You'd see it in other games and it's not given and that's, I suppose, the inconsistency of it. To go down the technical line, did he attempt to strike? He probably did but I would have sympathy for him. If you were to bring everything to the letter of the law, there'd be nobody left on the pitch."
He continued:
The off the ball incident which saw Daniel Flynn sent off in the 2nd half against Galway - Watch the highlights on RTE 2 tonight at 9.30pm pic.twitter.com/w2nlQqlokW

— The Sunday Game (@TheSundayGame) July 22, 2018
"We have officials there and surely if it's on a constant basis, Galway did it a lot yesterday and we see it the whole time. First job is to stop your man by any means and I would have thought at times yesterday in around midfield there was a bit of holding going on.
"Obviously that's a strong part of Kildare's game, get a bit of ball out towards Kevin Feely who's a good fetcher of the ball, he'll win primary possession. There were lads stepping across him and stuff like that. The linesman has to step and say 'look, this is going on.' It's very hard for them to deal with every situation, and I think if the referee stamps it out early the game flows on.
"I think there's a lot of it coming into the game, it's not nice to see from a spectator's point of view. From a player's point of view, it's win at all costs and you have to do what you have to do. It's a serious game and these boys are putting their whole lives into it.
"There's no-one going home thinking, 'I was a bit unfair on Daniel Flynn.' They are there to win and that's reality."
Kildare must travel to Killarney for their last remaining Super 8s tie against Kerry, where they will play out their last championship game of 2018.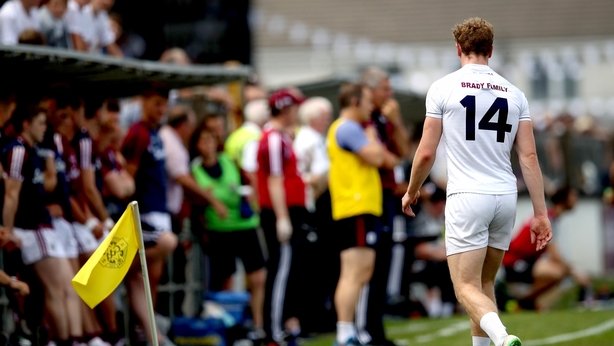 Despite failing to qualify out of the Super 8s, Kildare have enjoyed a promising end to their campaign. After a 12-game losing streak, Kildare managed to turn their season around with wins over Derry and Longford in the qualifiers before scoring a famous victory over Mayo.
A win against Fermanagh sent them through to the Super 8s and given the extent of their recovery in the Championship, Doyle expects that O'Neill will get the backing to continue as Kildare manager if he seeks to stay on.
"I would imagine if he looked to stay on with his management team, I wouldn't see why he wouldn't be offered another year at the job. I think he definitely has turned it around and the guts of that team are only 24 or 25 so he certainly has youth on his side.
"With the U20's in the All-Ireland final, he could add one or two to that next year. The other side of it is he's a very busy man. He's living in Cork, it's a long trek up three or four nights a week and he's only newly married.
"All those things have to be taken into consideration on a personal level for him but I would imagine if he looks to stay, I don't see why he wouldn't be kept."