SUNDAY 22 JULY
Throw-in
St Conleth's Park, Newbridge, 2pm
Online
Live blog on RTÉ.ie and the RTÉ News Now App from 1.30pm.
Radio
Live and exclusive national commentary on Sunday Sport, RTÉ Radio 1.
TV
The Sunday Game Live on RTÉ2 from 1.30pm, with highlights of the game, along with all the weekend's action, on The Sunday Game, RTÉ2, from 9.30pm.
You can also watch it on GAA GO.
Previous championship meetings
2000 Galway 0-15 Kildare 2-06 (All-Ireland semi-final)
1998 Galway 1-14 Kildare 1-10 (All-Ireland final)
1926 Kildare 2-05 Galway 0-02 (All-Ireland semi-final)
1919 Kildare 2-05 Galway 0-01 (All-Ireland final)
No battle required to ensure Newbridge as the venue for this one as Galway - harbouring a traditionally more sedate and casual fanbase than their fanatical neighbours in green and red to the north - arrive at St Conleth's Park for the Round 2 Super 8s meeting.
The pair have met infrequently in the championship over the years and are drawn at 2-2 in the head-to-head stakes though we can say with fair certainty, and at the risk of being bombarded with letters from centurions, that no one alive can remember either of Kildare's victories.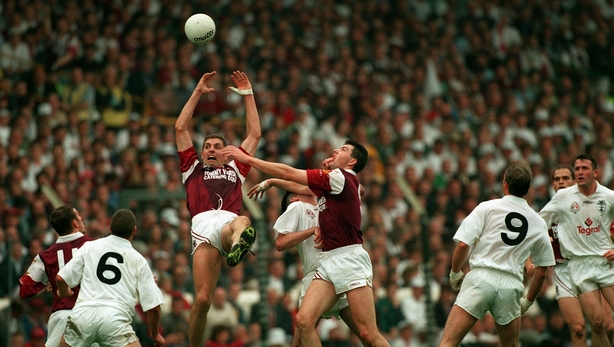 Plenty has been made of Kildare's dismal record against Galway in League and Championship in the modern era. The last time Kildare beat Galway in any competition, Larry Tompkins was still their ace marksman - so that gives a reasonable indicator of how long we're talking here.
That being said, prior to the opening week of the Super 8s fixtures, many were eyeing this as a potential Kildare win, owing to home advantage and their burst of momentum in the qualifiers.
This receded somewhat at the weekend as Galway converted a few more of their army of doubters with a surprise defeat of Kerry in Croke Park.
A win for Kevin Walsh's side won't quite guarantee them a place in the All-Ireland semi-finals - they could still be scuppered on points difference even after that - but it would certainly leave the Connacht champions in a commanding position.
FORM GUIDE
That winning habit
Galway have the winning habit.
As in the late 90s, the speed with which they have been transformed from relative also rans to All-Ireland contenders has been almost disconcerting.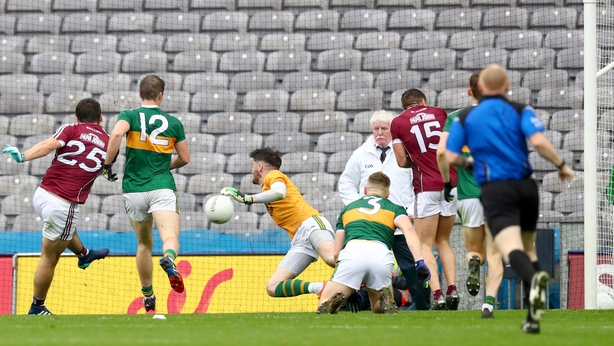 Relegation favourites at the start of the year, Galway have won 10 of their 12 competitive games in 2018, drawing one and losing one of the other games, both of which were against Dublin.
A defence which was entirely gutted in the 2016 All-Ireland quarter-final and the 2017 Connacht final is now one of the most feared in the country.
On top of that, their rich array of natural talent in the forward line is beginning to deliver on its promise.
Ian Burke, long lauded within the county and a star of several years with Corofin, has properly found national recognition in 2018 with a series of excellent, tidily efficient performances at corner forward.
Shane Walsh's inexplicably wayward shooting was previously a source of frustration among Galway supporters but terrific displays in the Connacht final and last week against Kerry suggest he's ironed out those kinks in his game and is maturing into the No. 11 jersey.
Momentum stalled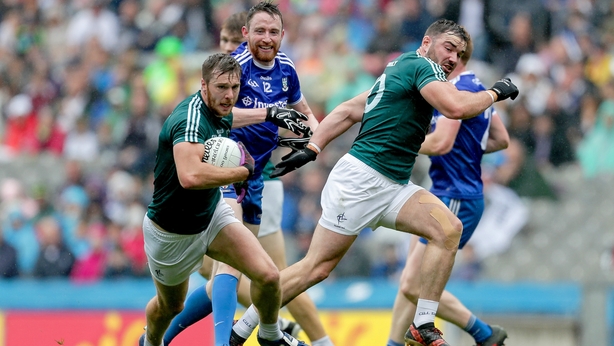 Having gotten stuck in a confidence sapping losing run in Division 1, Kildare were unable to extricate themselves in time for the Leinster championship meeting with Carlow in May.
Defeat there marked rock bottom and most assumed that we were in the dying embers of Cian O'Neill's regime.
The restorative power of away wins in tricky encounters in Derry and Longford shouldn't be underestimated but it was the victory over Mayo, combined with the rallying effect of that tussle with the GAA hierarchy, that really lit a fire under Kildare's season.
Their attacking play in the Round 4 qualifier against Fermanagh was scintillating at times and they racked up 3-20 against a hyper-defensive outfit who famously restricted Monaghan to 0-10 in the Ulster final.
No fewer than eleven Kildare players scored that day with Daniel Flynn, Neil Flynn and substitute Chris Healy gleefully causing the most havoc.
Fantastic team play by Kildare, resulting in a Neill Flynn goal! pic.twitter.com/pjQpRkzNJ9

— The GAA (@officialgaa) July 7, 2018
Alas, that countered for little at the weekend as a more experienced Monaghan team toughed it out against Kildare in the wet of Croke Park.
O'Neill didn't hide disappointment afterwards, describing the result as a "kick up the ass" for his team.
Newbridge factor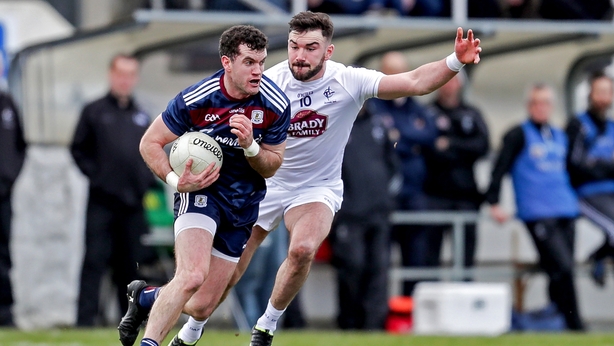 Following the win over Mayo, the venue has already been informally bequeathed with the title fortress, which was probably inevitable. Indeed, many county grounds have been granted the 'fortress' sobriquet on much scantier evidence.
Galway have already played teams in their own home venue twice in Championship 2018 and come away with victories. They even had a tiny supporting role in the forerunner of the 'Newbridge or nowhere' saga when Roscommon threw down a firm line that they were playing the Connacht decider in Hyde Park and nowhere else.
And they have damn all reason to fear Newbridge and its rickety charms. A semi-second string Galway team travelled there in the League back in March and won handily.
These were, it should be added, two teams at the opposite ends of the confidence spectrum at the time. Kildare will presumably be somewhat less bedraggled and fatalistic this time around. But Galway, with their front line stars descending on St. Conleth's Park, have good cause to be even more bullish than they were in spring.
Player Watch
Adrian Varley (Galway): Eamonn Sweeney referred to 'Galway's ginger guerillas' in the Irish Independent this week in tribute to the number of redheads in the team (something which should make all right thinking people root for them).
One of them, Varley, made a major impact in the closing stages against Kerry having started the game on the bench. The Cortoon Shamrock player (the club of Derek Savage) kicked two huge points to extend Galway's lead to 0-12 to 0-09 at a critical stage.
There are starrier names in the Galway forward division - Comer, Walsh, Burke - but that means that the relatively unheralded Varley is one to keep an eye on.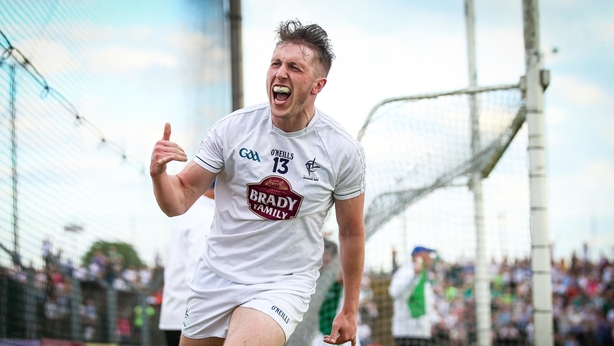 Neil Flynn (Kildare): One the basis that we can't pick Daniel Flynn every week, we will plump for Neil Flynn who, together with his namesake, ripped the Fermanagh defence asunder in the Round 4 qualifier.
With neither Paul Cribbin or Tommy Moolick firing to their capability against Monaghan last week, Kildare need another big game from the in-form Flynn.
@MartyM_RTE sets the scene from Galway ahead of the second-round games in the Super 8s and whether it's written in the stars for Galway footballers to bring home Sam Maguire in 2018 #rtegaa pic.twitter.com/NOYYux3AgP

— RTÉ GAA (@RTEgaa) July 20, 2018
Teams
The Lilies are unchanged for the fourth game on the trot. Peter Cooke comes in for the injured Paul Conroy on the Galway side.
Kildare: Mark Donnellan; Peter Kelly, David Hyland, Mick O'Grady; Johnny Byrne, Eoin Doyle, Kevin Flynn; Kevin Feely, Tommy Moolick; Fergal Conway, Paul Cribbin, Keith Cribbin; Neil Flynn, Daniel Flynn, Paddy Brophy.
Galway: Ruairi Lavelle; Declan Kyne, Seán Andy Ó Ceallaigh, Eoghan Kerin; Cathal Sweeney, Gareth Bradshaw, Johnny Heaney; Peter Cooke, Thomas Flynn; Michael Daly, Sean Walsh, Sean Kelly; Ian Burke, Damien Comer, Eamonn Brannigan.
Weather
Sunday will be a mostly dry day with just some patchy light rain or drizzle at times. Top temperatures will be in the low to mid twenties. For more go to met.ie.