Eddie Brennan says that Wexford's lethargic performance during their seven point loss to Clare in Saturday's All-Ireland quarter-final was reminiscent of their Championship exit 12 months ago.
For the second year running, the Yellowbellies exited at the quarter-final stage and Saturday's loss marked their third defeat in their last three games against top tier opposition.
Speaking on Game On on RTÉ 2fm, Brennan said the side lacked energy and wondered aloud whether they were being over-trained.
"Did Clare have better hurlers and more experienced guys than Wexford? They probably did.
"But I was very disappointed with Wexford and what they brought. I don't know was there a hint of them being over-trained but they definitely looked very, very flat and lacking that energy.
"I don't whether it is just a heavy winter of training. I know Davy Fitz put a huge emphasis on that over the last couple of years.
"Last year definitely, the well went dry as the summer went on and it seems to have come back against them again."
Not only were his team seemingly lacking in brio and energy, both Brennan and fellow analyst Anthony Daly felt that Fitzgerald's demeanor was more subdued than usual.
"The intensity of Clare's tackling probably contributed to Wexford's efforts.
"I was surprised at the diluted nature of Davy himself"
"But what summed it up near the end of the match was David Dunne stood up and took a big wild swing and David Reidy got in a hook on him. And you don't associate that with top class inter-county level and, to me, that's just someone saying I'm wrecked at the end of a match.
"They seemed to lack ideas. When your chasing down a match, you have to invest a little bit more. When you're ahead you play with a bit of a swagger and a little bit more confident going to the ball. Whereas, if you're a Wexford player and seven points down, everytime you fumble a ball, it's another psychological dagger.
"And I was surprised at the diluted nature of Davy himself."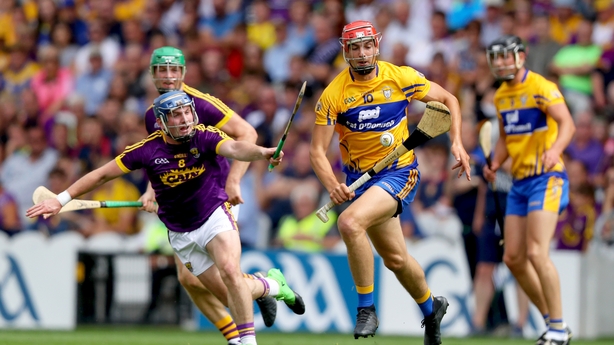 Daly agreed that Wexford looked subdued and that Fitzgerald "seemed flat himself." However, the former Clare and Dublin manager argued that two years wasn't a long enough run at the job.
"I would think two years isn't enough to give.
"Wexford were at a low ebb when he took over and things hadn't gone well. I was at Dublin during Liam Dunne's time there (as manager) and Liam gave it everything. He brought in Paudie Butler and all but things didn't seem to click for them.
"We went down there in 2014 and Dublin beat them comfortably in Wexford Park. Now, they went on to have a decent season afterwards, when Dublin flopped.
"But Davy gave it a massive lift. 68,000 people at the Leinster final last year. I think sometimes it can just dip a little bit. Maybe, they didn't change things up enough this year from last year.
"I don't have the answers for what went on in the camp. But they just seemed a bit flat on Saturday and he seemed a bit flat himself."