In the 26th minute of Sunday's All-Ireland quarter-final, Paul Kinnerk ran out on to the pitch and shouted to the Limerick forwards 'Wide, Wide'.
For the first time in the game, Limerick's six forwards lined up in their orthodox positions, but they were absolutely stretching the pitch, with both corner forwards and the two wing-forward hugging the sidelines.
It looked like a choreographed play because Nickie Quaid drove the puckout straight down the middle on top of Kyle Hayes. Limerick were obviously looking to create space around Hayes, and deny Kilkenny the opportunity to get bodies around him to create a 2-on-1, or 3-on-2 advantage on the dropping ball.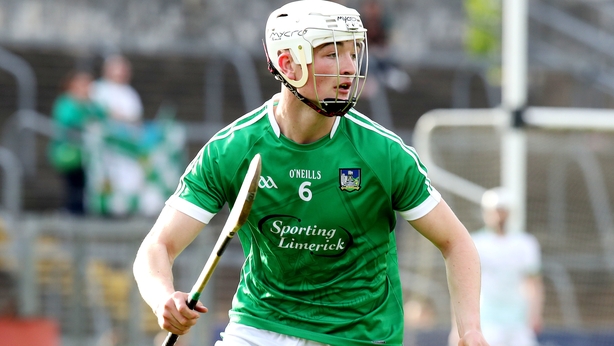 It was a 50-50 contest between Hayes and Buckley, and Hayes caught the ball cleanly, turned and drove it over the bar.
It was the only time all afternoon that Limerick lined up in that orthodox formation, especially their inside line.
Throughout the match, the half-forward line played extremely deep while the full-forward line played either in a straight line down the central channel, or in an arc, always having either Seamus Flanagan or Aaron Gillane as the spearhead close to goal.
Of Flanagan's eight first half plays, five were made down the left hand attacking channel but Gillane invariably took up station in front of the goal when Flanagan was in that position. Graeme Mulcahy always played deeper but Limerick rotate those three so smartly that it always keeps the opposition defence thinking. And second-guessing.
"Defenders have never been faster, more mobile and more athletic, which makes it harder for forwards to secure clean possession"
Limerick's attacking style is nothing new but it has been clearly defined, and the players are clearly more comfortable with it in Kinnerk's second season as their coach. And the core principle of that style is the creation of space up front.
When in possession, the Limerick full-back line rarely hit long ball, and invariably try to play the ball no further than midfield. Anytime a Limerick player is in possession on the front foot in that middle third, they are looking to play that angled, cross-field or direct ball into the huge tracts of space which have been created in their attack.
The three inside players are always the intended targets but they are looking to receive that ball in an advantageous position within that space, and ahead, or to either side, of the defender.
Defenders have never been faster, more mobile and more athletic, which makes it harder for forwards to secure clean possession. It's harder still when the middle third is such a battleground that deliveries are routinely contaminated.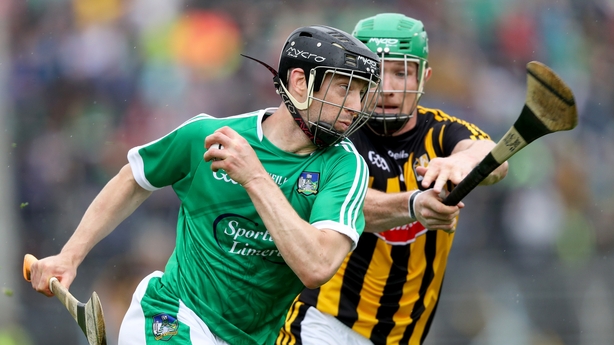 Limerick's style is designed to give their forwards the best advantage possible but it places a high premium on space creation, and the quality of delivery into that space.
Mulcahy's point in the second half on Sunday was the greatest illustration of what Limerick are ideally seeking to create as an attacking unit. Declan Hannon was coming across the left side of midfield, looking to hit Mulcahy with a cross-field ball.
"In hurling now, the goalkeeper is the main quarter-back but much of the modern game is now heavily defined by American football principles"
Paul Murphy was out in front and two steps ahead of Mulcahy but Hannon weighted the sliotar in over Murphy's head, and into the space behind him, which immediately handed the advantage back to Mulcahy. He was still moving laterally, while Murphy had to turn and face towards his own goal.
When Mulcahy won possession, Murphy was flat-footed because he had to try and stand Mulcahy up from slipping inside him. Mulcahy though, had momentum and he turned back inside and flashed the ball over on his left.
In hurling now, the goalkeeper is the main quarter-back but much of the modern game is now heavily defined by American football principles. Players delivering the ball have to be more accurate to hit receivers moving into space.
And forwards receiving the ball have to be able to create that space, and then be able to get enough separation from the defender to win the ball.
Watching the Limerick inside forwards' movement off the ball on Sunday provided an ideal case study.
Wide receivers in American football are working off choreographed plays, and intricately designed route-running, but hurling forwards create that separation from the same basic principles; timing the run; feigning to go one way, and then pushing off the defender; using a different deceptive move, or an angle adjustment to buy that split second to get away from the defender.
Understanding and recognising leverage is basic forward play but smart timing, intelligent running and slick movement governs good forward play.
It also requires cohesive understanding of everyone's role within that basic system. The Limerick half-forwards are the key architects in creating the space inside but hard and intelligent running from deep also provides them with the ideal opportunity to cut loose within that space.
Much of this stuff is not new. When Liam Griffin took over the Wexford hurlers in 1995, one of his first projects was Martin Storey. The Oulart-the-Ballagh man was one of the best forwards in the game at the time but Griffin still wanted Storey to see a new way.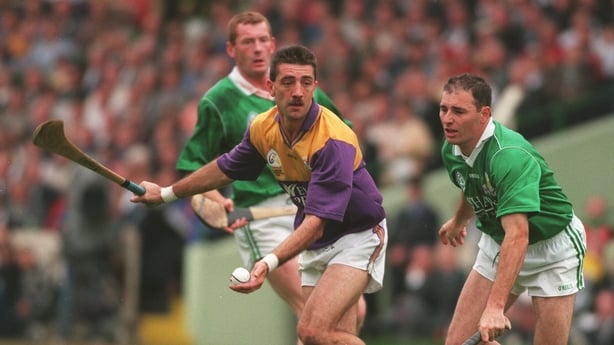 Storey's first instinct almost every time in possession was to try and take on the shot but Griffin wanted him to let the ball in to the full-forward line more; and then get in after it to make himself available for a potential offload.
Storey was an All-Star in 1993 but in Wexford's sole match of the 1995 championship, against Offaly, (Griffin's first year as manager) Storey scored one point. A year later he was an All Star.
And a much more rounded player.
Hurling is a far different game now, with systems and sweepers, but it was interesting to compare how both full-forward lines set up differently on Sunday. Kilkenny played far more orthodox, often with three inside forwards close to goal. For ten minutes after he took an early hit, TJ Reid played corner-forward in a three-man full-full forward line sited close to goal.
Kilkenny have changed their style this season. They are using more tailored deliveries now but they still haven't gone away from their basic principle of trusting their players to win their own ball.
In the first half, that style largely worked. Of the 17 balls played into the forwards beyond the '45 metre line, Kilkenny won 13, and translated that possession into six points.
Yet while Limerick only won ten of the 21 balls played into their forwards beyond the 45, they turned those ten balls into seven points.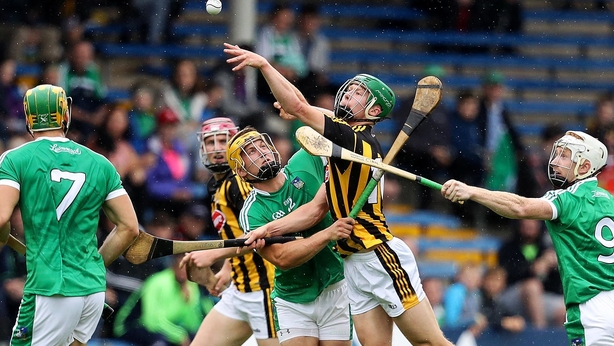 After the break, Kilkenny only won six of the 16 balls played inside, for a profit of three points. Limerick meanwhile, won ten of 21 balls, for a dividend of five points. And the space that Limerick were able to create in their attack was decisive to mining those three extra scores in such a tight game.
The key to being able to play such a deep lying half-forward line is to have dominance in the half-back line, which Limerick enjoyed for 25 minutes of the first half.
The game turned in the third quarter when Kilkenny got a grip on the Limerick puck out. They also closed down the Limerick half backs in that period but Limerick gradually wrestled back that control. They continued to create intelligent space up front, while the quality of ball going into their attack was better than Kilkenny's supply.
The game has changed so much now that long-range shooting is a massive part of modern hurling. It takes out sweepers and layered defences but Clare showed on Saturday against Wexford that there are also other ways to get around those roadblocks.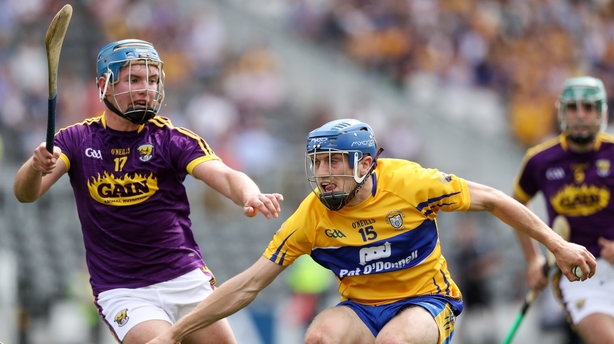 The game was broadly similar to last year's Leinster final. Clare similarly dismantled Wexford's game like Galway did that afternoon; Clare disarmed them in the air, dominated the middle third, sprayed and popped the ball wide to their runners and receivers, and always had a target man up the central attacking channel to aim at.
Liam Ryan battled manfully at full-back for Wexford but John Conlon was immense again. From 14 plays, Conlon scored three points, was fouled for three converted frees, and had one assist.
Conlon also had three wides but it was testament to his physicality and power that, despite only winning nine of the 20 balls played into him, Conlon made such good use of that supply.
Shaun Murphy played a fluid role as a sweeper in front of Conlon but Clare never rammed the ball down Murphy's throat; he only cut out five balls all afternoon.
Clare played around Murphy and, while they didn't score a goal, neither did Galway in last year's Leinster final. Clare scored just two points less than Galway last year but they limited Wexford to the same total - 1-17.
There are similarities in Clare and Limerick's attacking play and Kinnerk (who coached so many of the current Clare players, and who worked alongside Gerry O'Connor and Donal Moloney at minor and U-21 level) has been an obvious factor in both of those styles.
Much of it is governed by creating space up front. And then fitting the system out with the players suited to, and capable of, carrying it out.