Kerry manager Éamonn Fitzmaurice says his side is not lacking in leaders following their Super 8s opener defeat to Galway.
Speaking on RTÉ's Sunday sport co-commentator Brendan Devenney alluded to the possibility that Kerry's relatively young outfit might be in need of more leaders as they were defeated by the Tribesmen for the first time in a championship fixture since 1965.
Fitzmaurice conceded that the team's performance was below the standards they've set for themselves, but stressed that there's no shortage of leaders in the team as they look to face Monaghan next weekend. He also believes that this kind of challenge 'could be the making of them.'
"I wouldn't agree with that. It's easy to throw that out when you've a day that things don't well. I think a lot of the lads stood up and kept going right to the end so I don't think there's a leadership deficit there. Some of the lads are younger but they know all about winning so they'll be just fine.
"I think the lads know straight away that it's all about getting ready for next weekend. If we had won the game today we'd be the same and pushing on and looking forward. The game is coming thick and fast so I think that's a big message we're not going to dwell on it we're going to see where we can improve for next weekend and go at it."
"We were well short of what we needed to win the game here today. My expectations are one part but I think it's what the players expect of themselves and of each other is probably the big thing.
He added:
"There's no room for error and all of the teams know that. All of the teams want to be involved in the All-Ireland semi-finals. For us, that's off in the distance and we're concentrating on the next game against Monaghan who've come through the qualifiers and have a good bit of momentum.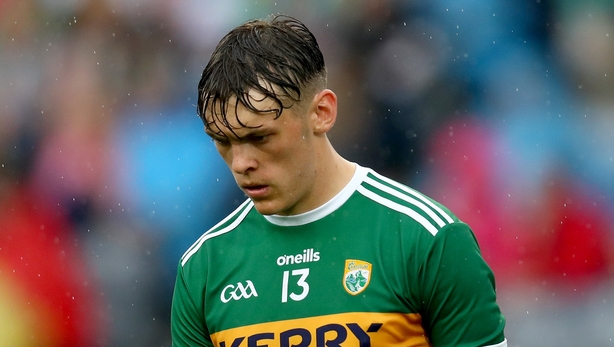 "They had a good win today and it's above in Clones [the next day] so it's going to be a huge test for us. But when you're involved in sport those are the kind of tests you want and I think for our young group in particular this could well be the making of them."
Kerry will be taking on a Monaghan side who scored a crucial victory over Kildare in the other Super 8s fixture at Croke Park on Sunday.
Fitzmaurice and his camp will have plenty to reflect on from their three-point loss before they contemplate that contest. A Patrick Sweeney goal put the Kingdom six points adrift towards the end before David Clifford snatched a consolation late goal just.
There is also the sending off for Killian Young to consider, although Fitzmaurice has yet to discuss the incident with the defender.
"We'll chat about it now on the way back to Kerry and we'll try and figure it out because we've to come up with solutions pretty quickly to get a turnaround for next weekend. We didn't play well enough when we had the ball in particular and Galway played very well. Sometimes it can be as simple as that.
"Too many of us had a day that we wouldn't be happy with. We're not going to be feeling sorry for ourselves, we've to get up and go straight away and turn it around for next weekend."